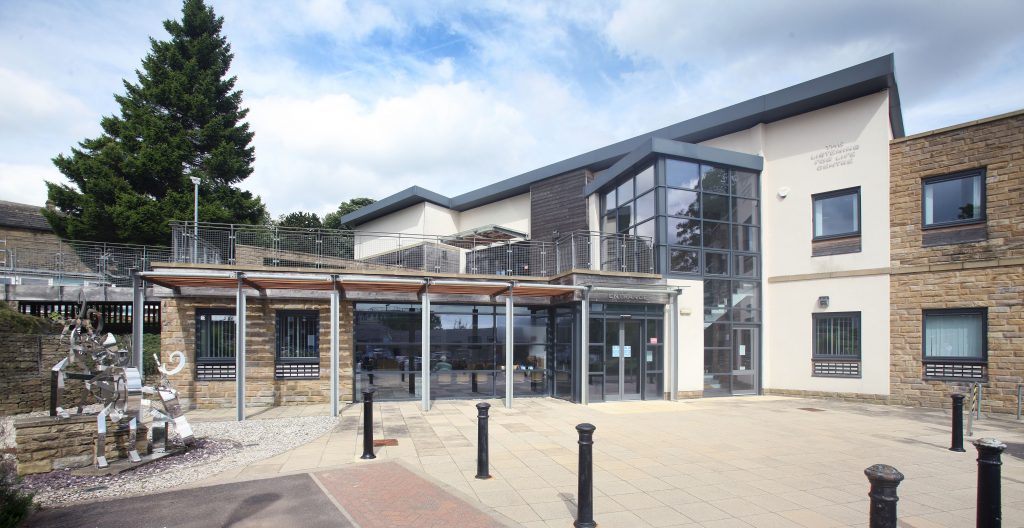 WHEN everyone is wearing a face covering to protect themselves and others against Covid-19, how can we communicate better with people who have hearing difficulties and rely on lip-reading?
Clinical Scientist, Jessica Sutcliffe, and Jill Ridgwell, Speech and Language Therapist, who work at Bradford Teaching Hospitals NHS Foundation Trust's Audiology Department and Listening for Life Centre, have put together some key guidance.
Jessica said: "Adults with hearing impairment are continually challenged by everyday communication situations, and the use of face coverings has added further difficulty. Many of our patients report that they feel anxious and socially isolated at present."
Therefore, it is important to be mindful of how we communicate with each other as hearing impairment can be a hidden disability.
Face coverings hide our facial expressions and lip-reading cues, making things much more difficult for people with a hearing impairment.
They also distort and reduce the loudness of speech, especially the high-pitched sounds which help us distinguish between words in a sentence. People with hearing impairment rely heavily upon facial-cues and clear speech.
To communicate effectively with people with a hearing impairment when wearing a face covering, people should:
Speak clearly and slowly at normal volume
Face each other (while remaining at a safe distance) and take turns to speak
Reduce background noise where possible
Check that you have been understood. Can the person you are talking to repeat key information back to you?
Use body language and gesture (point, wave and thumbs-up/down)
Rephrase a sentence if it is not understood. Do not repeat the same sentence with a raised voice.
The Audiology Department at Bradford Royal Infirmary, and the Yorkshire Auditory Implant Service (YAIS), which is based at the Listening for Life Centre, have supported patients with hearing impairment throughout the Covid-19 pandemic.
Video and telephone appointments have been offered where appropriate to reduce the amount of time patients need to spend in hospital. Written text and pictures are shared during video appointments to facilitate communication.
The Audiology team has also launched a service which allows patients to request and receive changes to the sound of their hearing aids online, giving faster access and more control over their sound.
The Audiology Department's Hearing Aid Repair Workshop, previously a drop-in service, is still operating, but clients must book an appointment to comply with social distancing rules. Staff also support patients to maintain their hearing aids and cochlear implants at home.
YAIS staff have developed an online conversation partnership scheme to provide cochlear implant users with peer support and the chance to continually practise their listening skills.
For more information about Bradford Teaching Hospital's Audiology Department and YAIS, please visit:
https://www.bradfordhospitals.nhs.uk/audiology/
bradfordhospitals.nhs.uk/yorkshire-auditory-implant-service/
ENDS
Pic caption: The Listening for Life Centre at Bradford Royal Infirmary
For further media information, please contact communications@bthft.nhs.uk or call 01274 383901
Note to Editors:
Bradford Teaching Hospitals NHS Foundation Trust:
Bradford Teaching Hospitals NHS Foundation Trust is responsible for providing hospital services for the people of Bradford and communities across Yorkshire. We serve a core population of around 500,000 and provide specialist services for 1.1 million people.
Our 5,500 staff work over several sites, including Bradford Royal Infirmary, which provides the majority of inpatient services, and St Luke's Hospital, which predominantly provides outpatient and rehabilitation services. We also manage local community hospitals at Westwood Park, Westbourne Green, and Eccleshill.
In early 2017, a new £28 million wing opened at Bradford Royal Infirmary, part of a £75m investment to improve patient care across our hospitals over a five-year period. It provides world-class facilities for elderly care, children's services, a state-of-the-art intensive care unit with increased single-room provision and a retail concourse.
The new wing is a continuation of our work to improve patient experience after our new £2 million neonatal unit officially opened in January 2015. Our maternity services were recently shortlisted for the Royal College of Midwives' (RCM) Midwifery Service of the Year Award, recognising excellence and innovation in the provision of maternity care.
In 2017, we also completed a £2m refurbishment of our Emergency Department (ED) as part of an ambitious vision to create a more efficient acute medicine service for the people of Bradford. It has been designed to provide a slicker and more efficient service, with faster senior clinical involvement at an early stage in the patient pathway.
As a teaching hospital, we are at the forefront of education and development in healthcare, and have an excellent reputation for research performance. We are one of the leading centres in conducting applied research in the country, particularly in quality and safety, elderly care and rehabilitation.
The Trust is home to the Bradford Institute for Health Research (BIHR) where researchers have led the development, validation and implementation of the award-winning Bradford Electronic Frailty Index (eFI) which helps calculate an elderly person's risk of disability, impairment, falls and complications of chronic diseases, as well as their diminishing independence and capability. This is now being used by 98% of all GPs across the country.
Our award-winning Ophthalmology department is home to numerous worldwide clinical trials taking the lead in eye care research and we are one of only three sites in the United Kingdom to be enlisted in the Perioperative Enhanced Recovery Hip Fracture Care of Patients with Dementia (PERFECTED) study, which will investigate how the NHS can introduce better standards of care to improve outcomes for people with dementia.
The Trust has its own Bradford Hospitals Charity: https://bradfordhospitalscharity.org/
Follow us on Twitter: @BTHFT
For more information please visit www.bradfordhospitals.nhs.uk