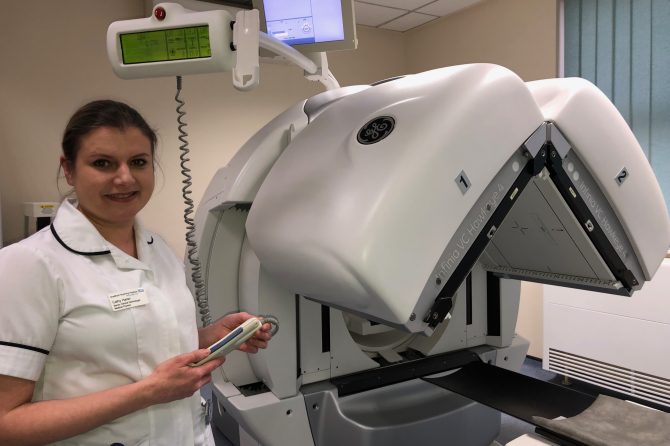 Did you know that it's Healthcare Science Week (HSW)?
Bradford Teaching Hospitals Foundation Trust (BTHFT) is celebrating the event by highlighting the difference healthcare science staff and the technology they use make to patients' lives.
Pat Campbell, the Trust's Director of HR, said: "Healthcare Science Week is a fantastic opportunity for us to celebrate the brilliant work of all healthcare science staff at Bradford Teaching Hospitals. It is also a great way for us to promote the many career options available at the Trust.
"Our healthcare scientists carry out often unseen but highly specialist work and are a vital part of our dedicated healthcare team."
To mark the week, we've profiled five healthcare science staff who explain in more detail why their roles are vital to the healthcare services we provide.
Cathy Haran, Senior Clinical Technologist
Mum-of-two Cathy, 43, is based in the Medical Physics Department at Bradford Royal Infirmary.
She originally studied for a degree in Biomedical Science before joining BRI in 1998 as a Trainee Clinical Technologist. In 2001, she gained a Postgraduate Diploma in Nuclear Medicine.
Clinical technologists operate complex and specialised medical technology used in the diagnosis and treatment of diseases.
Cathy said: "A lot of people don't really know about us. We essentially inject dyes into patients and then complete scans using a gamma camera. The radioactive dyes give off gamma rays and the cameras detect these rays.
"We look at the anatomy and physiology of patients and provide evidence which can help clinicians diagnose conditions including cancers and heart problems.
"I like doing paediatric work best because I was ill as a child. I find that the most rewarding. We try to make it fun for our young patients so they don't feel scared.
"I remember one patient, a little girl, didn't want to have the test she needed, so I ended up having to hold her next to the camera to get the scan done. I think because I am little they can associate with me! We just try and make it the department a nice environment for patients."
Cathy really enjoys the diversity of her role.
She added: "It's so varied – we work closely with Cardiology because of the heart scans we do, and the breast team too because we identify lymph nodes which they then biopsy. We also work closely with the Pharmacy department and have our own regular radiopharmacy technologist.
"Imaging is like a jigsaw puzzle: x-rays, MRI, CT and nuclear medicine all provide different information that clinicians can put together to form a bigger picture."
To increase her knowledge, Cathy recently began studying clinical physics.
"It's quite nice because my children are a bit older now so I can work longer hours and study more. I'd like to learn more about clinical physics, which is a lot more about old-fashioned physics and sciences.
"But I will definitely stay with the department in the future. The team are all really good and we are all great friends."
Mohsin Patel, Biomedical Scientist, Histology
Mohsin, 25, has been with the Trust for a year after studying Biomedical Science at the University of Bradford and working as a medical lab assistant at St James's Hospital in Leeds.
He said: "I did my degree in Biomedical Science because I wanted to do something medical and help people.
"Histology can be life-saving work but it goes under the radar. Here at Bradford we analyse about 26,000 samples a year.
"In terms of the science we need to know about staining, anti-body matching, chemistry and biology."
Mohsin prepares tissue samples for clinicians using a raft of technology and his advanced knowledge of healthcare science.
He is now putting together a specialist portfolio which will allow him to perform a senior role within the department.
"I really like the job but it's a very competitive area and you need to work hard to get into it," he added. "But the job has opened my eyes to a whole new world that I didn't know existed."
Jonathan France, Senior Clinical Photographer
Jonathan, 43, started working at Bradford Teaching Hospitals in November 2015, after originally joining the NHS in Slough, Berkshire in 2004 as a trainee clinical photographer.
He particularly enjoys the high-tech nature of his job.
He said: "I saw the opportunity for promotion at Bradford and the job sounded really interesting. It's definitely proven to be that!
"At Bradford we work in operating theatres, on wards and in a whole range of departments including dermatology, maxillofacial, plastics, and ophthalmics.
"Although you need a degree to get a trainee clinical photographer position, there's still a lot of training on the job too. And the role is now very high-tech, and has become increasingly so over the past five years.
"Some of the photographs we take at Bradford go straight onto the hospital servers and are seen almost immediately by a clinician. Years ago it could take a couple of weeks for the photographs to be developed and sent to the correct person. Sometimes the film would not come out properly and you'd have to ask the patient to come back again. Now, there's no excuse!"
Jonathan added: "In short, we provide evidence to help clinicians diagnose conditions and help support good patient experience. It's a satisfying – but busy – job. You have to be prepared to move with the times and keep up-to-date with the latest technology and science.
"I like working with people, and I like the technical aspects of the job. For example, ICG (indocyanine green) photography and other ophthalmic imaging is technically challenging but diagnostically invaluable to ophthalmologists.
"I gained a gold award a couple of years ago from the Institute of Medical Illustrators with an image of a fluorescein angiography of the right iris rubeosis.
"I'd recommend the job to anyone. Working in Bradford has given me the opportunity to be part of a nationally-recognised department and get involved in award-winning research work too."
Lindsay Campbell, Audiologist
Lindsay, 34, joined Bradford Teaching Hospitals in 2008 as a newly-qualified Audiologist after studying for a BSc in Audiology at the University of Leeds.
While at university she spent a year on placement at the Trust, and was successful in getting a trainee position with us after graduating.
She said: "We are not that well-known but Audiology is a really good mix of healthcare and science. In the Audiology degree we learn aspects of physics and biology as we are talking about the anatomy of hearing and sound waves. We are also part of a multi-disciplinary team and work with doctors, nurses and assistant audiologists.
"I wanted a career in healthcare but was a bit squeamish for other fields and felt Audiology was a good balance of patient contact and science. From a scientific point of view the technology we use with hearing aids is very advanced and progressing very quickly. Smart hearing aid technology is not that far away!"
When she first joined the Trust, Lindsay performed mainly hearing aid work – assessing for, fitting and fine-tuning them. An opportunity to specialise then came up and she studied for a Masters degree module in balance assessment and rehabilitation. Her time is now split 50:50 between hearing aid and balance work.
"It's really enjoyable and rewarding. People can really struggle with hearing loss and it can be quite isolating. Fitting a hearing aid can make a huge difference to them. The patients are all different so they bring a different dimension to the job.
"We perform assessments and also complete a 12-week rehabilitation programme with patients who have balance disorders. We give them progressively harder exercises to help improve their symptoms and lifestyle.
"Balance disorders can affect any age and we work with older children and teenagers all the way to the very elderly.
"I'd recommend the job to anyone – there are quite a lot of areas you can go into once you have qualified."
Anne Gledhill, Biomedical Support Worker, Histology
Anne, 31, uses her knowledge of chemistry and biology to prepare and analyse body tissue to help doctors make a correct diagnosis.
She already has a degree in Marine Biology but is now studying for a second degree in Healthcare Science at the University of Bradford courtesy of the Trust, in a bid to qualify as a Biomedical Scientist.
She said: "Before coming to Bradford I had worked in another laboratory before. But I wanted to move to a NHS lab because people said that there was more job stability and more of a team mentality. They were right!
"I thought I would stay as a Biomedical Support Worker but when I got here they said I should go for it and study to become a Biomedical Scientist.
"The course I am on is actually an apprenticeship and I am studying for a BSc in Healthcare Science alongside my job. We are released one day a week to study at Bradford University.
"I think the job itself is really interesting and I can really see the benefits of what we do. We are helping a lot of people. Everyone knows someone who has had to send something off. It's a very busy department and quite hard work but we all pull together.
"I need to know quite a lot of chemistry, anatomy and cellular science. But the doctors also help you and will take time to explain things to you.
For more information on the healthcare science roles available in the NHS, please see: https://www.healthcareers.nhs.uk/explore-roles/healthcare-science
For information on specific roles at Bradford Teaching Hospitals, please see: https://www.bradfordhospitals.nhs.uk/our-people/join-our-team/