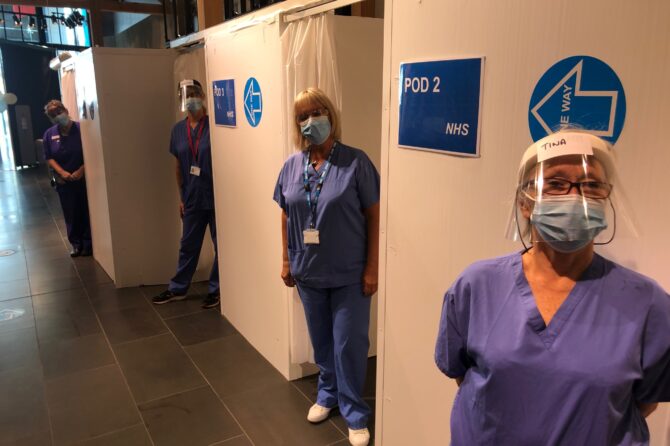 YOUNG adults from throughout Bradford have urged others to join them and get the COVID vaccination to protect themselves, their families, and communities.
More than 1,500 residents have now had their jab at the most recently opened walk-in clinic at The Broadway shopping centre, including three young adults keen to play their part in helping us all return to normality.
Adam Brian, 34, of Clayton, Bradford, said he'd already contracted COVID-19 twice, and had been keen to get vaccinated after being floored by the second bout.
"I fell ill with COVID the second time while I was in Wales training for the army. I don't want that to happen again. I'm now on the mend but I'm still struggling with my fitness.
"I have never, ever had anything like it before – it was the worst thing I have ever had in my life. It's killing people and getting the jab is the right thing to do. If you've not had the jab yet, go and get it."
Teenager Christie Dobson, 19, said she'd travelled to The Broadway specifically to get the jab at the walk-in clinic.
"I came to get it to protect myself and my family. It was easy. If you've not had it yet – come down and get it done."
And Muhammad Khalid, 36, from Barkerend, Bradford, said he wanted to play his part in getting "the whole world out of the pandemic".
Best thing to do
"The only way we are going to get out of this is by having the jab. I wanted to protect myself and my family, too. It's the best thing to do."
Rukeya Miah, Deputy Associate Director of Nursing/Senior Midwife at Bradford Teaching Hospitals NHS Foundation Trust, has played a leading role in organising NHS vaccination sessions throughout Bradford alongside partners from across the district, and said vaccinators and support staff were also playing a key role in debunking vaccine myths.
She said: "Despite the national calls we are finding that the younger age group are not planning and booking jabs at vaccinations centres like older groups.
"So we started looking at ways in which we could bring the vaccine to them by targeting accessible and convenient areas and high footfall areas.
"We had already done pop-up clinics in supermarkets, but we hadn't done shopping centres. So the development of a pop-up vaccination hub for our Act as One system's use seemed to offer lots of potential and an opportunity to engage with the community differently and help desensitise some of the myths and anxieties which have emerged.
"On our first day at The Broadway we had queues out the door, and we have since vaccinated people from all ethnic backgrounds and age groups, with the majority of people being first-timers."
Jo Wiley, Bradford College's Site Manager, has also been involved in organising and supporting NHS vaccination sessions throughout the district, including clinics at Jacob's Well, the college, and The Broadway.
"It has been brilliant," she said. "A lot of young people are coming to get vaccinated. The support and teamwork throughout the district has been amazing, too.
"If you've not had your jab yet, come and get it!"
Easy
Nancy O'Neill, NHS co-lead for the vaccination programme across Bradford District and Craven, said: "We are really pleased to see people come to The Broadway to grab a jab and help ensure we can protect each other from this devastating virus that has impacted on all our lives. "The walk-in clinic is one of many across our Bradford District and Craven making it really easy to get your vaccine.
"Our sites are offering first and second doses. The second dose is offered at least eight weeks after the first, unless there is a clinical reason for you to get fully vaccinated sooner such as those who are immunocompromised.
"Getting both doses provides better and longer-lasting protection. Every vaccine gives us hope, please do come along and grab a jab so that we can reduce the number of people needing hospital treatment for COVID – these are now mainly younger people who haven't been vaccinated."
The new head of the NHS in England also recently urged young people to get a coronavirus vaccination, warning that more than a fifth of those admitted to hospital with COVID-19 are aged between 18 and 34.
NHS Chief Executive Amanda Pritchard said there was "no doubt" the vaccination rollout was having a "major impact" in keeping people out of hospital and saving lives.
NHS England said patients aged 18-34 made up more than 20 per cent of those admitted to hospital last month, up from close to one in 20 – 5.4 per cent – at the peak of the winter wave in January.
If you are 18 or over, don't delay in getting your vaccine – go and grab your jab. You do not need an appointment or to be registered with a GP.
Walk-in clinics are open during the day, evening and over the weekend to encourage everyone to get their vaccine.
All clinics are offering first and second doses, with most offering Pfizer vaccines for younger people under 40 and the Astra Zeneca (AZ) jab to those over 40 and people who require a second AZ dose.
Details of all the clinics across Bradford district and Craven are available here:  https://bit.ly/VaccineWalkInClinic
Ends