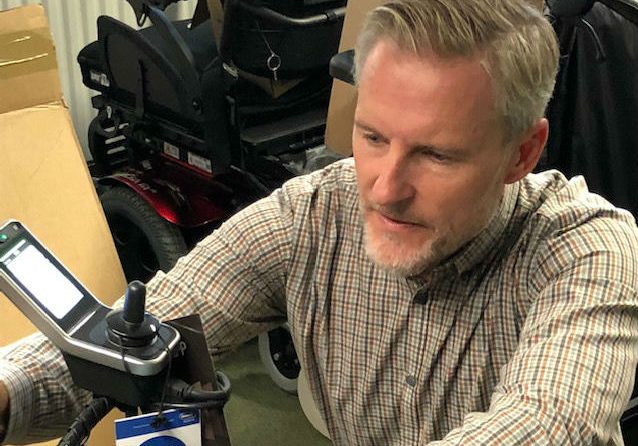 Engineer Dean Hobson is using the latest technology to transform the lives of people throughout the region.
Dean, a specialist rehabilitation engineer at Bradford Teaching Hospitals NHS Foundation Trust, is the only person in the district with the knowledge needed to design and construct hi-tech wheelchairs for residents with some of the most challenging health conditions.
Standard NHS wheelchairs can weigh up to 20kg and are unsuitable for people with complex health needs. But, thanks to Dean and colleagues at the Trust's Wheelchair Services department, Bradford residents can now access tailor-made state-of-the-art electric chairs.
"The right wheelchair can transform someone's life," said Dean, "and I will work with each person and the wheelchair companies to get the best results possible.
"It's satisfying being able to help someone in a small way as there is no-one else in Bradford who does this."
Wheelchairs have moved on considerably from the days of wrought-iron frames and rubber tyres, with some now featuring touchscreens to control movement, on-board computers and electrics which allow the chair to be turned through 360 degrees on its own axis for easier access.
Thanks to the skills he has developed during 12 years in the job, Dean is able to marry wheelchairs with the latest technology to meet very specific needs.
"I don't like to give in," he said. "The technology is moving forward and the step changes are getting bigger all the time. Our job is to give people the best wheelchairs possible."
Playstation controller
Dean recently finished a chair for a teenage gaming fan which is operated by a Playstation controller, and has adapted others for patients with limited mobility which feature a touchscreen controlled by a joystick which needs just 10 grammes of pressure to operate.
The latest technology is also used to ensure each wheelchair provides the maximum level of comfort, with Dean and his colleagues using pressure mapping technology to examine patients' seated posture and identify areas prone to pressure sores. The information they glean will then help identify the best type of cushion for them.
In some cases they will also use a hi-tech 'beanbag' to create a 3D model and help the seat manufacturers mould a cushion into the most comfortable shape.
"Everyone is different and we need to make sure each chair is the best it can be for each patient," said Dean, who is a member of the Clinical Engineering team based at Bradford Royal Infirmary. "In the past we used plaster of Paris, but things have changed and we now aim to provide a really intimate fit.
"It's not so much about comfort but to prevent pressure ulcers. The more surface area you can sit on, the better. The seat we use varies according to the disability and it's all about being sat with a good posture."
Around 6,000 wheelchair users are on the books of Wheelchair Services and Bradford Teaching Hospitals has made great strides in recent years to increase provision to them all. Waiting times for manual wheelchairs recently fell by half thanks to a dedicated team and close relationship with our commissioners, Bradford City and Districts clinical commissioning groups.
Dean sees between six and eight people at his weekly clinic at Bradford Wheelchair Assessment Centre on Cemetery Road in order to prepare and adjust the chairs he is working on.
He also travels to wheelchair-users' own homes if getting to the assessment centre is difficult, and will recommend modifications to furniture and lifestyle which will help improve their domestic lives too.
Independence
"The guys I see will go from being laid in bed to being able to get around the house and go out into the street. They can go to the cinema and on holiday with their wheelchair and have some kind of independence. We got one guy driving a chin-control power chair and he goes everywhere. I saw him in the dentist at Horton Park the other week!
"They come back to see me all the time and like to show their appreciation. It's a lifetime service and it's important we get that input from each user.
"It's a rewarding job. I worked in industry before this and I was just dealing with people on the shop floor. This is totally different."
Dean's boss, Iain Threlkeld, head of clinical engineering at Bradford Teaching Hospitals, said: "Dean is a highly respected rehabilitation engineer with a wealth of experience dealing with very complex challenges.
"He regularly receives compliments from people he has helped and also their family members saying just how much of a difference he makes to people's lives.
"His dedication to his clients means he often goes above and beyond and he is highly regarded by everyone he comes into contact with."
Wheelchairs are developing very quickly, and the not too distant future may see upright segway-style machinery and increasingly innovative control solutions.
But, thanks to Dean, Bradford residents are already benefiting from some of the best wheelchair technology available.