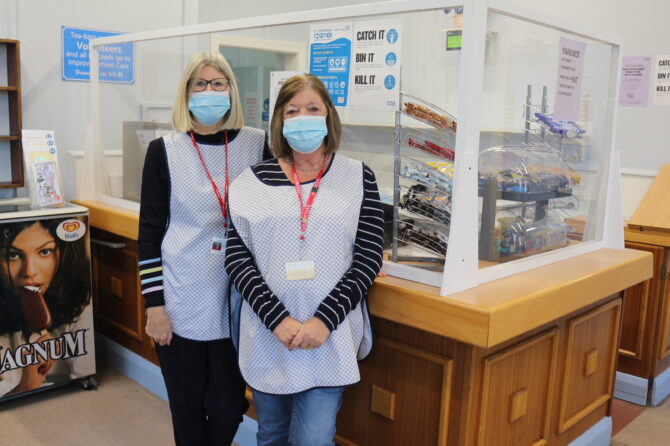 Bradford Teaching Hospitals has welcomed back volunteers after they were restricted from NHS service at the start of the pandemic more than 18 months ago.
All volunteering roles were paused when COVID-19 hit, but St Luke's Hospital this week welcomed back volunteers who serve on its two tea bars.
Assistant Chief Nurse, Karen Bentley said: "The return of our volunteers is beginning with a phased approach for those that are low risk and double vaccinated.
"Volunteers are an integral part of the day-to-day running of our hospitals and many were eager to return to their duties. Colleagues really enjoy seeing them back as they help bring a little bit of normality back even though COVID-19 is still present.
"Their friendly faces are a welcome sight and we greatly appreciate all that they do."
This week the Friends of St Luke's Hospital reopened their two tea bars, the Welcome Cuppa and the newly-revamped 'Happy Memories Café' in Horton Wing.
The cafes shut their doors in March 2020 just as the hospital and country went into lockdown.
The 'Happy Memories' café, in the hospital's outpatients department, had just undergone a £9,000 makeover to make it dementia-friendly.
The renovation was led by Estates and Facilities Project Officer, Sam Hunter and was funded by the Friends of St Luke's. The revamp involved new wall vinyls and bright pink seating being installed after consultation with the tea bar volunteers, customers and colleagues, including Dementia Lead, Roshanne Fox.
Voluntary Services Co-ordinator, Sue Schofield, added: "It's great to see the Friends of St Luke's Hospital volunteers back and the tea bars open for business.
"Behind the scenes we have been doing the risk assessments and making sure we don't have vulnerable volunteers in to run the tea bars, but those volunteers who have come back are back with force and it's lovely to see.
"All the revenue raised by the Friends goes back to the hospital for the benefit of our patients.
"Staff love coming to get their tea and toast on their breaks and patients love to come in to get hot and cold drinks while they wait."
Friends of St Luke's Chairperson, Barbara Cawood, was on duty with fellow volunteer, Maxine Speight, on the Horton Wing, while over at the Welcome Cuppa volunteers Edith Ulph and Liz Donoghue were serving customers.
Barbara said: "It's been good for me to come back because I live on my own so it's nice to be back."
Edith added: "It's lovely to be able to come back to the Welcome Cuppa as we are volunteers and we like to help out."
The tea bars are open 9am to 2pm Monday to Friday serving tea, toast, sandwiches, snacks and drinks. The public are kindly politely reminded to socially distance when using the tea bars.
Plans are also in the pipeline for the return of the Friends of BRI's ENT tea bar.
Around 10 volunteer guides resumed duties at Bradford Royal Infirmary and St Luke's Hospital main entrances, to steer patients and their carers or families to the right clinic, department or ward, earlier this month.
The Trust's hospital radio stations, Radio Royal and St Luke's Sound are also up and running again and are now broadcasting regularly thanks to new social distancing measures that have been implemented in their studios.
ENDS …