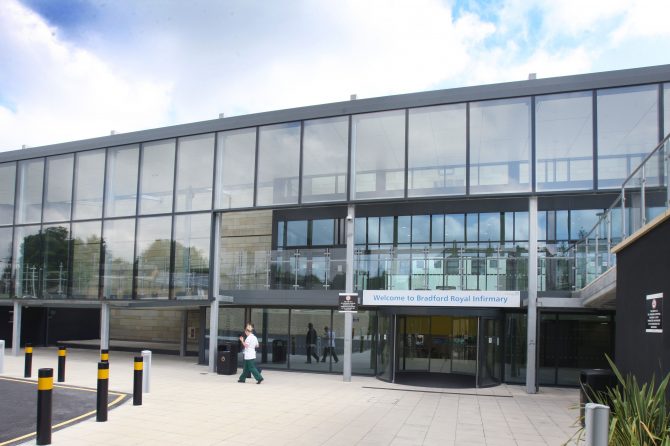 VISITING has been suspended at all Bradford hospital sites in response to the coronavirus outbreak.
Hospital bosses have taken the step as a responsible and proactive measure as part of coronavirus (COVID-19) preparedness. The policy will apply to both the Trust's sites at Bradford Royal Infirmary and St Luke's Hospital.
Mel Pickup, Chief Executive of Bradford Teaching Hospitals NHS Foundation Trust, said: "We do understand that these new restriction may be very difficult for families who want to visit loved ones, to show their respects, to pray and to offer their support.
"However, coronavirus is a serious infectious disease and we must do everything we can to slow the spread of the disease, which includes suspending all visiting, except in the most exceptional circumstances.
"We will do our best to help anyone who wishes to communicate via an alternative method such as using their mobile phone/Facetime via the free hospital WiFi."
Special allowances will be made for the children's ward and neonatal unit, where one parent is able to be with their child, and for relatives collecting patients on discharge and those at the end of life. These will be restricted and visits must be pre-arranged with the nurse in charge.
Restrictions will also be in place on the maternity unit, where only one person can accompany people in labour, and only one nominated person or partner can visit the maternity ward and delivery suite. No young people under the age of 16 are able to visit.
In exceptional circumstances, these restrictions will be reviewed on an individual basis which will be agreed with the nurse in charge.
Mel Pickup added: "I'd like to thank everyone for their support and understanding, and for helping to keep our hospital environment as safe as possible for all our patients, visitors and staff during this period."
The changes come into force with immediate effect.
ENDS
For further media information, please contact communications@bthft.nhs.uk or call 01274 383901
 Follow us on Twitter: @BTHFT