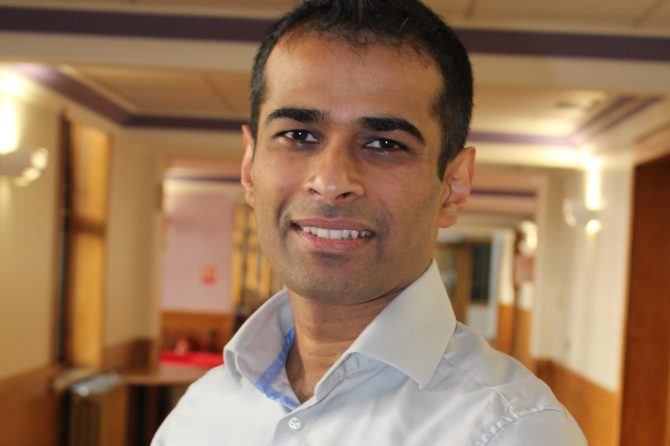 A VIRTUAL conference co-hosted by a Bradford paediatrician is set to celebrate and showcase some of the innovative work taking place within clinical teams and community services across West Yorkshire and Harrogate.
The second annual Paediatric Ambulatory Care Networking Event will take place online on December 16 from 9am to 1:15pm.
Ambulatory care describes non-inpatient services, including urgent and elective care delivered in the community and sometimes in a child or young person's home. This is an emerging area of paediatrics and will be critical to the delivery of high-quality care in the coming years.
The conference has been organised with the West Yorkshire and Harrogate Health and Care Partnership (WYHHCP). Dr Mat Mathai, Paediatric Ambulatory Care Consultant at the Trust and Nubi Jones, a final-year Behavioural Science student at the University of Huddersfield, will be co-hosting the event. As part of the conference Ms Jones will deliver a personal reflection on her experience of healthcare and how children and young people can help shape the future of health service delivery.
Dr Mathai said: "This year, and with the challenge of COVID, out of hospital care has generated a huge amount of interest. Innovators all over the country have been hard at work trying to meet changing service demands. The conference will be a celebration of teamwork and showcase some of the most promising projects from teams across the region and the country.
Integrated approach
"Throughout COVID, teams working across the NHS have really shown how resilient they can be. However the real opportunity now is for the NHS to support communities to look out for, and after, each other with quality local services tailored to the needs of our neighbourhoods. We need an integrated approach that focuses on strengthening community services. If we don't go upstream nothing will change downstream and we all know what that looks like in our overstretched A&E departments. Ultimately we need to move to a truly national health service as opposed to one that focuses on disease."
Guest speakers at the event will include Dr Mo Akindolie, who will open the conference. Dr Akindolie is a Consultant in Ambulatory Paediatrics at King's College Hospital in London and, as the CYP Clinical Director for the Healthy London Partnership, has led projects that have reshaped paediatric provision to better meet the needs of local children and their families. Dr Akindolie has a particular interest in bridging the gap between primary and secondary care, and was recently appointed Deputy Registrar of the Royal College of Paediatrics and Child Health.
And Yannish Naik, Climate Change Lead and Acting Consultant in Public Health at WYHHCP, will look at how we can work across systems to tackle health inequalities in an ecologically sensitive way.
To book your free place, please register online via Eventbrite by Friday, December 11 here: https://www.eventbrite.co.uk/e/paediatric-ambulatory-care-networking-event-2020-tickets-130781688551
We look forward to seeing you on the day!