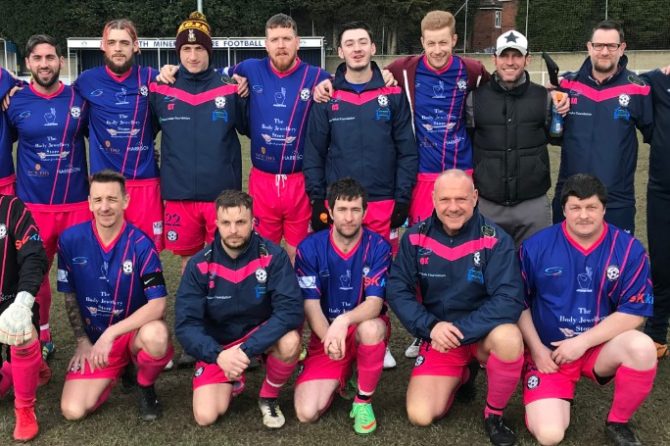 NHS hospital staff will turn their talents to football this April when they tackle a team of celebrities to kick-start Bradford Hospitals' Charity's big appeal to improve facilities for children.
The match on 14 April at Horsfall Stadium – home of Bradford Park Avenue FC – will see NHS staff from across Bradford Teaching Hospitals NHS Foundation Trust pit their soccer skills against ex-professional footballers and TV stars.
Supporting Charities FC is organising the event to raise money for Bradford Hospitals' Charity's Rays a Smile appeal, which aims to reach £250,000 to transform the radiology departments at Bradford Royal Infirmary and St Luke's Hospital into child-friendly spaces.
West Yorkshire businesses are wanted to sponsor the NHS team kit, as well as the match-day programme, celebrity players and match-day ball. Organisers are also on the lookout for stalls and entertainment.
Stars set to play on the day include Emmerdale actors James Hooton (Sam Dingle) and Ash Palmisciano (Matty Barton), Mrs Brown's Boys' Rory Brown, David Easter (Mac Nightingale) and David Kennedy (Dirk Savage) from Hollyoaks, Tim Bradbury of Tiny Tim Adventures, singer and actor Ash Stevenson, Big Brother's Ellie Young, Sky Sports presenter Tom White, Bradford City women's captain Maisie Norde, and former professional footballers Lee Duxbury (Bradford City), Craig Armstrong (Nottingham Forrest, Huddersfield Town, Sheffield Wednesday), and Darren Williams (Sunderland and England U21).
Dr Faisal Ali, a Consultant Histopathologist at Bradford Royal Infirmary, will captain the NHS 11, which will also include doctors, nurses, healthcare assistants and professional clerical staff.
Team of hospital staff
Hayley Collis, head of fundraising for Bradford Hospitals' Charity, said: "We are delighted to field a team of hospital staff for this charity match. Every penny we raise will go towards improving the facilities for children and young people who visit our hospitals for scans.
"Whether it's for an x-ray, MRI, CT scan or ultrasound – more than 20,000 children and young people visit our radiology department each year and so it's vital we cater for their needs by creating a relaxing and welcoming space.
"The appeal also aims to buy kit which will allow young people to watch TV for distraction and create a snuggle room to soothe babies to sleep before procedures – all of which will help medics avoid using general anaesthetic.
"Our NHS staff are hard working, dedicated and know how to work as a team, so we look forward to beating those celebrities and raising as much money as possible!"
Any businesses, large or small, who would like to sponsor our Bradford NHS team should contact Hayley Collis or Elaine Drake on 01274 274809 or email charity@bthft.nhs.uk.
If you would like to sponsor the match-day programme, match-day ball, sponsor one of the celebrity players or host a stall/provide entertainment, please contact Chris Moralee on 07522123700 or at charityscfc@hotmail.com for more information.
ENDS
 Note to Editors:
Bradford Hospitals' Charity is one of more than 250 NHS charities based around the UK. It supports the strategic direction of Bradford Teaching Hospitals NHS Foundation Trust by funding projects which go over and above what he NHS provides. The charity aims to provide the #bestforbradford.
Last year, a new £28million wing opened at Bradford Royal Infirmary, which was part of a £75m investment to improve patient care across our hospitals. It provides world-class facilities for the elderly, children and a brand new intensive care unit. Bradford Hospitals' Charity provided £260,000 to enable the Trust to create family friendly environments, state-of-the-art equipment and innovative distraction toys and games for young people.
With the support of Bradford Hospitals' Charity, BTHFT was also able to provide more cots, including intensive care and high dependency cots, new family accommodation, a revamped counselling suite and a dedicated room for mothers to express milk for pre-term babies when the new neonatal unit opened in 2015.
For further media information, please contact Kelly Thornham, Communications Officer, at communications@bthft.nhs.uk or call 01274 382265.
Note to Editors:
Bradford Teaching Hospitals NHS Foundation Trust:
Bradford Teaching Hospitals NHS Foundation Trust is responsible for providing hospital services for the people of Bradford and communities across Yorkshire. We serve a core population of around 500,000 and provide specialist services for 1.1 million people.
Our 5,500 staff work over several sites, including Bradford Royal Infirmary, which provides the majority of inpatient services, and St Luke's Hospital, which predominantly provides outpatient and rehabilitation services. We also manage local community hospitals at Westwood Park, Westbourne Green, and Eccleshill.
In early 2017, a new £28 million wing opened at Bradford Royal Infirmary, part of a £75m investment to improve patient care across our hospitals over a five-year period. It provides world-class facilities for elderly care, children's services, a state-of-the-art intensive care unit with increased single-room provision and a retail concourse.
The new wing is a continuation of our work to improve patient experience after our new £2 million neonatal unit officially opened in January 2015. Our maternity services were recently shortlisted for the Royal College of Midwives' (RCM) Midwifery Service of the Year Award, recognising excellence and innovation in the provision of maternity care.
In 2017, we also completed a £2m refurbishment of our Emergency Department (ED) as part of an ambitious vision to create a more efficient acute medicine service for the people of Bradford. It has been designed to provide a slicker and more efficient service, with faster senior clinical involvement at an early stage in the patient pathway.
As a teaching hospital, we are at the forefront of education and development in healthcare, and have an excellent reputation for research performance. We are one of the leading centres in conducting applied research in the country, particularly in quality and safety, elderly care and rehabilitation.
The Trust is home to the Bradford Institute for Health Research (BIHR) where researchers have led the development, validation and implementation of the award-winning Bradford Electronic Frailty Index (eFI) which helps calculate an elderly person's risk of disability, impairment, falls and complications of chronic diseases, as well as their diminishing independence and capability. This is now being used by 98% of all GPs across the country.
Our award-winning Ophthalmology department is home to numerous worldwide clinical trials taking the lead in eye care research and we are one of only three sites in the United Kingdom to be enlisted in the Perioperative Enhanced Recovery Hip Fracture Care of Patients with Dementia (PERFECTED) study, which will investigate how the NHS can introduce better standards of care to improve outcomes for people with dementia.
The Trust has its own Bradford Hospitals Charity: https://bradfordhospitalscharity.org/
Follow us on Twitter: @BTHFT
For more information please visit www.bradfordhospitals.nhs.uk