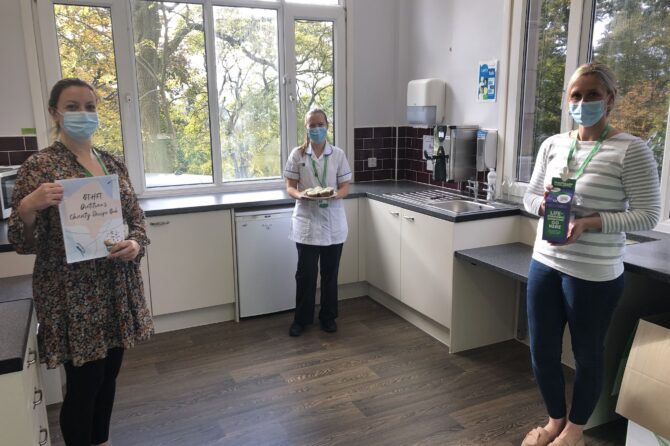 THE Macmillan Oncology Dietetic team based at Bradford Teaching Hospitals NHS Foundation Trust has written a recipe book to raise vital funds for Macmillan Cancer Support.
Macmillan oncology dietitians Fiona Enright, Emma Cavalier and Adrienne Doyle support patients living within Bradford who requiring nutritional advice after a cancer diagnosis.
Cancer can affect a person's ability to eat, compromising the nutritional value of their diet, and also leave them without an appetite, leading to weight loss and low energy levels.
The specialist team here at Bradford, however, provide expert support to ensure our patients receive the essential nutrients they need in their diet to keep their strength up and remain as well as possible.
Highly Specialist Macmillan Oncology Dietitian Fiona Enright came up with the idea of a recipe book after it became clear that the team wouldn't be able to hold their annual Macmillan Coffee Morning for the charity due to COVID-19 restrictions.
She said: "We came up with the idea of putting together a BTHFT Dietitians' Charity Recipe Book. If there's one thing dietitians know a lot about, it's food!
Recipes
"We invited our colleagues from across the Nutrition and Dietetics service to share their favourite recipes and compiled it in our spare time with support from our wonderful Medical Illustration department; there's something for everyone in there, including a cheeky cocktail at the end.
"We are absolutely delighted with the support we've received from colleagues, family and friends. We can't believe the amount of money already raised and it's still coming in!
"I think people need a little light relief and positivity now more than ever."
Emma Cavalier added: "As a team of Macmillan professionals, we wanted to give something back to the charity that supports us to do our job.
"The idea of the recipe book was not only to raise funds, but to raise awareness of the fact that people affected by cancer are suffering through this pandemic. We can't afford to let cancer become the forgotten 'C'."
Useful
Adele Burrough, Macmillan Fundraising Manager for West Yorkshire, said: "I've been blown away by the effort that our fabulous Macmillan Dietetic team and their colleagues from Bradford's Nutrition and Dietetic and Medical Illustration departments have gone to. The book is amazing and packed full of useful recipes.
"Times are tough at the moment for everyone, especially those that are living with cancer. We want to say a massive thank you to the team and everyone who has supported their fundraising. It's true to say Macmillan has never needed the money more."  
To receive a copy of the recipe book and make a donation to Macmillan, please visit the team's fundraising page here: https://thyg.uk/BUU004304112
Right now, there are around 179,000 people living with cancer across Yorkshire. When coronavirus hit, thousands of vital cancer treatments and appointments were postponed or cancelled.
Macmillan has launched an appeal in Yorkshire and every donation received will stay in the region to give vital support to those who need it.  To find out more and make a donation please visit, www.macmillan.org.uk/yorkshireappeal or call 0300 1000 200.
Photo caption: (L-R) Fiona Enright, Adrienne Doyle and Emma Cavalier