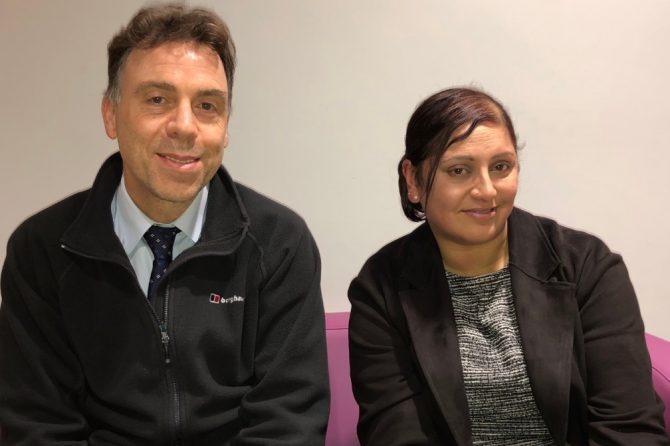 During Organ Donation Week, September 2 to 8, NHS Blood and Transplant and Bradford Teaching Hospitals NHS Foundation Week are urging people to talk to their families about organ donation to increase the number of people whose lives can be saved or transformed by an organ transplant.
Next year, the law around organ donation is changing in England. From spring 2020, all adults in England will be considered as having agreed to donate their own organs when they die unless they record a decision not to donate or are in one of the excluded groups.
In the lead up to the change in law, NHS Blood and Transplant is urging families across England to talk about their organ donation decision, with the campaign message 'Pass it on'.
Even after the law has changed, families will continue to be approached before organ donation goes ahead. Knowing what their relative wanted helps families support their decision at a difficult time.
A recent survey of adults in England for NHS Blood and Transplant found that while 84% agreed it was important to let those closest to you know your views on organ donation, only 40% had shared their organ donation decision with their family or partner.
More and more families in Bradford are saying yes to organ donation but there is still an urgent shortage of donors. Bradford Teaching Hospitals is asking people in the city to tell their families they want to donate to help make sure more lives are saved.
Over 768,000 people in West Yorkshire are already on the national NHS Organ Donor Register, but people also need to tell their family they want to donate.
More than 250 patients across West Yorkshire are currently awaiting a transplant, and the need for donors from Asian and black backgrounds is particularly pressing here in Bradford.
Life-saving transplant
Last year at Bradford Royal Infirmary, nine people were able to donate their organs after their death, which resulted in patients receiving a life-saving or life-changing transplant.
In 2018/19 across West Yorkshire there were 193 transplants carried out.
The Trust's Clinical Lead for Organ Donation, Dr Andy Baker, said: "We need more people in Bradford to talk about organ donation to increase the number of lifesaving transplants.
"While most people agree that it is important to talk to their family about organ donation, it is less likely that they will have actually had this important conversation.
"Sadly, many opportunities are lost every year because families don't know if their loved one wanted to be a donor or not. Please don't wait. Speak to your family about organ donation today."
Anthony Clarkson, Director of Organ Donation and Transplantation for NHS Blood and Transplant said: "We are very grateful to Bradford Teaching Hospitals for its support during Organ Donation Week.
"Even after the law around organ donation changes next year, families will still be approached before organ donation goes ahead. So it remains so important to talk to your families about your views.
"Register your organ donation decision on the NHS Organ Donor Register and tell your family the choice you have made. If the time comes, we know families find the organ donation conversation with nurses or medical teams much easier if they already know what their relative wanted."
Find out more and register your decision by visiting NHS Organ Donor Register at www.organdonation.nhs.uk and share your decision with your family.
Patient stories
Mum-of-two, Rehana Kosar, from Bradford (pictured above with Consultant Nephrologist Dr John Stoves), had a kidney transplant six years ago and encourages those in the Asian community in Bradford and further afield to join the organ donor register.
Raja Ahmed – waiting for a kidney transplant. Raja, 28, from Bradford, has been on dialysis at St Luke's Hospital, Bradford, since February 2019, and has been on the transplant list since April this year as he suffers from a rare form of kidney disease and an autoimmune condition which destroys the kidneys.
ENDS
For further media information, please contact communications@bthft.nhs.uk or call 01274 383901.
Note to Editors:
NHS Blood and Transplant is a joint England and Wales Special Health Authority: provides the blood donation service for England and the organ donation service for the UK. It also provides donated tissues, stem cells and cord blood. It is an essential part of the NHS, saving and improving lives through public donation.
Bradford Teaching Hospitals NHS Foundation Trust:
Bradford Teaching Hospitals NHS Foundation Trust is responsible for providing hospital services for the people of Bradford and communities across Yorkshire. We serve a core population of around 500,000 and provide specialist services for 1.1 million people.
Our 5,500 staff work over several sites, including Bradford Royal Infirmary, which provides the majority of inpatient services, and St Luke's Hospital, which predominantly provides outpatient and rehabilitation services. We also manage local community hospitals at Westwood Park, Westbourne Green, and Eccleshill.
In early 2017, a new £28 million wing opened at Bradford Royal Infirmary, part of a £75m investment to improve patient care across our hospitals over a five-year period. It provides world-class facilities for elderly care, children's services, a state-of-the-art intensive care unit with increased single-room provision and a retail concourse.
The new wing is a continuation of our work to improve patient experience after our new £2 million neonatal unit officially opened in January 2015. Our maternity services were recently shortlisted for the Royal College of Midwives' (RCM) Midwifery Service of the Year Award, recognising excellence and innovation in the provision of maternity care.
In 2017, we also completed a £2m refurbishment of our Emergency Department (ED) as part of an ambitious vision to create a more efficient acute medicine service for the people of Bradford. It has been designed to provide a slicker and more efficient service, with faster senior clinical involvement at an early stage in the patient pathway.
As a teaching hospital, we are at the forefront of education and development in healthcare, and have an excellent reputation for research performance. We are one of the leading centres in conducting applied research in the country, particularly in quality and safety, elderly care and rehabilitation.
The Trust is home to the Bradford Institute for Health Research (BIHR) where researchers have led the development, validation and implementation of the award-winning Bradford Electronic Frailty Index (eFI) which helps calculate an elderly person's risk of disability, impairment, falls and complications of chronic diseases, as well as their diminishing independence and capability. This is now being used by 98 per cent of all GPs across the country.
Our award-winning Ophthalmology department is home to numerous worldwide clinical trials taking the lead in eye care research and we are one of only three sites in the United Kingdom to be enlisted in the Perioperative Enhanced Recovery Hip Fracture Care of Patients with Dementia (PERFECTED) study, which will investigate how the NHS can introduce better standards of care to improve outcomes for people with dementia.
The Trust has its own Bradford Hospitals Charity: https://bradfordhospitalscharity.org/
Follow us on Twitter: @BTHFT
For more information please visit www.bradfordhospitals.nhs.uk