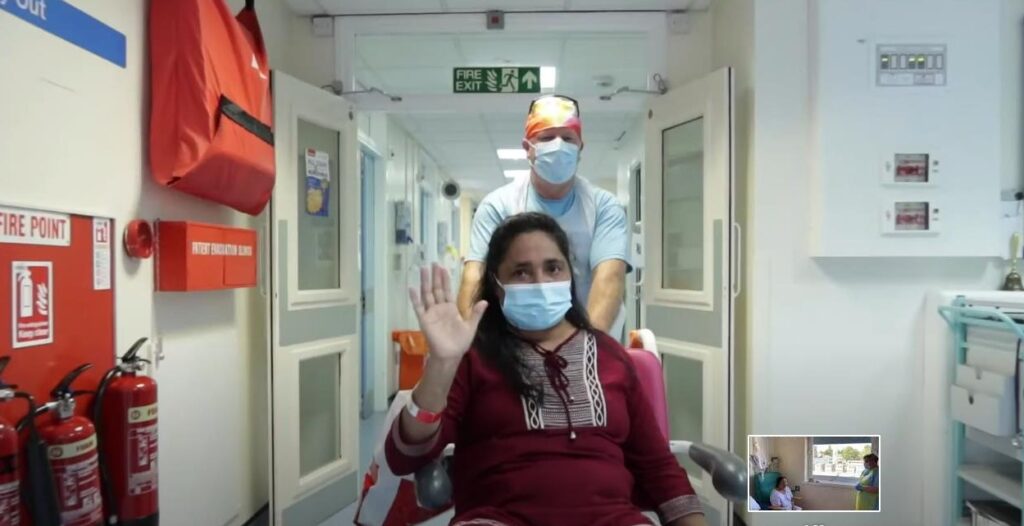 A BRADFORD Teaching Hospitals' nurse who lay in a coma for 40 days after contracting Covid-19 (coronavirus) has thanked colleagues for saving her life.
Susamma Mathai, a Nurse Associate at Bradford Royal Infirmary, was given an emotional send off by those who had looked after her as she left hospital to be reunited with her family.
Staff lined the corridors to the hospital's Duke of York wing, part of Bradford Teaching Hospitals NHS Foundation Trust, to clap as she was finally discharged after spending a total of 63 days in hospital.
Susamma, 51, joined the Trust in 2014 as a Healthcare Assistant. Since 2018, she has worked as a Nursing Associate, a relatively new role in the NHS, part of the nursing team, providing care and treatment in a wide range of health and care settings. She is based in BRI's surgical department. She admitted she was more used to looking after patients than being one herself.
Susamma said: "I was very shocked to get Covid-19 and I felt really poorly. I was brought into hospital on April 25 and taken to the intensive care unit (ICU.) I don't remember very much at all but I do recall struggling to breathe and had to be put on a respirator.
Proud
"When I eventually did wake up after 40 days, I couldn't move my arms or my legs and I couldn't speak. I just want to say how proud I am of my colleagues who all worked to make me better; firstly on ICU and then on Ward 31. Everyone has helped me and I am so grateful to physiotherapy and speech therapy colleagues too who have got me standing and walking again."
She said she was touched to hear that while she was ill, messages from staff all across the hospital wishing her a speedy recovery and sending her love, flooded in.
"So many people have been thinking of me. I am so proud of this hospital. Staff have saved my life. I now need to get fully better and then I can return to work eventually. I have to be very fit though as I work in a very busy department and I have to run around!" she said.
Once home, Susamma added that she was looking forward to catching-up with her husband and two grown-up sons, as well as her sister, who is also a nurse at BRI, working in Cardiology.
The Trust's Chief Nurse, Karen Dawber, said; "Everyone has been rooting for Susamma and her recovery has been remarkable. She is a much-loved and valued colleague and to see her now ready to go home is just wonderful. This is a day of real celebration.
"We wish her all the best for her continued recovery and look forward to the day when she is fully fit and well enough to come back to join our surgical team. We've all missed her."
ENDS
For further media information, please contact communications@bthft.nhs.uk or call 01274 382265
Note to Editors:
Bradford Teaching Hospitals NHS Foundation Trust:
Bradford Teaching Hospitals NHS Foundation Trust is responsible for providing hospital services for the people of Bradford and communities across Yorkshire. We serve a core population of around 500,000 and provide specialist services for 1.1 million people.
Our 5,500 staff work over several sites, including Bradford Royal Infirmary, which provides the majority of inpatient services, and St Luke's Hospital, which predominantly provides outpatient and rehabilitation services. We also manage local community hospitals at Westwood Park, Westbourne Green, and Eccleshill.
In early 2017, a new £28 million wing opened at Bradford Royal Infirmary, part of a £75m investment to improve patient care across our hospitals over a five-year period. It provides world-class facilities for elderly care, children's services, a state-of-the-art intensive care unit with increased single-room provision and a retail concourse.
The new wing is a continuation of our work to improve patient experience after our new £2 million neonatal unit officially opened in January 2015. Our maternity services were recently shortlisted for the Royal College of Midwives' (RCM) Midwifery Service of the Year Award, recognising excellence and innovation in the provision of maternity care.
In 2017, we also completed a £2m refurbishment of our Emergency Department (ED) as part of an ambitious vision to create a more efficient acute medicine service for the people of Bradford. It has been designed to provide a slicker and more efficient service, with faster senior clinical involvement at an early stage in the patient pathway.
As a teaching hospital, we are at the forefront of education and development in healthcare, and have an excellent reputation for research performance. We are one of the leading centres in conducting applied research in the country, particularly in quality and safety, elderly care and rehabilitation.
The Trust is home to the Bradford Institute for Health Research (BIHR) where researchers have led the development, validation and implementation of the award-winning Bradford Electronic Frailty Index (eFI) which helps calculate an elderly person's risk of disability, impairment, falls and complications of chronic diseases, as well as their diminishing independence and capability. This is now being used by 98% of all GPs across the country.
Our award-winning Ophthalmology department is home to numerous worldwide clinical trials taking the lead in eye care research and we are one of only three sites in the United Kingdom to be enlisted in the Perioperative Enhanced Recovery Hip Fracture Care of Patients with Dementia (PERFECTED) study, which will investigate how the NHS can introduce better standards of care to improve outcomes for people with dementia.
The Trust has its own Bradford Hospitals Charity: https://bradfordhospitalscharity.org/
Follow us on Twitter: @BTHFT