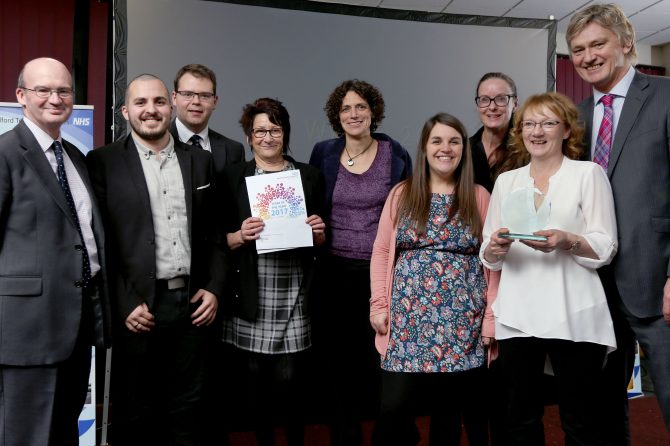 The commitment, innovation and dedication of hospital staff has been celebrated at a special Brilliant Bradford awards ceremony.
Dozens of awards have been presented to staff of Bradford Teaching Hospitals NHS Foundation Trust who have demonstrated excellence in their field of work as well as to those who have gone above and beyond the call of duty, putting patients at the heart of all they do.
The awards ceremony, held at Bradford City Football Club and sponsored by Sovereign Health Care, applauded individuals and teams in a number of categories.
It was also an occasion to thank those who have served the Trust and its hospitals for many years – in all 41 members of staff were presented with Long Service Awards after clocking up a phenomenal 1,100 years of unstinting service to the NHS.
Individual award winners received a commemorative certificate, a glass plaque and £500 (1st prize), £200 (2nd prize) and £100 in vouchers donated by Sovereign.
Team of the Year winners received £4,000, the runner-up £3,000, and two teams shared second place, each receiving £2,500. They will re-invest their prize money to support further developments within their teams.
Deeply impressed
Chief executive, Professor Clive Kay said: "I was once again deeply impressed by our staff's commitment, innovation and dedication to go the extra mile for our patients: it really is what makes Bradford Hospitals brilliant.
"The quality of nominations was extremely high and our judging panels had a difficult task choosing winners.
"I would like to thank all those who took the time to submit a nomination and congratulate all of those who were successful."
The awards were presented by Chairman, Professor Bill McCarthy and special guest, Russ Piper, Chief Executive of Sovereign Health Care.
This year there were six awards on offer; there were three prizes for Team of the Year and single winners for the other awards, which were for outstanding individuals – either clinical or non-clinical.
The Finance and Performance Excellence Award is for someone who has made a significant contribution either to the financial health of the Trust, through increased productivity or cost savings, or who has supported performance improvements.
The award was won by Corinne Wood, Temporary Staffing Manager, for streamlining the booking of agency doctors and other health professionals and making significant savings in doing so.
Second place went to Julie Ward, Overseas Visitor Manager for being passionate and committed in getting income for the Trust by making sure she gets payments from overseas patients when they receive treatment at our hospitals. Third prize went to Jacqui Griffin, Assistant Director of Finance.
The Excellence in Collaboration Award recognises the work of someone who's shown how they have made a significant contribution to effective collaboration between the Trust and one or more external partners.
Collaboration project
Chris Bem, Consultant Ear, Nose and Throat (ENT) Surgeon and lead for Well Bradford was overwhelmed to win the top award and said he was so proud that Bradford had been recognised for the Well Bradford collaboration project which aims to improve to improve the health and wellbeing of people in Girlington.
Lorraine Cameron, Head of Equality and Diversity won second prize for being a driving force in Project SEARCH, which helps young people with learning disabilities find employment. Third prize went to Corinne Jeffrey, Acting Divisional General Manager.
The Excellence in Care Award recognises the achievement of someone who's demonstrated how they have made a significant contribution to care and compassion.
Sara Dixon, Extended Scope Practitioner in the Physiotherapy department scooped top prize for helping to transform hand services in the Trust. She has been involved in setting up physiotherapy clinics alongside the trauma clinic every day of the week, providing one stop care for the patient, so they avoid several trips to hospital. During her spare time, Sara works with sick refugees in Greece and is planning to spend her Christmas this year with them.
Second place went to Iftekhar Ahmed, Eye Clinic Liaison Officer, who helps patients with visual impairment, for whom there are no more medical options, start to rebuild their lives. Judges were told that 'Iftekhar brightens the clinic; is always encouraging to everyone and nothing is ever too much trouble.' In third place was Rebecca Palethorpe, Specialist Midwife in Parent Education.
The Learning Excellence Award recognises the work of someone who's shown how they have made a significant contribution to learning excellence or professional development, through training or education.
Judges found it impossible to pick a winner, so there were two people in joint first place – Wendy Milner, Senior Sister, Intensive Care Unit (ICU), and Jacqui Smith, Sister, Ward 29 – for their work to reduce the incidence of pressure ulcers across the hospitals.
Third place went to Alison Powell, Midwifery Matron for dedication to improving the safety of mothers and babies in her service.
The Valuing People Award recognises the achievement of someone who embodies or inspires others to feel motivated, engaged, well-led and valued; who's made a significant and outstanding contribution towards the Trust's aim of being an outstanding NHS employer.
Malik Latif, Medical Records Team Co-ordinator, was awarded the top prize for his positivity and the support he gives everyone in his team. The judges were told Malik 'keeps his staff satisfied with his energy, positive vibes and influence and, as a result, they happily work really hard on a regular basis.'
Second place went to Malcolm Smith, Linen Porter, for being an integral part of the success of Project SEARCH. He has mentored five interns, four of whom have gone on to employment, and helped them learn and move on with confidence gained from him. Third place went to Yasar Arafat, Staff Nurse in A&E.
The Team of the Year Award celebrates the work of people who've demonstrated excellence in teamwork – honouring teams that have made the biggest contribution to achieving the Trust's vision to be 'an outstanding provider of healthcare, research and education, and a great place to work'. This year there were a record 50 nominations.
Worthy winners
Ward 28 (Orthopaedic, Breast and Trauma) at Bradford Royal Infirmary proved worthy winners of the Team of the Year Award, showing how teamwork can transform a working environment and dramatically improve patient care.
Angela O'Neill, Ward 28 Manager, nominated the ward team for overcoming significant problems and pulling together to put patient care at the forefront of all that it does. She told the judges: "The team has worked exceptionally hard to overcome the difficulties faced, including several staff vacancies, and is now working as a team, not as individuals. We now deliver an extremely high standard of care and have been three months' pressure ulcer-free."
Joint second place was awarded to the Pharmacy Department for maintaining a high quality service while new computer systems were installed, and the Neonatal Outreach Team for developing a care pathway to enable babies requiring short-term naso-gastric tube feeding to be discharged home early with a support package.
The Chief Executive's Unsung Hero Award went to Ben Martin, who graduated from Project SEARCH to working for the Trust's Informatics Service, admitted he was "shocked for words" when his name was called onto the awards stage. Ben, who works on the IT Helpdesk, now mentors a new intern on Project SEARCH, sharing his experience and confidence with others who are just starting out on the road to employment.
The Deputy Chief Executive's Unsung Heroes Awards went to the Trust's Directorate Managers who played such a key role when the electronic patient records (EPR) system went live in the autumn.
And Shirley Hannan, a former nurse who retired this year after a magnificent NHS career of 57 years, was given a special Lifetime Achievement Award.