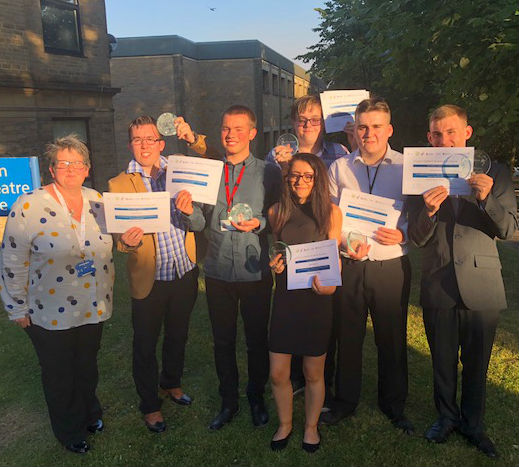 An award-winning scheme to help Bradford students with learning difficulties find employment has celebrated the graduation of eight more interns.
Project SEARCH, which is based at Bradford Teaching Hospitals NHS Foundation Trust BTHFT, helps students study for an employability skills qualification through classroom teaching and 900 hours of work experience.
They are supported by job coaches and tutors from Bradford-based companies and organisations with the ultimate aim of finding paid, meaningful work.
The partnership is run by the Trust, Bradford's Southfield School, Hft – a national charity which supports adults with learning difficulties, the University of Bradford and Bradford Council.
This is the fifth year the successful programme has been run in Bradford. Since its launch, 44 interns have graduated and 29 have found employment. The Trust currently employs 11 Bradford Project SEARCH graduates.
This year's graduates, who all have learning difficulties, began their journey in September 2017, and have completed three placements each in a variety of roles and settings.
Graduates
Professor Clive Kay, the Trust's Chief Executive, opened last night's (26 June) ceremony at the Sovereign Lecture Theatre by congratulating all eight graduates.
He said: "The Trust and all its staff are genuinely thrilled and delighted to be part of this programme and to see the difference it is making. I would like to give my sincere congratulations to all the interns who have graduated tonight. They have all got great futures ahead of them."
Andrew Horner, Director of Operational Projects at Hft, said: "Project SEARCH works really well because we have got some great employers who support the Trust. I have not found a better programme that helps people with learning difficulties find a job.
"We have got another five Project SEARCH programmes starting in Yorkshire from September, and it really is because of Bradford that we have been able to do that. It is an absolutely wonderful project. The young people here tonight have proven that they are ready for work."
And Viki Potter, Deputy Head Teacher at Southfield School, added: "Project SEARCH has totally changed the aspirations of our pupils because they now understand that there is a realistic chance of them finding employment.
"Thanks to Project SEARCH 33 of our former students have gone on to find employment."
Certificate
Each graduate was presented with a certificate and congratulated by Councillor Richard Dunbar; Viki Potter; Bill McCarthy, the Trust's Chairman; and Pat Campbell, the Trust's Director of HR.
Lorraine Cameron, Head of Equality and Diversity at the Trust, said: "This is our fifth year and I'm delighted that we've once again hosted this graduation ceremony.
"It's a real highlight for the Trust, sharing in the achievement of the interns who have gained over 900 hours on the job work experience and we wish them every success for their future, some of whom have already started working with us!"
The ceremony was also attended by the graduates' families, their placement mentors, and staff from Southfield School, Hft, the University of Bradford, and the Trust.
Project SEARCH was initially developed in America to provide employer-based work experience to young people with learning disabilities.
The Trust has received national recognition for the work it has done with Project Search. The scheme was recently highly commended by the Employers Network for Equality and Inclusion (ENEI), and earlier this month it won a national Healthcare People Management Association (HPMA) Award.
Hosted interns
Wards and departments across Bradford Royal Infirmary and St Luke's Hospital who have hosted interns include the Neonatal Unit, ward 27, portering, finance, the pharmacy, medical records, web development, receipt and distribution, the paediatric secretaries' team, the Listening for Life Centre and the Lifestyle restaurant run by Compass group.
This year's graduates are Joseph Redpath, Jordan Rayner, Kieron Upton, Sam Aldridge, John Brazendale, Connor Briggs, Sophie Maguire, and Aidan Maguire.
To date, three interns have secured jobs. Sam, 19, is working as an administrator for the Trust's estates and facilities department; Sophie, 20, has found work as a school catering assistant with Bradford Council; and Kieron, 19, has secured employment as an apprentice landscape gardener.
Fighting back tears, Sam's mum, Susan Aldridge, said: "Since coming to Project SEARCH Sam has turned into a confident young man. I am so pleased the Trust has taken him on. He will work hard. It's great – thank you!"
Other interns have job offers in the pipeline but are awaiting confirmation of start dates.
A new cohort of interns will be welcomed into the Bradford project in September 2018.
Recruitment for the 2019-20 programme will begin later this year. Anyone interested in taking part in the award-winning project should keep an eye on the Project SEARCH website www.projectsearchbradford.org.uk for details about how to apply.