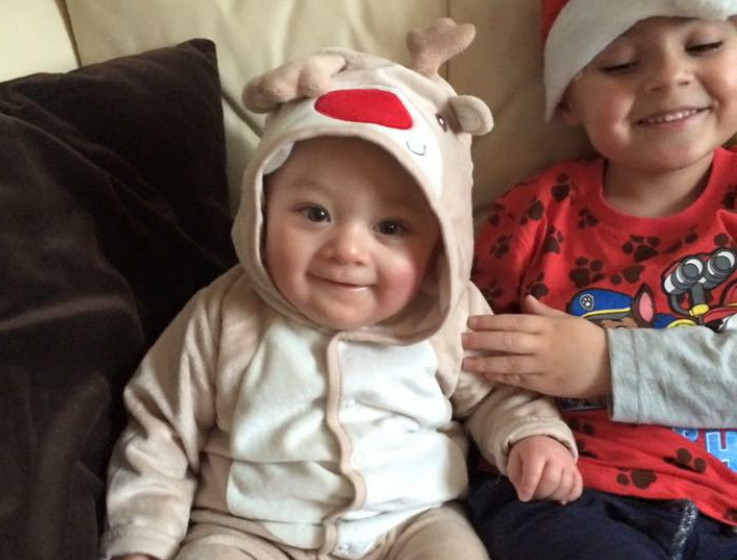 Bradford Hospitals' Charity, the official charity of Bradford Teaching Hospitals NHS Foundation Trust, is urging people to don something sparkly and donate money to fund toys and specialist play equipment for poorly children this Christmas.
The 'Spread Some Sparkle for Axl' campaign has been launched in memory of Axl Walker, who was a regular patient at Bradford Royal Infirmary (BRI) until he died just three days before his third birthday this year. Axl suffered from a rare blood disorder which meant he needed monthly blood transfusions and two bone marrow transplants.
Now Bradford Hospitals' Charity, which is running the campaign, is urging people to hold a Spread Some Sparkle for Axl Day on Friday, December 14 by wearing something sparkly or trimming up their workplace or school with sparkly decorations, while donating to Axl's Toy Fund. Axl's Toy Fund pays for play equipment, distraction toys and activities for young patients throughout the year.
Axl's mum, Claire Gearie, and his older brother Lucas launched the campaign at The Broadway, Bradford, on November 10 to coincide with the shopping centre's Christmas light switch-on and launch of the #SparklingBradford campaign.
Claire, of Wibsey, Bradford, is proud to keep her son's memory alive by raising money to help other young people who are in hospital.
"Anything which makes hospital less scary and distracts children from their treatment, and the pain and discomfort they are in, makes a huge difference," said Claire. "I have been that parent and I know how hard it is for the child and whole family. Whether they are in for one day, a few days, or they are regulars – it wears the whole family down and it's so difficult to see your child distressed.
"Axl was so cheeky and mischievous and brought joy to all of us. We hope to spread some sparkle across Bradford in his memory and give back to the hospitals by funding some amazing toys for the children and young people who are receiving treatment."
Hayley Collis, head of fundraising for Bradford Hospitals' Charity, said: "This sparkly celebration is bittersweet for everyone at Bradford Royal Infirmary as we wish Axl was still here with us, yet we are proud to raise money to buy toys in his memory.
Heartwarming campaign
"This is a wonderful opportunity for the people of Bradford to come together and back a truly heartwarming campaign this Christmas, which will benefit our children and teenagers throughout the year. You could wear a sparkly jumper, sparkly socks, or even sparkly earrings – we just want to have fun and raise as much money as possible.
"Bradford is sparkling this Christmas – let's spread some more for Axl!"
Hayley added: "Many people are keen to donate actual toys to our wards rather than money and, although this is incredibly generous, we are unable to accept them for infection control reasons. We must also buy specialist play equipment for children of all ages, needs and abilities, which means our expert staff need the funds instead to buy them."
If you would like to join our campaign and 'Spread Some Sparkle for Axl', please get in touch and register your fundraising event at https://bradfordhospitalscharity.org/fundraise/register-your-activity/
While Friday 14 December is a great day to hold your Spread Some Sparkle for Axl Day, we would be delighted if you held your fundraising day on any other day too!
If you wish to donate to Axl's Toy Fund, please visit www.justgiving.com/campaign/axlstoyfund
To stay informed about all of our Christmas fundraising events and activities, follow our Facebook page at https://www.facebook.com/BradfordHospitalsCharity
To find out more about Bradford Hospitals' Charity and how you can support your local hospitals, visit www.bradfordhospitalscharity.org. Alternatively, contact Hayley Collis or Elaine Drake on 01274 274809 or email charity@bthft.nhs.uk
ENDS
Note to Editors:
Bradford Hospitals' Charity is one of more than 250 NHS charities around the UK. It is the official NHS charity partner of Bradford Teaching Hospitals NHS Foundation Trust and it supports the strategic direction of BTHFT by funding Trust projects which go over and above what he NHS provides.
Last year, a new £28 million wing opened at Bradford Royal Infirmary, which was part of a £75m investment to improve patient care across our hospitals. It provides world-class facilities for the elderly, children and a brand new intensive care unit. Bradford Hospitals' Charity provided £260,000 to enable the Trust to create family friendly environments, state-of-the-art equipment and innovative distraction toys and games for young people.
With the support of Bradford Hospitals' Charity, BTHFT was also able to provide more cots, including intensive care and high dependency cots, new family accommodation, a revamped counselling suite and a dedicated room for mothers to express milk for pre-term babies when the new neonatal unit opened in 2015.
For further media information, please contact Kelly Thornham, Communications Officer, at communications@bthft.nhs.uk or call 01274 382265.