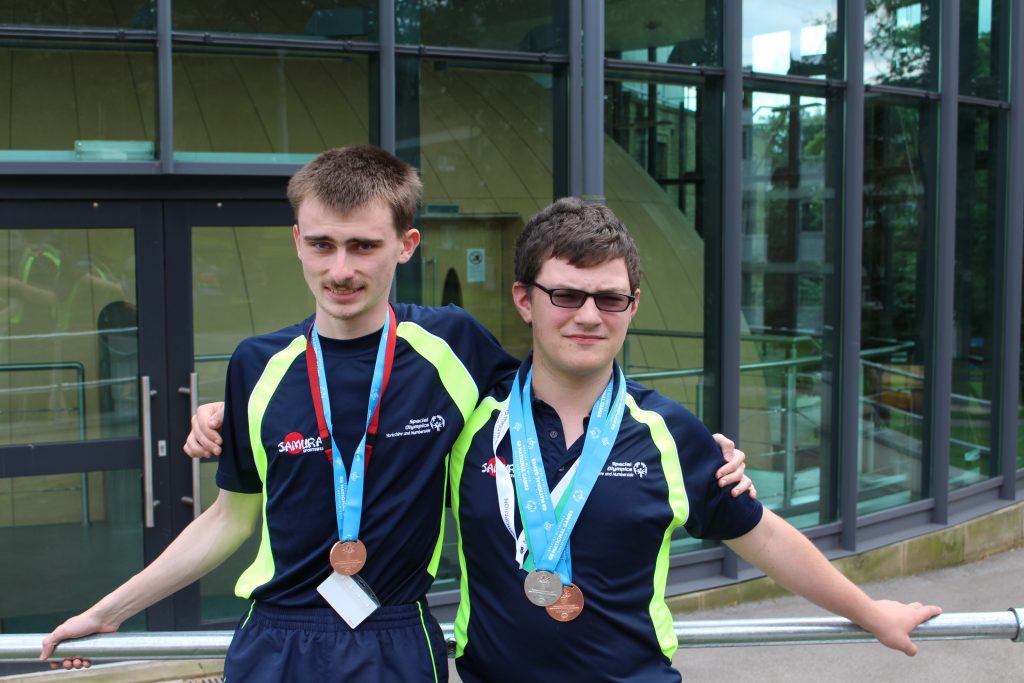 Two local lads who are students on Bradford's Project Search have achieved a triple medal success at the Special Olympics.
Neil Hartley, 19, from Eccleshill and Aidan Knights, 20, from Keighley are celebrating after winning a silver and two bronze medals at the UK's largest multi-sports event for athletes with intellectual disabilities.
They are both part of the Project Search scheme, based at Bradford Teaching Hospitals NHS Foundation Trust, to help Bradford students with learning disabilities find employment through work experience placements and classroom teaching.
Neil won a bronze medal as part of the Yorkshire and Humberside basketball team, and already has his sights set on the next Special Olympics.
He started playing basketball in 2011 when he was a pupil at Southfield Grange School and was thrilled when he was offered the chance to take part in the 2017 Olympics in Sheffield, which took place earlier this month.
"I really enjoyed it, there were over 10,000 people at the opening ceremony and the atmosphere was amazing" said Neil.
Third Olympic medal
Aidan, who first got into athletics when he was only nine, was overwhelmed to win silver in the 100m and bronze in the relay – especially as it was his third Olympic medal, having won gold in the 100m four years ago.
He said: "The best bit was having so many people cheering me on; that was fantastic."
Both Aidan and Neil graduated from their internships with Project Search in July; having completed work experience placements, in a variety of roles and settings. They are now concentrating on finding paid employment.
Neil hopes to work outdoors as a groundsman, as he's interested in the environment and also loves drystone walling. Aidan would like a job in catering or retail, and he is already learning his trade working part-time at the M&S store in Bradford Royal Infirmary.
The Foundation Trust's head of equality and diversity, Lorraine Cameron, said:
"I'm thrilled that we've got some Olympic stars at Project Search; Aidan and Neil have done brilliantly and we're all so proud of them. They've achieved so much, both in sport and as interns, and have loads to offer potential employers."
· Project Search is a partnership, run jointly by Southfield School, Hft – a national charity which supports adults with learning, the University of Bradford and Bradford Council. The aim of the project is to support young adults with learning disabilities to move towards paid employment.
· This is the fourth year of this very successful programme which equips interns with the skills to compete for jobs. The employment rate for people with learning difficulties generally is less than 6%, but for those who have completed Project Search it is 67%.
· Bradford Teaching Hospitals has received national recognition for the work it has done, being highly commended by the Employers Network for Equality & Inclusion (ENEI), as well as Project Search being highlighted as an 'area of outstanding practice' in Bradford Teaching Hospitals as part of its CQC inspection.