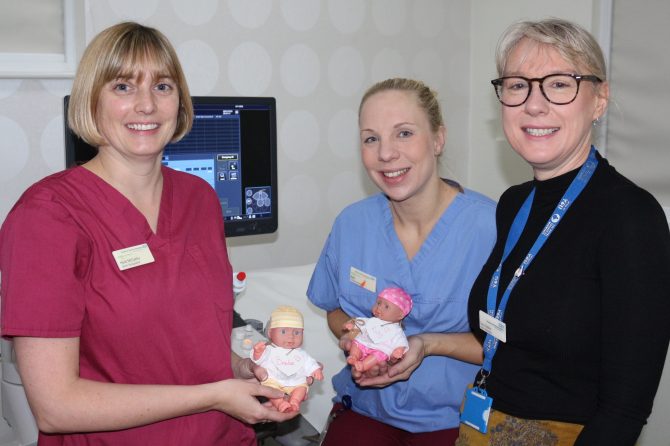 A BRADFORD hospital has welcomed two new special arrivals at its maternity unit.
They are Tiny Tickers 'situs' teaching dolls, which have been generously donated by Sara Hollins, Head of Midwifery at Bradford Royal Infirmary, and her mum, Linda Atkins.
Every year, 1,000 new-born babies with congenital heart disease (CHD) leave UK hospitals with their heart defect undetected. This puts them at risk of heart failure, which can have serious implications on their quality of life. Tragically, some babies will die before getting the treatment that could save them.
The charity Tiny Tickers aims to increase early detection rates of cardiac conditions to improve a baby's chances of survival and long-term quality of life, and one of the main ways they do this is by training the sonographers who carry out pregnancy scans (20-week scans) to have the skills and confidence to detect heart defects in unborn babies.
'Baby Ruby' and 'baby Brendan' have been presented to the team of sonographers at BRI, part of Bradford Teaching Hospitals NHS Foundation Trust.  The names have been chosen because they are close to Sara's heart. Ruby has been named after Sara's niece and Linda's granddaughter, who sadly died of a congenital heart defect when just a few days old. 'Baby Brendan' has been donated in memory of Sara's godmother's son, who also passed away.
The 'situs' dolls work by helping sonographers assess the tiny hearts of the babies they scan at 20 weeks gestation – the dolls are the same size of a baby at this stage in pregnancy.
Anatomy scan
One of the first things a sonographer does when starting a 20 week anatomy scan is to find out which way round the baby is lying. Babies can lie in any position in the womb and this changes all the time as the baby moves around. They can be lying with their head up towards mum's head, they can be upside down or on their side, curled up or stretched out.
It is important to work out which is the left and right side of the baby because the sonographer needs to check that the baby's internal organs are in the right place.
Understanding which way round the baby is lying inside the mother is one aspect of the scan that can be very challenging. Working out where the baby's head and spine are and then imagining the position of the baby can be difficult.
To help with this, the 'situs' doll is placed over the mother's abdomen in the same position as the baby is lying; this helps the sonographer to work out the baby's right and left side.
The dolls are dressed in a t-shirt designed with an anatomical diagram of the heart, which helps the sonographer see which way the heart should be pointing.
The heart diagram also has lines through it and these demonstrate where the scan probe should be over the heart to obtain all the views required by the sonographer in accordance with the fetal anomaly screening programme.
This isn't the first time the hospital has linked with the Tiny Tickers charity. Sara's mum is a staunch fund-raiser for the charity in memory of her granddaughter and as a result, last year the maternity unit received three pulse oximetry machines which are also used in the early detection and care of babies with serious heart conditions.
Picture caption: (From left) Sonographers Beth Moorhouse and Heidi McCarthy, and BTHFT's Head of Midwifery, Sara Hollins, with the two 'situs' dolls donated by Tiny Tickers
ENDS
For further media information, please contact communications@bthft.nhs.uk or call 01274 383901
Note to Editors:
Bradford Teaching Hospitals NHS Foundation Trust:
Bradford Teaching Hospitals NHS Foundation Trust is responsible for providing hospital services for the people of Bradford and communities across Yorkshire. We serve a core population of around 500,000 and provide specialist services for 1.1 million people.
Our 5,500 staff work over several sites, including Bradford Royal Infirmary, which provides the majority of inpatient services, and St Luke's Hospital, which predominantly provides outpatient and rehabilitation services. We also manage local community hospitals at Westwood Park, Westbourne Green, and Eccleshill.
In early 2017, a new £28 million wing opened at Bradford Royal Infirmary, part of a £75m investment to improve patient care across our hospitals over a five-year period. It provides world-class facilities for elderly care, children's services, a state-of-the-art intensive care unit with increased single-room provision and a retail concourse.
The new wing is a continuation of our work to improve patient experience after our new £2 million neonatal unit officially opened in January 2015. Our maternity services were recently shortlisted for the Royal College of Midwives' (RCM) Midwifery Service of the Year Award, recognising excellence and innovation in the provision of maternity care.
In 2017, we also completed a £2m refurbishment of our Emergency Department (ED) as part of an ambitious vision to create a more efficient acute medicine service for the people of Bradford. It has been designed to provide a slicker and more efficient service, with faster senior clinical involvement at an early stage in the patient pathway.
As a teaching hospital, we are at the forefront of education and development in healthcare, and have an excellent reputation for research performance. We are one of the leading centres in conducting applied research in the country, particularly in quality and safety, elderly care and rehabilitation.
The Trust is home to the Bradford Institute for Health Research (BIHR) where researchers have led the development, validation and implementation of the award-winning Bradford Electronic Frailty Index (eFI) which helps calculate an elderly person's risk of disability, impairment, falls and complications of chronic diseases, as well as their diminishing independence and capability. This is now being used by 98 per cent of all GPs across the country.
Our award-winning Ophthalmology department is home to numerous worldwide clinical trials taking the lead in eye care research and we are one of only three sites in the United Kingdom to be enlisted in the Perioperative Enhanced Recovery Hip Fracture Care of Patients with Dementia (PERFECTED) study, which will investigate how the NHS can introduce better standards of care to improve outcomes for people with dementia.
Follow us on Twitter: @BTHFT
The Trust has its own Bradford Hospitals Charity: https://bradfordhospitalscharity.org/
For more information please visit www.bradfordhospitals.nhs.uk