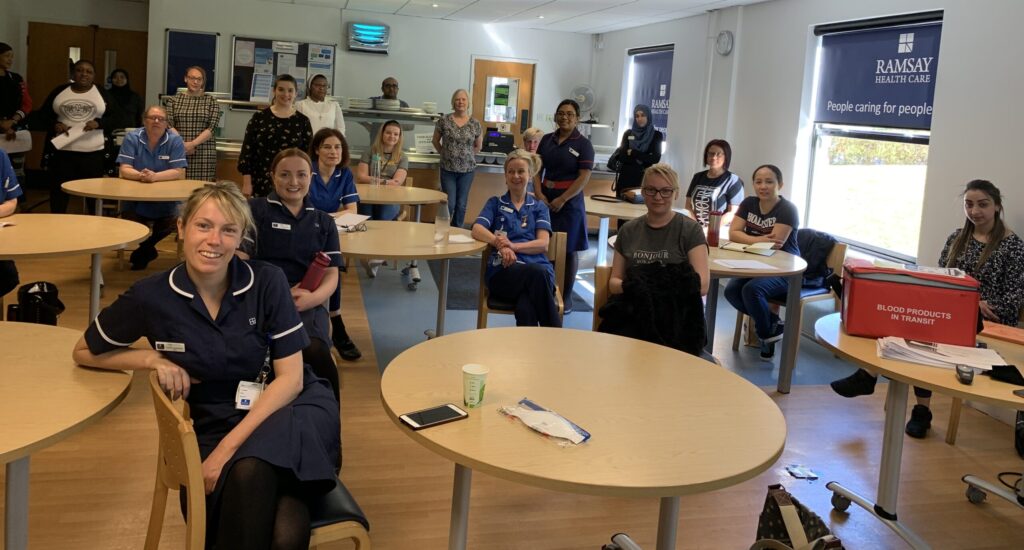 SELECTED cancer services at Bradford Teaching Hospitals NHS Foundation Trust (BTHFT) have temporarily relocated to the Ramsay Yorkshire Clinic to protect high-risk patients during the Covid-19 crisis.
Haematology and Medical Oncology cancer services from Ward 16 at Bradford Royal Infirmary are operating as normal from the Cottingley site.
Chemotherapy delivery and the Phlebotomy service (blood) for Haematology and Oncology patients, as well as Haemophilia services are now based at the clinic.
Haematology and Medical Oncology outpatients who need to be seen face-to-face are being triaged to the site. Transfusion delivery, however, remains at Bradford Royal Infirmary.
The Trust's Medical Oncology, Haematology and IT teams have worked hard with staff from Ramsay Health Care (RHC) to make clinical space at the site available, following RHC's kind offer to support the NHS nationwide by providing additional emergency capacity.
Jo Hickey, General Manager, Unplanned Care (Haematology, Oncology, Palliative Care and Pathology Services) at Bradford Teaching Hospitals, said: "Everyone has played a part in this move, and many thanks must go to both the Haematology and Oncology teams for working together to make it happen.
New location
"Our administration teams and secretaries have also been getting in touch with patients to tell them about the new location for their appointments, and the Acute Oncology team have implemented new ways of working.
"Not forgetting our Ramsay Yorkshire Clinic colleagues who have made all our teams feel really welcome and looked after their hospitality needs."
Jo reports that all the new systems put in place at the Cottingley site are working well.
"Due to the amazing hard work and input from all of the staff, a task that would normally take months to organise has been achieved in a miraculously short space of time," she added.
"And we have already received feedback from patients who say they have experienced a safe and smooth transition and exceptional care!"
A grateful chemotherapy outpatient recently wrote to the team to thank them for "pulling off the amazing work of transferring the Trust's chemotherapy day care" to the site.
Superb care
She said: "I'm so thankful to have been able to come for my chemotherapy, and as always I received safe, superb care from the Bradford Teaching Hospitals team working alongside efficient, reassuring processes and welcoming staff at the Yorkshire Clinic.
"I recognise that it isn't the only urgent care service to transfer over either, which makes your achievement all the more amazing in the current Covid-19 climate. You're all doing a fabulous, valued job, and the healthcare and patient communities of Bradford are lucky to have you all."
A special mention must go to our new Yorkshire Clinic colleagues, Head of Clinical Services, Jan Matin, and Sarah Morton who arranged a full staff induction for the Trust's team of nurses, Haematology Specialty Doctor, Kaminda Kankanige, and our own transfusion nurse, Helen Slater, who delivered training to our own staff and the Yorkshire Clinic team to ensure all new processes were understood.
Debbie Craven, The Yorkshire Clinic's Hospital Director, said: "Across our organisation we have been providing our full support to all our local NHS trusts to ensure a joined-up approach to tackling the Covid19 crisis.
"At the Yorkshire Clinic we have welcomed the BTHFT teams and demonstrated the Ramsay Way, where our values are built on those of people caring for people."
ENDS
For further media information, please contact daniel.webber@bthft.nhs.uk or call 01274 383901
Note to Editors:
Bradford Teaching Hospitals NHS Foundation Trust:
Bradford Teaching Hospitals NHS Foundation Trust is responsible for providing hospital services for the people of Bradford and communities across Yorkshire. We serve a core population of around 500,000 and provide specialist services for 1.1 million people.
Our 5,500 staff work over several sites, including Bradford Royal Infirmary, which provides the majority of inpatient services, and St Luke's Hospital, which predominantly provides outpatient and rehabilitation services. We also manage local community hospitals at Westwood Park, Westbourne Green, and Eccleshill.
In early 2017, a new £28 million wing opened at Bradford Royal Infirmary, part of a £75m investment to improve patient care across our hospitals over a five-year period. It provides world-class facilities for elderly care, children's services, a state-of-the-art intensive care unit with increased single-room provision and a retail concourse.
The new wing is a continuation of our work to improve patient experience after our new £2 million neonatal unit officially opened in January 2015. Our maternity services were recently shortlisted for the Royal College of Midwives' (RCM) Midwifery Service of the Year Award, recognising excellence and innovation in the provision of maternity care.
In 2017, we also completed a £2m refurbishment of our Emergency Department (ED) as part of an ambitious vision to create a more efficient acute medicine service for the people of Bradford. It has been designed to provide a slicker and more efficient service, with faster senior clinical involvement at an early stage in the patient pathway.
As a teaching hospital, we are at the forefront of education and development in healthcare, and have an excellent reputation for research performance. We are one of the leading centres in conducting applied research in the country, particularly in quality and safety, elderly care and rehabilitation.
The Trust is home to the Bradford Institute for Health Research (BIHR) where researchers have led the development, validation and implementation of the award-winning Bradford Electronic Frailty Index (eFI) which helps calculate an elderly person's risk of disability, impairment, falls and complications of chronic diseases, as well as their diminishing independence and capability. This is now being used by 98 per cent of all GPs across the country.
Our award-winning Ophthalmology department is home to numerous worldwide clinical trials taking the lead in eye care research and we are one of only three sites in the United Kingdom to be enlisted in the Perioperative Enhanced Recovery Hip Fracture Care of Patients with Dementia (PERFECTED) study, which will investigate how the NHS can introduce better standards of care to improve outcomes for people with dementia.
The Trust has its own Bradford Hospitals Charity: https://bradfordhospitalscharity.org/
Follow us on Twitter: @BTHFT
For more information please visit www.bradfordhospitals.nhs.uk