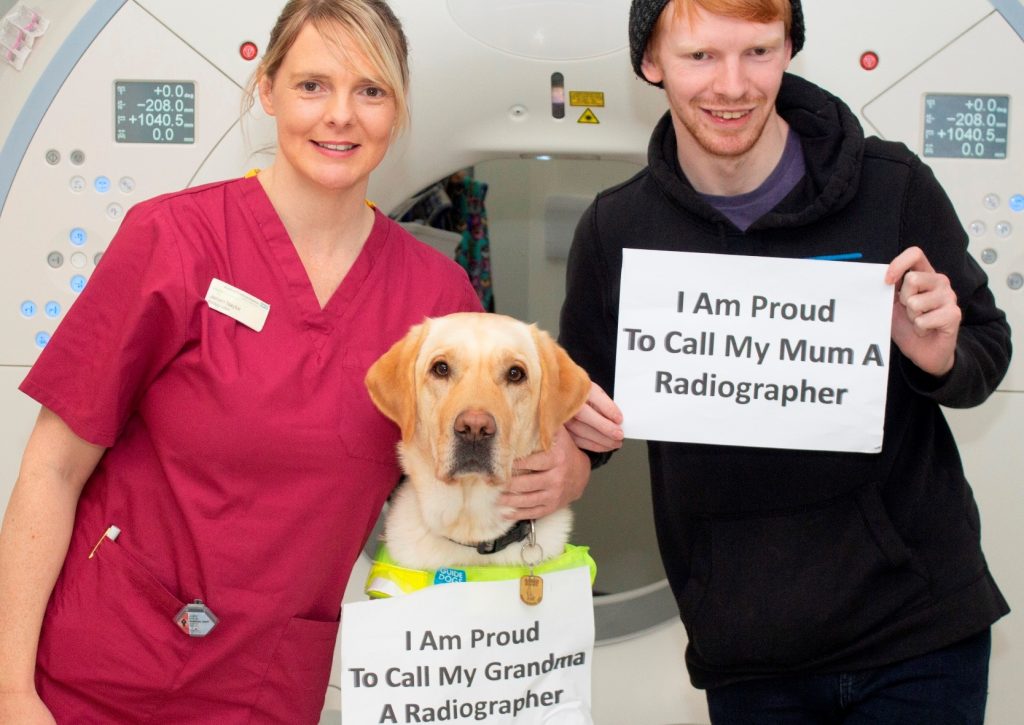 BRADFORD Teaching Hospitals is now offering qualified radiographers the opportunity to join its innovative, forward-thinking and family-friendly radiography team!
The Trust is currently recruiting band 6 radiographers to its dedicated and expanding CT service.
Leah Richardson, Principal Superintendent Radiographer, said successful applicants would be given the opportunity to develop their careers.
"This is an exciting time to join our team of dedicated CT radiographers," said Leah.
"The Radiology Department at Bradford provides a comprehensive imaging service to support the wide spectrum of clinical work undertaken within the Trust. Our imaging work covers two sites, Bradford Royal Infirmary and St Luke's Hospital, and we have a total of three CT scanners. All major clinical specialties, with the exception of transplant surgery, neurosurgery and cardiac surgery, are represented at the Trust.
"Successful applicants will be expected to work hours across seven days a week and at both Bradford Royal Infirmary and St Luke's, depending on service requirements. The posts are full-time with an on-call commitment; we are, however, looking to move to a shift system in the near future.
Learning and development
"Our department is focused on providing an excellent level of service for our patients and we offer a dynamic environment for our staff, too. We are pleased to provide clinical placements for undergraduate radiographers and are committed to learning and development.
"If you would like to join a progressive and supportive team, we would love to hear from you!"
Bradford Teaching Hospitals is one of only a few trusts to use the revolutionary da Vinci robot for urology surgery and one of only a handful of national cochlear implant centres – two examples of cutting-edge innovation which help set it apart. The Trust's Informatics team was also named Team of the Year at the 2019 Digital Health Awards.
Bradford itself also offers some of the best schools and most competitive housing prices in the country and was recently named 'the UK's most improved city', making it an excellent place to build and grow a career. Online property portal Zoopla recently placed both Bingley and Ilkley, home to many of the Trust's staff, among the UK's top 10 places to live and commute.
For an informal discussion about the band 6 radiographer role, please contact Leah Richardson, Principal Superintendent Radiographer, on 01274 36 4321 or via email at leah.richardson@bthft.nhs.uk
Full details of the role can be found on the NHS Jobs site here: https://www.jobs.nhs.uk/xi/vacancy/?vac_ref=915840938
ENDS
For further media information, please contact communications@bthft.nhs.uk or call 01274 382265
Note to Editors:
Bradford Teaching Hospitals NHS Foundation Trust:
Bradford Teaching Hospitals NHS Foundation Trust is responsible for providing hospital services for the people of Bradford and communities across Yorkshire. We serve a core population of around 500,000 and provide specialist services for 1.1 million people.
Our 5,500 staff work over several sites, including Bradford Royal Infirmary, which provides the majority of inpatient services, and St Luke's Hospital, which predominantly provides outpatient and rehabilitation services. We also manage local community hospitals at Westwood Park, Westbourne Green, and Eccleshill.
In early 2017, a new £28 million wing opened at Bradford Royal Infirmary, part of a £75m investment to improve patient care across our hospitals over a five-year period. It provides world-class facilities for elderly care, children's services, a state-of-the-art intensive care unit with increased single-room provision and a retail concourse.
The new wing is a continuation of our work to improve patient experience after our new £2 million neonatal unit officially opened in January 2015. Our maternity services were recently shortlisted for the Royal College of Midwives' (RCM) Midwifery Service of the Year Award, recognising excellence and innovation in the provision of maternity care.
In 2017, we also completed a £2m refurbishment of our Emergency Department (ED) as part of an ambitious vision to create a more efficient acute medicine service for the people of Bradford. It has been designed to provide a slicker and more efficient service, with faster senior clinical involvement at an early stage in the patient pathway.
As a teaching hospital, we are at the forefront of education and development in healthcare, and have an excellent reputation for research performance. We are one of the leading centres in conducting applied research in the country, particularly in quality and safety, elderly care and rehabilitation.
The Trust is home to the Bradford Institute for Health Research (BIHR) where researchers have led the development, validation and implementation of the award-winning Bradford Electronic Frailty Index (eFI) which helps calculate an elderly person's risk of disability, impairment, falls and complications of chronic diseases, as well as their diminishing independence and capability. This is now being used by 98% of all GPs across the country.
Our award-winning Ophthalmology department is home to numerous worldwide clinical trials taking the lead in eye care research and we are one of only three sites in the United Kingdom to be enlisted in the Perioperative Enhanced Recovery Hip Fracture Care of Patients with Dementia (PERFECTED) study, which will investigate how the NHS can introduce better standards of care to improve outcomes for people with dementia.
The Trust has its own Bradford Hospitals Charity: https://bradfordhospitalscharity.org/
Follow us on Twitter: @BTHFT