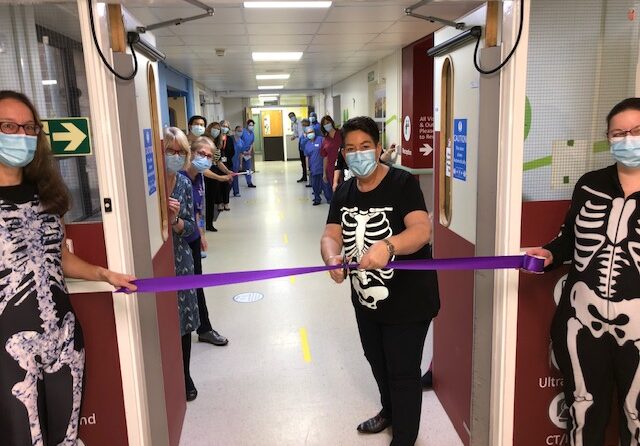 BRADFORD Teaching Hospitals launched key improvements to its Radiology department on World Radiography Day, following a highly successful appeal from Bradford Hospitals' Charity (BHC).
Three years ago, Consultant Paediatric Radiologist Dr LeeAnne Elliott, Radiology colleagues and BHC launched the Rays a Smile appeal to transform the Trust's Radiology department into warm and relaxing spaces for children and young people.
Three years on, the appeal and the work it promised have been completed, and what a difference they've both made!
Thanks to a host of hospital and community-based events, more than £125,000 has been raised to give our x-ray, ultrasound, MRI, CT, and fluoroscopy rooms at Bradford Royal Infirmary and St Luke's Hospital the most amazing makeover, transforming them into vibrant, welcoming and soothing spaces.
The project was completed in several phases. The work to our waiting areas has been themed in either yellow (paediatric) or lilac (adult), and decorated with a woodland theme and large images of the stunning Yorkshire countryside.
Bluetooth speakers and, where appropriate, sky-themed lighting panels were added to imaging rooms , which are located in a basement corridor at BRI with little or no natural light – creating a relaxing environment.
A 'snuggle room', allowing parents to soothe babies to sleep before scans and avoiding the need for a general anaesthetic, has also proven popular since it was launched, and helps us provide a better service to our very youngest patients.
Relax
And 'Relax and View' machines, which play films and videos while young patients and adults undergo MRI scans, alongside sound systems are now also available to relax patients and make these scans – which can take up to an hour to perform – easier to tolerate.
The final phase of the work focused on providing clear and attractive wayfinding, and has also proven a huge hit. From the moment they arrive, bright and clear signs now greet patients, visitors and staff and guide them to colour-coded waiting and clinical areas. Exits and entrances are also easy to identify, avoiding anxiety or confusion.
Dr LeeAnne Elliott, Deputy Chief Medical Officer and Consultant Paediatric Radiologist, said: "Three years ago a small group of us met to imagine how we could improve Radiology for children and young people, in particular to organise our new wayfinding and waiting areas so that patients will feel much more relaxed when visiting us.
"The charity backed us with the Rays a Smile for Radiology appeal and all the Radiology staff worked really hard in order to raise that money. We abseiled, we sky-dived, we ran marathons, we climbed mountains, and took part in the annual Bradford Dragon Boat Festival to raise the money.
"We were well supported by all of the community in Bradford, who have been amazing, and I'd like to thank them for that.
"The department looks and feels so much more friendly, and I am hoping that patients and visitors will feel much more relaxed."
Trust Project Officer, Samantha Hunter, and our Estates and Facilities team also moved mountains to deliver the best possible results, alongside Graphic Designer Tony Stead, from Dekka Graphics.
Imaging
Almost all patients treated at Bradford Teaching Hospitals, either as an inpatient or outpatient, are referred for imaging, and more than 20,000 children and young people are imaged throughout the Trust each year.
It is believed that a brighter, more child-friendly environment will benefit all patients, including some adults who find imaging difficult or stressful. Relaxed patients find any visit to Radiology easier and often speed up the time spent being scanned.
In addition, the improvements have made the department a nicer space for staff to work in.
Hayley Collis, Head of Fundraising, Bradford Hospitals' Charity, added: "The whole team in Radiology and Estates and Facilities have been amazing and really stepped up to the mark when it came to fundraising and negotiating with suppliers.
"Huge thanks must also go to the people of Bradford for their support. It's hard to single out any one of our fundraisers but, in particular, we'd like to thank 12-year-old Molly-Mae Windle, Ambassador for our Rays a Smile appeal, who supported the appeal in many ways including starring in the launch film, running in the Bradford City Run, as well as hosting her Facebook raffles.
"We'd also like to give a special mention to Bingley Grammar School, who were truly inspired by our ambitions to help young children and raised a staggering £9,061 via their annual sponsored walk.
"The collaborative work for this project began on November 9, 2017 and has been proof that good working relationships can build fantastic projects. It marks a special day to celebrate the relaunch of the department , three years to the day since the Rays a Smile appeal was launched on World Radiography Day!"
World Radiography Day is celebrated on 8 November each year, and marks the anniversary of the discovery of x-radiation by Wilhelm Roentgen in 1895.
ENDS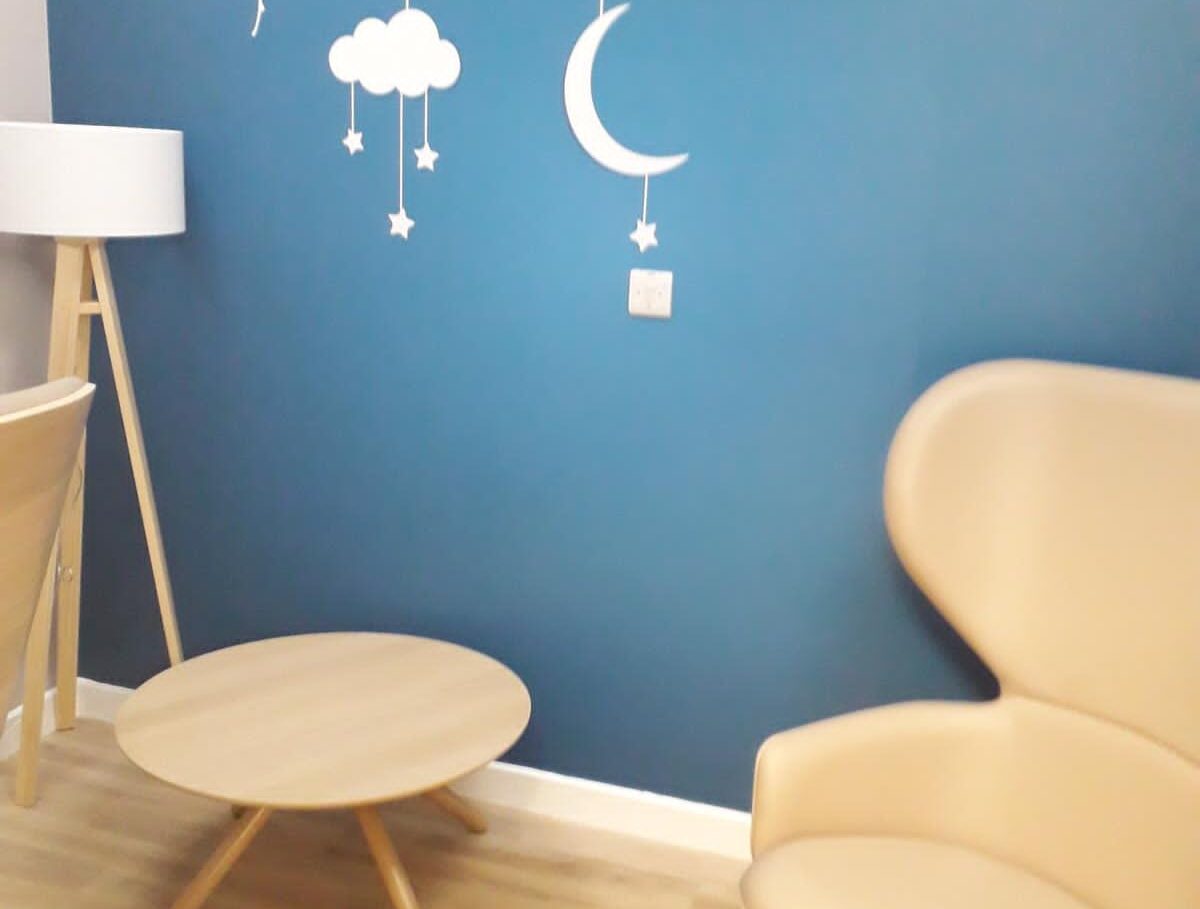 Note to Editors:
Bradford Hospitals' Charity is one of more than 250 NHS charities based around the UK. It supports the strategic direction of Bradford Teaching Hospitals NHS Foundation Trust by funding projects which go over and above what he NHS provides.
Did you know that, together, all NHS charities give £1million every single day to the NHS!
In 2017, a new £28million wing opened at Bradford Royal Infirmary, which was part of a £75m investment to improve patient care across our hospitals. It provides world-class facilities for the elderly, children and a brand new intensive care unit. Bradford Hospitals' Charity provided £260,000 to enable the Trust to create family friendly environments, state-of-the-art equipment and innovative distraction toys and games for young people.
With the support of Bradford Hospitals' Charity, BTHFT was also able to provide more cots, including intensive care and high dependency cots, new family accommodation, a revamped counselling suite and a dedicated room for mothers to express milk for pre-term babies when the new neonatal unit opened in 2015.
For further media information, please contact Communications at Bradford Teaching Hospitals at communications@bthft.nhs.uk
Twitter: @BTHFTCharity                Facebook: bradfordhospitalscharity Instagram:bradfordhospitalscharity
LinkedIn: www.linkedin.com/company/bradfordhospitalscharity
Note to Editors:
Bradford Teaching Hospitals NHS Foundation Trust:
Bradford Teaching Hospitals NHS Foundation Trust is responsible for providing hospital services for the people of Bradford and communities across Yorkshire. We serve a core population of around 500,000 and provide specialist services for 1.1 million people.
Our 5,500 staff work over several sites, including Bradford Royal Infirmary, which provides the majority of inpatient services, and St Luke's Hospital, which predominantly provides outpatient and rehabilitation services. We also manage local community hospitals at Westwood Park, Westbourne Green, and Eccleshill.
In early 2017, a new £28 million wing opened at Bradford Royal Infirmary, part of a £75m investment to improve patient care across our hospitals over a five-year period. It provides world-class facilities for elderly care, children's services, a state-of-the-art intensive care unit with increased single-room provision and a retail concourse.
The new wing is a continuation of our work to improve patient experience after our new £2 million neonatal unit officially opened in January 2015. Our maternity services were recently shortlisted for the Royal College of Midwives' (RCM) Midwifery Service of the Year Award, recognising excellence and innovation in the provision of maternity care.
In 2017, we also completed a £2m refurbishment of our Emergency Department (ED) as part of an ambitious vision to create a more efficient acute medicine service for the people of Bradford. It has been designed to provide a slicker and more efficient service, with faster senior clinical involvement at an early stage in the patient pathway.
As a teaching hospital, we are at the forefront of education and development in healthcare, and have an excellent reputation for research performance. We are one of the leading centres in conducting applied research in the country, particularly in quality and safety, elderly care and rehabilitation.
The Trust is home to the Bradford Institute for Health Research (BIHR) where researchers have led the development, validation and implementation of the award-winning Bradford Electronic Frailty Index (eFI) which helps calculate an elderly person's risk of disability, impairment, falls and complications of chronic diseases, as well as their diminishing independence and capability. This is now being used by 98% of all GPs across the country.
Our award-winning Ophthalmology department is home to numerous worldwide clinical trials taking the lead in eye care research and we are one of only three sites in the United Kingdom to be enlisted in the Perioperative Enhanced Recovery Hip Fracture Care of Patients with Dementia (PERFECTED) study, which will investigate how the NHS can introduce better standards of care to improve outcomes for people with dementia.