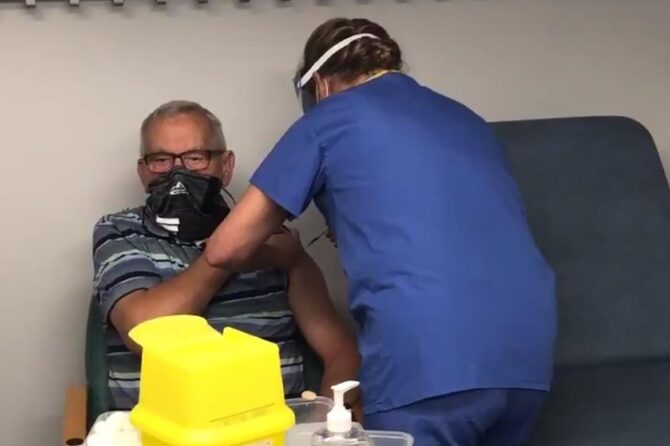 A RETIRED engineering supervisor from Clayton, Bradford, was one of the first patients to receive the Pfizer COVID-19 vaccine in the district today.
William Drake, 85, had the jab at Bradford Royal Infirmary (BRI), part of Bradford Teaching Hospitals NHS Foundation Trust, on Monday afternoon. This marked the start of the district's vaccine programme to protect patients, care home staff and frontline NHS staff.
William said: "I had my vaccine today and it went very, very well no problems whatsoever at all. It was dead easy, a small scratch and done. It was over in seconds.
"It is important to get vaccinated to fight covid and beat it so that everybody can be safe and have a normal living. At the moment all we are doing is sitting at home."
Bradford Teaching Hospitals NHS Foundation Trust has joined the network of sites across England delivering the world-leading COVID-19 vaccine programme.
Mel Pickup, Chief Executive of Bradford Teaching Hospitals, Mel Pickup, said: "Today is a fantastic day for the NHS in Bradford district and Craven, as we began vaccinating patients against COVID-19 in what is the biggest vaccine campaign in history.
Historic event
"I'm immensely proud that we're part of such an historic event and I would like to pay tribute to all of our staff for all they have done this year to get us to this important point in our pandemic response, and for everything they continue to do to care for and protect our patients.
"This marks the light at the end of the tunnel after a year that has turned all our lives upside down and has left many families without a loved one."
The phased vaccination programme will focus on vulnerable patients and care home staff.
Lily Abbott, 90, and her friend, Trevor Hirst, 90, from Heaton, came together to be vaccinated at BRI.
Trevor said: "Getting the vaccine makes me feel safer. I wasn't scared at all. At my age, getting an injection like this is like water off a duck's back!"
Joanna Nicholson is assistant manager at Norman Lodge Resource Centre which is run by Bradford Council and provides assessment and rehabilitation beds for Bradford patients.
Vulnerable patients
She said: "I've had Covid myself so it's really important that I protect myself and protect the vulnerable patients that I work with and I dearly want life to get back to normal as soon as possible."
Julie Beddow, a member of the care team at Anchor's Ashcroft care home in Bradford, said: "It was important I got vaccinated. l feel really strongly about it as I along with my colleagues care for vulnerable people. We want to do everything we can to protect them and I equally want to protect myself and my family from the virus."
Frontline NHS staff from Bradford Teaching Hospitals and Airedale NHS Foundation Trust' were also among the first to get vaccinated.
BRI Renal Consultant, Dr Ashan Syed, said: "I've had my vaccination today as it is my personal commitment in the fight against this horrible virus. I think everyone who is offered this vaccination should take it."
Kessi Donnelly, a nurse practitioner at Airedale NHS Foundation Trust, travelled from Clitheroe to have her vaccine at BRI, and added: "It was really easy. It didn't hurt any more than a normal vaccine would, and to me it's really important that we have this vaccine.
"As healthcare professionals we have an opportunity to look after ourselves so that we can continue the work we do but so that we also protect our patients and families and everyone that's around us. This is the next step in fighting coronavirus and I'm really pleased I've done it."
Hospital hubs, vaccination centres and other community locations as well as GP practices and pharmacies will all be used to deliver the vaccines across the country.
ENDS
For further media information and pictures of those who have been vaccinated, please contact communications@bthft.nhs.uk or call 01274 364700
Note to Editors:
Bradford Teaching Hospitals NHS Foundation Trust:
Bradford Teaching Hospitals NHS Foundation Trust is responsible for providing hospital services for the people of Bradford and communities across Yorkshire. We serve a core population of around 500,000 and provide specialist services for 1.1 million people.
Our 5,500 staff work over several sites, including Bradford Royal Infirmary, which provides the majority of inpatient services, and St Luke's Hospital, which predominantly provides outpatient and rehabilitation services. We also manage local community hospitals at Westwood Park, Westbourne Green, and Eccleshill.
In early 2017, a new £28 million wing opened at Bradford Royal Infirmary, part of a £75m investment to improve patient care across our hospitals over a five-year period. It provides world-class facilities for elderly care, children's services, a state-of-the-art intensive care unit with increased single-room provision and a retail concourse.
The new wing is a continuation of our work to improve patient experience after our new £2 million neonatal unit officially opened in January 2015. Our maternity services were recently shortlisted for the Royal College of Midwives' (RCM) Midwifery Service of the Year Award, recognising excellence and innovation in the provision of maternity care.
In 2017, we also completed a £2m refurbishment of our Emergency Department (ED) as part of an ambitious vision to create a more efficient acute medicine service for the people of Bradford. It has been designed to provide a slicker and more efficient service, with faster senior clinical involvement at an early stage in the patient pathway.
As a teaching hospital, we are at the forefront of education and development in healthcare, and have an excellent reputation for research performance. We are one of the leading centres in conducting applied research in the country, particularly in quality and safety, elderly care and rehabilitation.
The Trust is home to the Bradford Institute for Health Research (BIHR) where researchers have led the development, validation and implementation of the award-winning Bradford Electronic Frailty Index (eFI) which helps calculate an elderly person's risk of disability, impairment, falls and complications of chronic diseases, as well as their diminishing independence and capability. This is now being used by 98% of all GPs across the country.
Our award-winning Ophthalmology department is home to numerous worldwide clinical trials taking the lead in eye care research and we are one of only three sites in the United Kingdom to be enlisted in the Perioperative Enhanced Recovery Hip Fracture Care of Patients with Dementia (PERFECTED) study, which will investigate how the NHS can introduce better standards of care to improve outcomes for people with dementia.
Follow us on Twitter: @BTHFT