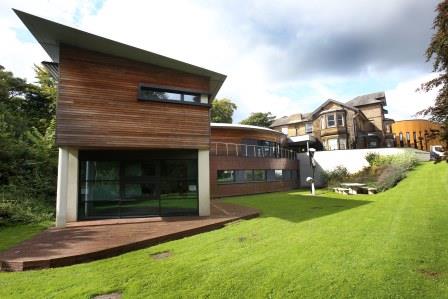 A Bradford-based dedicated research team, which has played a leading role in stroke and elderly care research, has marked a special anniversary.
It is 30 years since the successful Academic Unit of Elderly Care and Rehabilitation was founded and over the decades it has grown to become an international leader in healthcare innovation.
The unit is based in the Bradford Institute for Health Research (BIHR) building on the Bradford Royal Infirmary site, part of Bradford Teaching Hospitals NHS Foundation Trust, and is part of the University of Leeds, administratively located within the Leeds Institute of Health Sciences.
The anniversary was marked by a celebration dinner at Bradford City Hall, on 3 November, attended by staff, patients and those who have supported and helped the unit in its work over the years.
The unit is led by its original founders, Professor Anne Forster who leads the stroke programme, and Professor John Young who leads the elderly care research programme.
Huge support from Bradford Teaching Hospitals
Professor Forster said: "When we started the unit it was unique for the time because it was unusual to have such a unit based in a general hospital. We have been fortunate to have huge support from Bradford Teaching Hospitals, which has facilitated our expansion. Funding from a range or organisations, but particularly the Stroke Association and national Institute for Health Research (NIHR) has enabled us to grow our research programme.
"We never imagined the unit would develop as it has, generating research work which has made us one of the most pioneering elderly care and stroke research units internationally."
Professor Young added: "When I started working here in Bradford just over 30 years ago I was told quite bluntly that research into the healthcare of our senior citizens would be 'too difficult'.
"It has indeed been challenging but thanks to the encouragement of older people themselves wishing to participate in research and the constant support from clinical colleagues here in Bradford and beyond, we have made tremendous progress."
As well as Professor Forster and Professor Young, the unit comprises of a reader in social gerontology (scientific study of old age), two clinical senior lecturers, an assistant professor in stroke care and more than 25 contracted research staff.
Long track record
Today, the unit has a grant income of £13million and has a large portfolio of applied health research relevant to older people and people with stroke. It also has a long track record of addressing key clinical questions through evaluation by randomised trials.
It has led on two of the world's largest ever stroke rehabilitation trials (with the Clinical Trials Research Unit, University of Leeds) and has won numerous awards for its pioneering work.
Last year the team led the development, validation and implementation of the Bradford Electronic Frailty Index (eFI), which scooped the national EHI Healthcare Product Innovation award – a prestigious accolade in the world of health informatics – and this year won the Royal College of Physicians' (RCP) Excellence in Patient Care Awards 2017.
The eFI helps calculate an elderly person's risk of disability, impairment, falls and complications of chronic diseases, as well as their diminishing independence and capability.
The researchers have also published numerous papers and articles which have had a positive impact on elderly healthcare and rehabilitation.