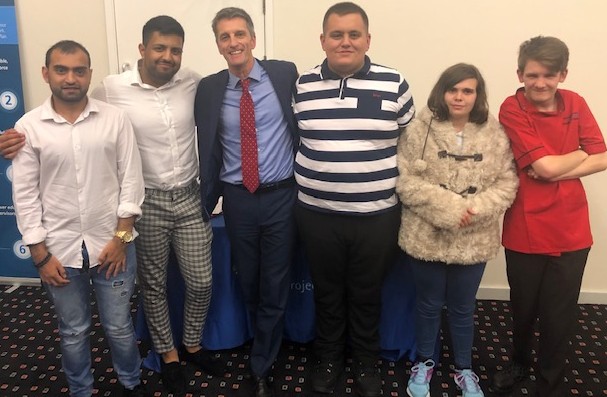 An award-winning scheme which helps Bradford students with a learning disability find employment has celebrated the graduation of eight more interns.
Project SEARCH, which is based at Bradford Teaching Hospitals NHS Foundation Trust, helps young people gain an employability skills qualification through classroom teaching and more than 900 hours of work experience.
Throughout the programme the interns are supported by job coaches and tutors from top Bradford-based companies and organisations with the ultimate aim of securing paid, meaningful work.
The partnership is run by the Trust, Bradford's Co-op Academy Southfield, Hft – a national charity which supports adults with learning disabilities, the University of Bradford and Bradford Council.
This is the sixth year the successful scheme has been run in Bradford. Since its launch, 52 interns have graduated and 39 have found employment – 15 with the Trust.
This year's graduates, who all have a learning disability, began their journey in September 2018, and have each completed three work placements in a variety of roles and settings.
John Holden, the Trust's Acting Chief Executive, hosted the graduation ceremony.
He said: "The executive team are thrilled to be part of the Project SEARCH programme and have seen at first-hand the difference it makes to the lives of our interns and their families. I would like to pass on my congratulations to all the graduates – each one has a bright future ahead of them!"
Graduated
Becky Day, Ashley Davies, Rahim Latif, Yusaf Mahmood, Jack Wilson-Smith, Mohammed Waisal and Dominik Wolochowski have all graduated from the scheme (NOTE: plus a final intern who does not wish to be included in any publicity).
During the event all eight were presented with a certificate and trophy by our Chairman, Max Mclean, and Director of HR, Pat Campbell.
We're also proud to announce that five (NOTE: including the intern who does not want any publicity) – including Ashley, Rahim, Yusaf and Jack – have already secured paid, meaningful employment.
Ashley, 20, is now working as a housekeeper at St Luke's; Rahim, 19, has found work as a warehouse operative; Yusaf, 21, has secured a job as an administration assistant at another NHS trust; and Jack, 20, is now a ward hospitality assistant at BTHFT.
Speaking on the night, Dominic Wall, Executive Principal of Co-op Academy Southfield, also paid tribute to Lorraine Cameron, the Trust's former Head of Equality and Diversity, who helped launch Project SEARCH at Bradford Teaching Hospitals and acted as a champion for our interns.
Lorraine has been much missed since her untimely death earlier this year, and our Project SEARCH programme is her legacy. In recognition of this the Trust introduced the Lorraine Cameron Award at this year's graduation ceremony, which will be presented annually to the intern who demonstrates the most progress during their time with us.
Ashley Davies was named the first winner of the award, thanks to the excellent feedback he received throughout the year and a strong performance during his mock job interviews.
John Holden added: "Project SEARCH is all about giving young adults with a learning disability the opportunity to showcase their talents, but that's not enough.
Huge acclaim
"They also have to take the opportunities they are given. That's what all our graduates have done and they all deserve huge acclaim for that.
"It's also important to pay tribute to everyone throughout the Trust and all our partners who work so hard to make the programme such a success – from our project partners, Bradford's Co-op Academy Southfield School, Hft, the University of Bradford and Bradford Council – to members of our business advisory committee, our mentors and the programme's staff.
"We are one team and we make Project SEARCH happen."
The Trust aims to employ a third of our graduates from the scheme. This year, our employment figure currently stands at 38 per cent.
Max Mclean said: "Project SEARCH is fantastic and the graduation event is a really remarkable evening.
"I have a daughter with a learning disability so the commitment of our hospitals to the scheme means a lot me. I know how much paid employment means to families.
"Many congratulations to all the graduates and best of luck to you all for the future."
The ceremony was also attended by the graduates' families, their placement mentors, plus staff from Co-op Academy Southfield, Hft, the University of Bradford, and the Trust.
Project SEARCH was developed in America to provide employer-based work experience to young people with a learning disability.
The Trust has received national recognition for the work it has done with Project SEARCH. The scheme was highly commended by the Employers' Network for Equality for Equality and Inclusion, and won a national Healthcare People Management Association (HPMA) Award.
A new cohort of interns was recently welcomed onto the Trust's 2019/20 Project SEARCH programme.
Anyone interested in taking part in the award-winning scheme should keep an eye on the Project SEARCH website www.projectsearchbradford.org.uk for details on how to apply. 
ENDS
For further media information, please contact communications@bthft.nhs.uk or call 01274 383901.

Note to Editors:
Bradford Teaching Hospitals NHS Foundation Trust:
Bradford Teaching Hospitals NHS Foundation Trust is responsible for providing hospital services for the people of Bradford and communities across Yorkshire. We serve a core population of around 500,000 and provide specialist services for 1.1 million people.
Our 5,500 staff work over several sites, including Bradford Royal Infirmary, which provides the majority of inpatient services, and St Luke's Hospital, which predominantly provides outpatient and rehabilitation services. We also manage local community hospitals at Westwood Park, Westbourne Green, and Eccleshill.
In early 2017, a new £28 million wing opened at Bradford Royal Infirmary, part of a £75m investment to improve patient care across our hospitals over a five-year period. It provides world-class facilities for elderly care, children's services, a state-of-the-art intensive care unit with increased single-room provision and a retail concourse.
The new wing is a continuation of our work to improve patient experience after our new £2 million neonatal unit officially opened in January 2015. Our maternity services were recently shortlisted for the Royal College of Midwives' (RCM) Midwifery Service of the Year Award, recognising excellence and innovation in the provision of maternity care.
In 2017, we also completed a £2m refurbishment of our Emergency Department (ED) as part of an ambitious vision to create a more efficient acute medicine service for the people of Bradford. It has been designed to provide a slicker and more efficient service, with faster senior clinical involvement at an early stage in the patient pathway.
As a teaching hospital, we are at the forefront of education and development in healthcare, and have an excellent reputation for research performance. We are one of the leading centres in conducting applied research in the country, particularly in quality and safety, elderly care and rehabilitation.
The Trust is home to the Bradford Institute for Health Research (BIHR) where researchers have led the development, validation and implementation of the award-winning Bradford Electronic Frailty Index (eFI) which helps calculate an elderly person's risk of disability, impairment, falls and complications of chronic diseases, as well as their diminishing independence and capability. This is now being used by 98% of all GPs across the country.
Our award-winning Ophthalmology department is home to numerous worldwide clinical trials taking the lead in eye care research and we are one of only three sites in the United Kingdom to be enlisted in the Perioperative Enhanced Recovery Hip Fracture Care of Patients with Dementia (PERFECTED) study, which will investigate how the NHS can introduce better standards of care to improve outcomes for people with dementia.
The Trust has its own Bradford Hospitals Charity: www.bradfordhospitals.nhs.uk/charity
Follow us on Twitter @BTHFT or visit www.bradfordhospitals.nhs.uk