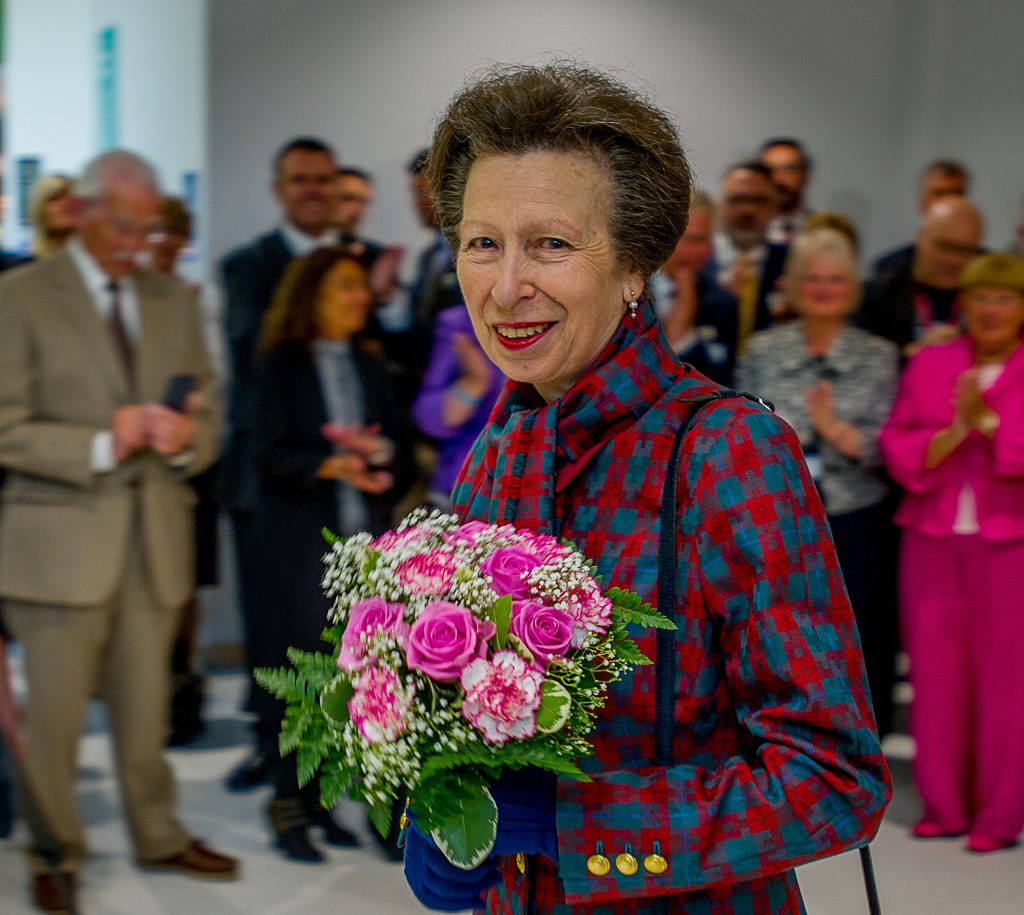 HRH The Princess Royal has officially opened Bradford Royal Infirmary's new £28m hospital wing.
The state-of-the-art building, which took two years to build, houses two spacious children's wards, a 16-bed intensive care unit (ICU), dementia-friendly wards for the elderly and a retail concourse.
HRH was accompanied on her tour of the new wing by Bradford Teaching Hospitals NHS Foundation Trust chairman, Professor Bill McCarthy and chief executive, Professor Clive Kay. BRI is one of two acute hospitals and four community hospitals which form part of the Foundation Trust.
Professor Kay said:
"We are delighted to welcome Her Royal Highness to Bradford Royal Infirmary so that she can see for herself the world-class facilities which we have brought to the city. Enhancing the healing environment for our patients and enriching the working conditions of our staff is absolutely critical to us here at the Foundation Trust."
"Modernising our hospital estate and reinvesting money to improve our services for our patients, their families and carers, which future-proofs hospital services against the anticipated population increases, shows our commitment to deliver the best possible patient experience and care that we can."
Improving patient care
This exciting development is part of the Foundation Trust's £75m investment to improving patient care in its hospitals over the next five years.
During her visit HRH met with patients, their carers and staff on the new wards.
Paediatric consultant Dr Simon Frazer gave the Princess a tour of the new Children's Clinical Decisions Unit, where babies and children are monitored for 24 hours on arrival from Accident and Emergency.
Young patients are either admitted to the ward or discharged, depending on their condition. The area boasts a large waiting area and, like the rest of the new children's wards, innovative single side rooms with privacy glass that switches from clear to opaque at the touch of a button, and feature comfortable sofa-beds for accompanying adults.
The new children's wards also include a two-bed isolation suite for infectious patients and a three-bed enhanced care suite for the most severely ill patients.
HRH also spoke to young patients in the activity room, which is four times the size of the previous play room. It houses more toys and activities for babies and children to engage with during their hospital stay.
Sensory room
Other new additions include a sensory room, physiotherapy room, parents' room, schoolroom, staff training room and adolescents' room with mood lighting, computer games and a selfie wall designed by students from Bingley Grammar School.
Consultant paediatrician and deputy medical director, Dr Simon Frazer, said: "It was an honour to welcome the Princess Royal to our new children's wards and to meet our patients and staff so she could see for herself our impressive facilities.
"The environment and additional space we have created has long been an aspiration of our doctors, nurses, patients and families – many of whom have fundraised for Bradford Hospitals Children's Charity who have bought 'additional extras', like the provision of home comforts for our bedsides and equipment for our patients and their new treatment rooms."
"It is a huge step forward in terms of the superb environment it offers, with high-quality design and generous use of artwork provided in collaboration with local schoolchildren and our patients."
The second floor of the new building houses the dementia-friendly care of the elderly wards, with vibrant colours, cinema-style seating, cushioned vinyl flooring to reduce risk of injury and bright pictures from across the district.
A new relatives' and carers' room has been created to provide space away from the hospital wards where people can relax, thanks to donations from Bradford Hospitals Charity's Forget-Me-Not Fund.
One level
Consultant physician in care of the elderly, Eliz Brierley, who showed HRH the Trust's new ward 31, said: "The creation of ward 31 and its new link to ward 29 brings together our two elderly care wards on one level for the first time."
"It is an amazing new facility where we can provide older people with high quality medical and nursing care, geared specially towards their individual needs, and set within fantastic accommodation which covers a much larger space that we have ever had before."
Altogether 104 beds are spread across the two elderly and two children's wards.
HRH also visited the hospital's new innovative ICU which, for the first time, brings together all 16 intensive care and high dependency beds to one location.
The old unit had become cramped and outdated as technology advanced, meaning that four of the eight high dependency beds had to be located on a separate unit on ward 21, on the floor above.
The new unit features state-of-the-art 'isolation' cubicles allowing doctors to care safely for patients and protect those with weak immune systems or highly infectious diseases.
Minimise infection risk
Each bed space is set within its own separate room, with its own medical equipment and purposely-designed with minimal furnishings to allow thorough cleaning and disinfection to minimise the risk of infection.
Each room also has 'switch-glass' for privacy and mood-lighting which replicates daytime and night-time and greatly enhances privacy for each patient and their family.
As well as the enhancements for patients, the new facility also features additional benefits for relatives.
Speciality lead for intensive care, Dr Paul Stonelake, said: "Our new ICU is most fitting for 21st century medical and nursing purposes as our fabulous new facilities set the right tone for a modern, patient-focused healing environment."
"Each single side room has a designated place for medical equipment, as well as up-to-date waste amenities, which are in line with the very best infection prevention and control practices."
Healing environment
"Mood lighting also ensures patients are treated in a serene and quiet healing environment, while our enlarged footprint and increased number of relatives' rooms and waiting area provides a much calmer space for our families and carers, during what can often be a very traumatic time in their lives."
"For our staff, put simply, it means we can support our patients to the very highest standard in what is a much-valued service."
The main entrance at the front of the BRI has also had a major overhaul with a new reception area and new Patient Advice and Liaison Service (PALS) and Bereavement Centre. An accessible entrance at the rear of the hospital has also been created, ensuring improved disabled access as well as 35 disabled car parking spaces.
At the end of her tour, The Princess Royal unveiled a plaque commemorating her visit in the new retail concourse, which features well-known High Street brands (shop, coffee bar and restaurant) as well as an information centre for visitors.