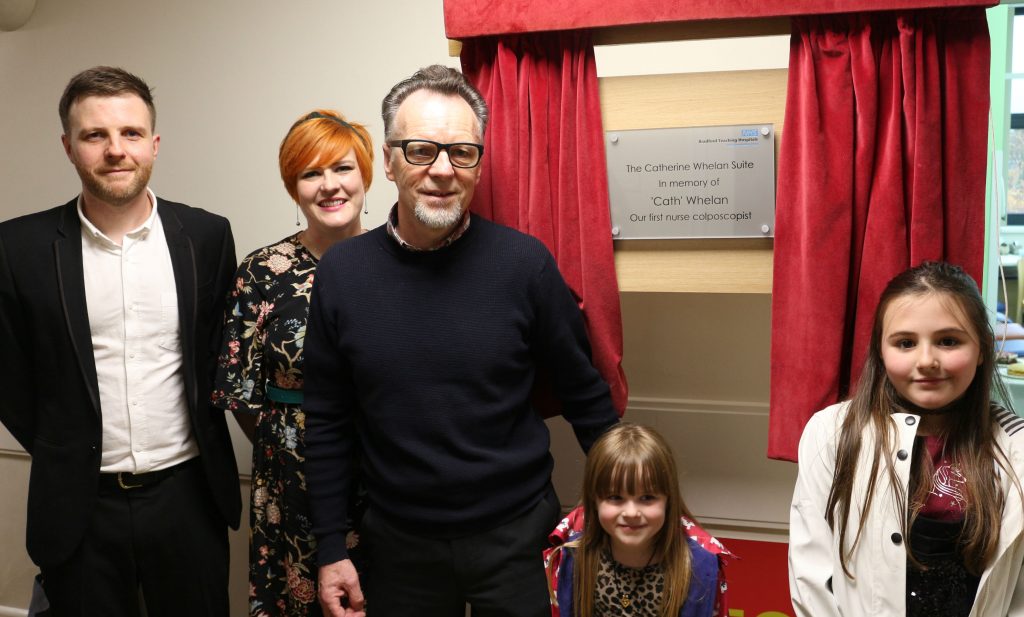 The dedication and kindness of a former Bradford nurse has been commemorated with the unveiling of a plaque.
There were tears as well as smiles on the Women's Health Unit at Bradford Royal Infirmary (BRI) as colleagues – past and present – gathered to remember the late Catherine 'Cath' Whelan.
The plaque was unveiled at the hospital, part of Bradford Teaching Hospitals NHS Foundation Trust, and a colposcopy suite named in memory of Cath, who was the Trust's first nurse colposcopist.
A colposcopy is a test which looks at the cervix in detail, and allows a doctor or specialist nurse to take samples of any abnormal areas.
Cath died in January 2017 after becoming ill with a neuroendocrine tumour (NET), a little over a year after retiring. She was 62. She joined the Trust in 1979 and worked at both BRI and St Luke's Hospital, after beginning her nurse training at Charing Cross Hospital, London in the late 1970s.
Lovely person
As the plaque was unveiled, consultant gynaecologist Sue Calvert paid tribute to Cath. She said: "She was quite simply a lovely person, a brilliant and dedicated nurse colposcopist, who had such a lovely manner with patients.
"We would get such positive feedback from patients who would mention Cath by name because she made them feel so reassured in what might otherwise have been an anxious situation.
"I had the pleasure of working with her for many years. We will always remember her, and this plaque is a fitting tribute because it feels as though she is still part of our team. Cath epitomised what the NHS stands for, compassion, kindness and caring."
Other colleagues shared fond memories of their former colleague. Among them was Maureen Jones who recalled: "Cath would always make me laugh. She was such good fun. She was also very brave when her illness was diagnosed. You never heard her complaining."
Cath's family, including her husband, Mick, son and daughter, Michael and Lisa, and grandchildren, Niamh, nine and Emilia, five were at the unveiling.
Mick said: "We were all very touched when we heard of the plan to unveil a plaque in her memory. I think she would have been very proud – but also a little embarrassed. She would have said, 'You don't need to make all this fuss about me!'"