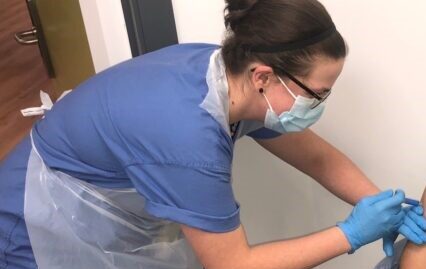 Football fans attending the Bradford City AFC match against Exeter City can pitch in for a pre-match jab at the COVID pop up clinic at the Utilita Energy Stadium on Saturday 12 February.
Residents living near the ground, as well as fans coming to the match can attend the clinic, which is open from 12.30pm until 4pm. With a busy match day expected, there will be clear signs directing people to the clinic.
Anybody aged 16 and over can have their first, second or booster vaccination. There must have been at least eight weeks between having the first and second doses, and at least three months between the second dose and the booster.
Health and care professionals will be on hand to answer questions people may have about the vaccine and talk through any concerns, before deciding whether or not to go ahead and get vaccinated.
Karen Dawber, senior responsible officer for the Bradford District and Craven vaccination programme said:
Being able to attend large events like this is one of the benefits of getting the protection we need against the potentially life-threatening symptoms of COVID-19. The more people who are vaccinated, the more we will be able to continue to enjoy mass public and sporting events.

You don't have to be a football fan to go to the clinic at the Valley Road ground. The clinic is open to everybody and anybody who is eligible for the vaccination. It may be that you are planning a holiday later in the year, or you just want to help to protect us all from current and future variants of the coronavirus. Whatever the reason, we urge people to be on the ball and grab a jab this weekend.
Anyone needing a vaccination can also book an appointment at www.nhs.uk/covidvaccine or by calling 119. Details of local walk-in clinics are available on Bradford District and Craven CCG's website at www.bit.ly/CovidVaccineBDC