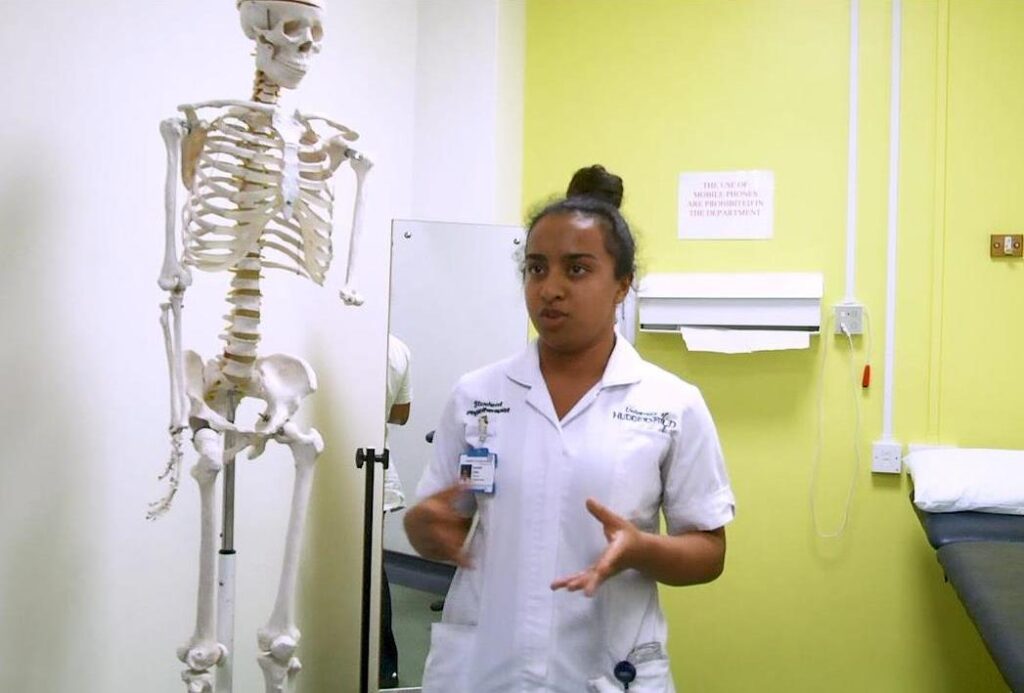 PHYSIOTHERAPY and Occupational Therapy (OT) students from some of the region's leading universities are making a significant contribution to the care provided by Bradford Teaching Hospitals NHS Foundation Trust during the Covid-19 crisis.
Around 20 physio and OT undergraduates from the universities of Bradford and Huddersfield are currently carrying out placements and supporting Trust patients and staff within Bradford Royal Infirmary and the local community.
Many have also donned PPE to support staff – and their patients – on the hospital's Covid-19 wards.
Watch a short film profiling the students' experiences at Bradford Teaching Hospitals here: https://youtu.be/jdCVUYL9Xfc
Emma Manchester, a Regional Neuromuscular Specialist Physiotherapist at the Trust, said each student was making a vital contribution to the care the Trust is providing at a challenging time.
"We have long had links with the universities, as students need to complete a certain number of clinical hours as part of their university course to gain the appropriate qualifications," said Emma.
"But during the current scenario a lot of routine services stopped, meaning a lot of physio students who were meant to be carrying out a placement here didn't, or weren't available any more.
"So the universities and the Trust have been looking at ways in which the students could still get their clinical hours up in a way that would also be mutually beneficial to us as a department.
"The students are in paid placements, as they are working as therapy assistants and students. Usually physio placements are unpaid and the expectations are different.
"Coronavirus has created this 'blended' role for students to step into, which hasn't happened before."
Bav Kang, 20, a second-year pre-registration Physiotherapy student at the University of Huddersfield, said: "I started two weeks ago on respiratory wards, so I have been mainly on the Intensive Care Unit.
"It was a bit daunting to start with because when I opted in I didn't think I'd be put straight onto Intensive Care with Covid patients. But my educator physio was very calm and said that if I did feel uncomfortable I could tell them and go off the ward.
"But that has never been the case. I've always felt safe in the PPE and I've got a lot of experience from it.
Very helpful
"All the staff have been very helpful, and if I'm struggling on the ward I feel confident asking anybody for help."
Bradley Carrigan, 20, a second-year Physiotherapy undergraduate at the University of Bradford, said he'd found working alongside some of the Trust's registered physiotherapists "a great experience".
He said: "We've been utilised as physiotherapy students and therapy assistants working with different people in the community and on different wards helping people mobilise."
And Harrison Brown, a third-year Physiotherapy and Sport Medicine undergraduate at the University of Bradford, said: "It's been a bit of an eye-opener for me coming from a sports background doing physiotherapy, as my previous placements have been in sport and I haven't really had much chance to get into the NHS.
"But I'm learning something new and experiencing something different every day – whether it's working with an occupational therapist or with the physiotherapists and seeing their different therapy techniques and how they speak to patients.
"The placement at Bradford Teaching Hospitals has been really worthwhile."
All three students are now keen to explore the chance of employment with the Trust when they graduate.
Bav added: "I think out of all the placements I've had this has been a very supportive one as there has not been any tension between teams.
"I would fully recommend this placement to other students. It has been very helpful!"
For more information on Physiotherapy at Bradford Teaching Hospitals, please see our Physiotherapy and MSK Physiotherapy service pages.