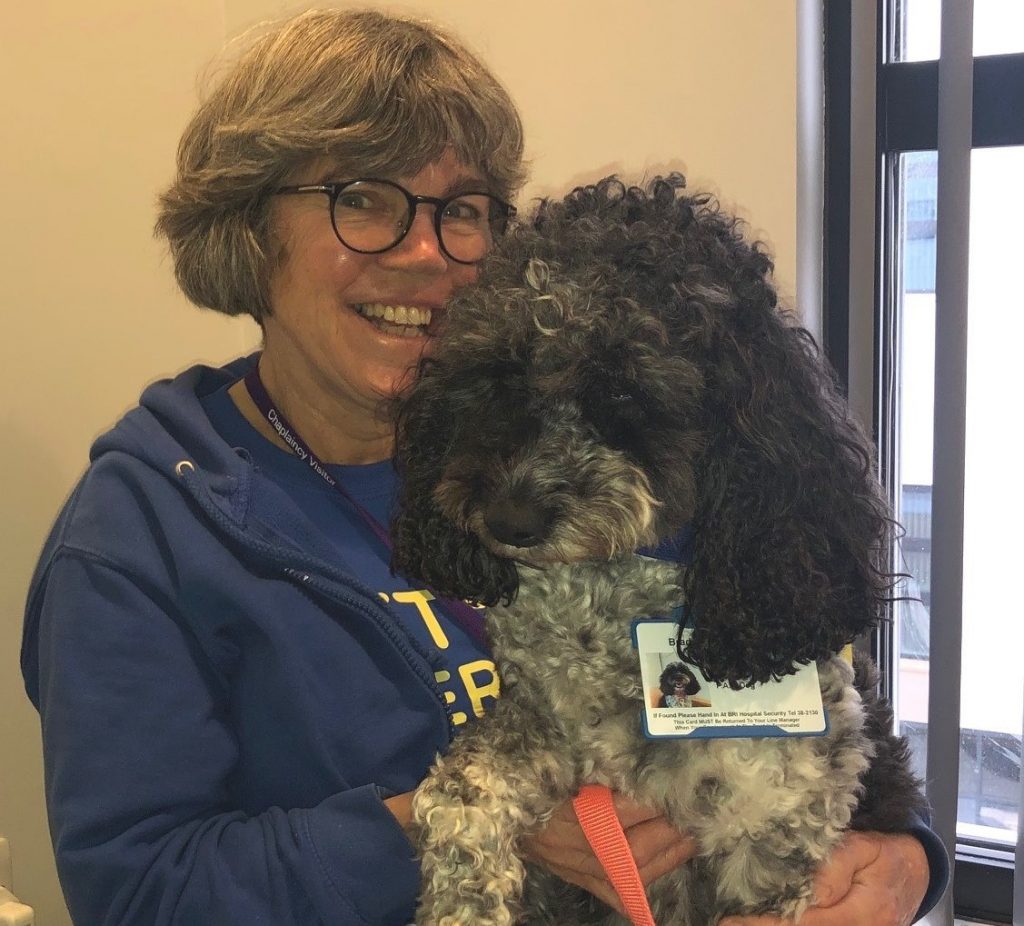 A PAW-SOME therapy dog has been putting smiles on faces at Bradford Royal Infirmary's Children and Young People's Unit.
Pets As Therapy dog Lucy, five, and her owner Charmaine Bailey have proved a big hit during recent visits to the hospital, part of Bradford Teaching Hospitals NHS Foundation Trust.
Ward Manager Michelle Wilson welcomed the pair, who are qualified to support patients, to children's wards 30 and 32 after picking the pooch from eight prospective canine candidates.
She said: "The idea was sparked about 18 months ago when I met a very cute Pug called Alfie at a Pets As Therapy event. Meeting him and hearing about the amazing therapeutic work he and his owner do was inspiring!
"On a daily basis my own dog has a positive impact on my wellbeing. She instantly lifts my mood when I get home from a difficult shift, and after lots of meetings and planning we were finally able to recruit our own Pets As Therapy dog.
"I had to shortlist from eight canine candidates; it was such a difficult decision to make. But we interviewed Lucy and her owner Charmaine and they were perfect for the job. They have visited twice now and the feedback has been very positive from patients, families and staff."
Big difference
Inpatient Joey Bailey, of Denholme, was thrilled to meet cockerpoo Lucy during one of her visits. His mum, Jenny Bailey, said: "Pets As Therapy provide a great service which makes a big difference to a child's day and lets them forget they are ill."
The nationwide registered charity also provides therapeutic visits to nursing homes and hospices.
Charmaine said the pair were delighted to visit the children's unit at BRI, each armed with their own Trust ID badge, of course!
She said: "Lucy is very, very friendly and you cannot put into words the impact she has when she meets people.
"She provides joy, comfort and peace and can help some people forget what's wrong with them. She's great with relatives and staff too and has already built-up a special rapport with the young patients."
Michelle added: "Lucy has been really good and has had a lot of fun with the children, who loved her!"
Lucy has met our young patients in the Children and Young People Unit's Discharge Lounge to make sure she does not alarm others who may be frightened of her.
We are very grateful to Charmaine, who is also a Chaplaincy volunteer at the Trust, and Lucy for travelling from their home in Halifax to brighten up some of our young patients' days.
Keep your eyes peeled for the pair as they are now set to visit the children's unit at BRI a couple of times each month!
ENDS
For further media information, please contact communications@bthft.nhs.uk or
call 01274 382265
Note to Editors:
Bradford Teaching Hospitals NHS Foundation Trust:
Bradford Teaching Hospitals NHS Foundation Trust is responsible for providing hospital services for the people of Bradford and communities across Yorkshire. We serve a core population of around 500,000 and provide specialist services for 1.1 million people.
Our 5,500 staff work over several sites, including Bradford Royal Infirmary, which provides the majority of inpatient services, and St Luke's Hospital, which predominantly provides outpatient and rehabilitation services. We also manage local community hospitals at Westwood Park, Westbourne Green, and Eccleshill.
In early 2017, a new £28 million wing opened at Bradford Royal Infirmary, part of a £75m investment to improve patient care across our hospitals over a five-year period. It provides world-class facilities for elderly care, children's services, a state-of-the-art intensive care unit with increased single-room provision and a retail concourse.
The new wing is a continuation of our work to improve patient experience after our new £2 million neonatal unit officially opened in January 2015. Our maternity services were recently shortlisted for the Royal College of Midwives' (RCM) Midwifery Service of the Year Award, recognising excellence and innovation in the provision of maternity care.
In 2017, we also completed a £2m refurbishment of our Emergency Department (ED) as part of an ambitious vision to create a more efficient acute medicine service for the people of Bradford. It has been designed to provide a slicker and more efficient service, with faster senior clinical involvement at an early stage in the patient pathway.
As a teaching hospital, we are at the forefront of education and development in healthcare, and have an excellent reputation for research performance. We are one of the leading centres in conducting applied research in the country, particularly in quality and safety, elderly care and rehabilitation.
The Trust is home to the Bradford Institute for Health Research (BIHR) where researchers have led the development, validation and implementation of the award-winning Bradford Electronic Frailty Index (eFI) which helps calculate an elderly person's risk of disability, impairment, falls and complications of chronic diseases, as well as their diminishing independence and capability. This is now being used by 98 per cent of all GPs across the country.
Our award-winning Ophthalmology department is home to numerous worldwide clinical trials taking the lead in eye care research and we are one of only three sites in the United Kingdom to be enlisted in the Perioperative Enhanced Recovery Hip Fracture Care of Patients with Dementia (PERFECTED) study, which will investigate how the NHS can introduce better standards of care to improve outcomes for people with dementia.
Follow us on Twitter: @BTHFT
The Trust has its own Bradford Hospitals Charity: https://bradfordhospitalscharity.org/