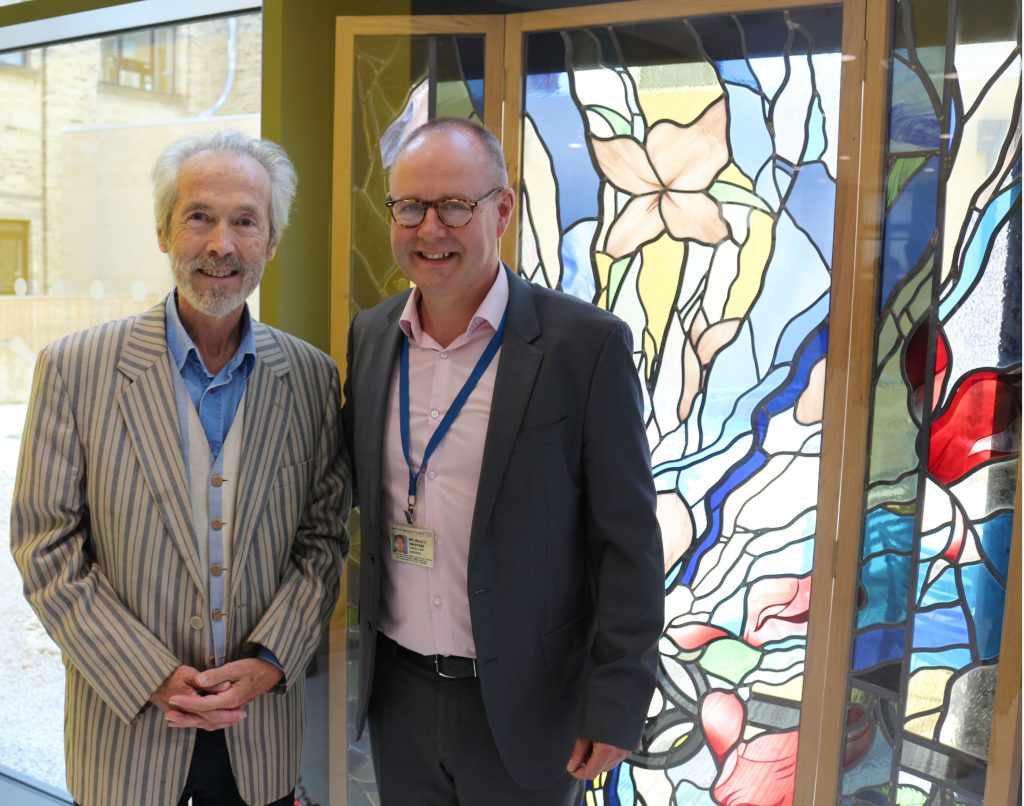 A beautiful new addition now takes pride of place in Bradford Royal Infirmary (BRI) – a generous gift from a grateful patient to thank staff for saving his life.
The stunning stained glass screen has been presented by Mr Graeme Willson to Consultant Surgeon, James Halstead and his team, who treated him for cancer of the oesophagus.
Mr Willson, of Ilkley, began treatment and surgery at BRI, part of Bradford Teaching Hospitals NHS Foundation Trust, in January this year after his diagnosis in December 2017.
He said: "It was in January that I first met James, who was an absolute inspiration. James and his team performed the operation which has resulted in my still being here.
"When I first met him, I had just found out about my diagnosis and was obviously feeling quite depressed. I honestly think he has a great gift for inspiring confidence and hope in a patient.
"I think he said something like 'we can get you through this working as a team together', which was so inspiring and really galvanised my spirit.
"James has the personal and human touch which is so important in his line of work; his professionalism, care and attention have been absolutely life-affirming. This screen is my way of saying a very big thanks to him and all his colleagues and staff."
Lightbulb moment
The screen was designed by Mr Willson back in 2003 after being commissioned by his sister Christine Davenport on behalf of the company where she worked. It is called 'Offering' and depicts an intricate floral bouquet pattern incorporating lilies. He explained that the idea of presenting it to the hospital came about while convalescing, describing it as a "lightbulb moment".
"When Christine's company moved out and tenants moved in to the premises, the screen was relegated to the basement where it has been languishing ever since. When I was convalescing the idea came to me that it should be resurrected and put to good use and Christine wholeheartedly agree with me.
"Much of my working life has been devoted to the principle of public art and the role that visual arts can play in the backdrop of people's lives, and indeed as part of the healing process in a hospital. Obviously, compared to the mainstream activities of surgery, medicine and nursing, this role is very minor and peripheral. But nevertheless I do believe that it sends out a signal – that the authorities care about the environment and its impact on both patients and staff.
"In all sorts of subtle ways this can contribute to the convalescence of the patient and the well-being of staff. While I was gradually getting better in BRI, I couldn't help reflecting on the quality of the care from which I was benefiting. I felt such gratitude for the kindness and compassion of all the staff."
The screen, which has been installed in the hospital's main atrium, was unveiled at a special ribbon-cutting ceremony, which was also attended by the trust's Church of England Chaplain, Joe Fielder, who Mr Willson also wanted to thank.
"There was an occasion during my treatment when I had to be re-admitted. I could barely walk and was in desperate need of a wheelchair. Suddenly Joe appeared like a guardian angel – with a wheelchair. I will always be grateful for him coming to my rescue!
Mr Halstead said: "I am very grateful to Graeme for his kind act of generosity and I am really pleased that he is getting back to full health which will enable him to produce even more of his beautiful artwork.
"It is very heart-warming when patients take the time and trouble to thank us for the care they have received."