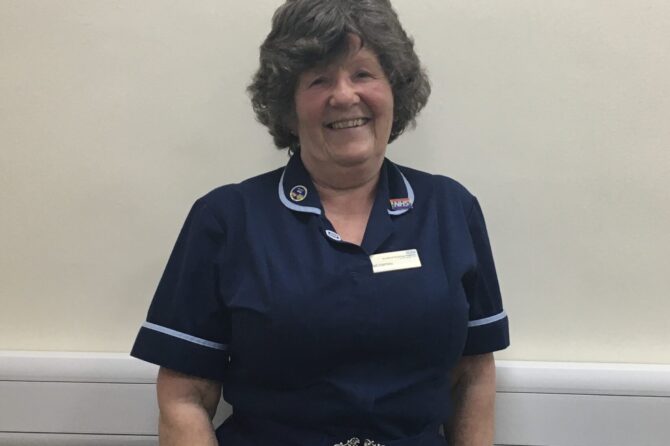 NURSE Gail Harney has retired from Bradford Teaching Hospitals NHS Foundation Trust in her 50th year of working for the NHS – and always at Bradford Royal Infirmary.
Gail, who was the was Lead Nurse for the Multi-Agency Integrated Discharge Team (MAIDT), was pivotal in integrating health and social care within the Trust to improve complex patient discharges.
Bradford became a trailblazer in 2017 when the MAIDT team was created. But Gail had been forging close links with social care since 2011 to give Trust patients the best and safest possible route home from hospital – be that to their own house or a care home.
"When I look back on my career I think I'm most proud of the integration of health and social care here at the Trust," said Gail. "I really feel I've made a difference by working with social services, voluntary services and many other community partners.
"Patient discharges are so important – we need to get it right and treat everyone with respect, whatever their circumstances, to give them the best chance of staying well, safe and supported when they leave hospital."
Gail's long career at the NHS began and ended at Bradford Royal Infirmary (BRI) – and she's never wanted to work anywhere else. She especially loved working on the trauma wards, in the days when patients with broken bones were on traction for weeks, because she got to know the patients so well.
Nurse cadet
Aged 17, Gail started as a nurse cadet on the male trauma ward at BRI. She was only allowed to answer phone calls and fill water jugs before she turned 18 and her training started, first with a move to the nurses' home at Field House, on the BRI site.
In 1976 Gail qualified as a state registered nurse (SRN) and got married a month later. To cheer up her patients she even paid a visit to her ward in her wedding dress – complete with husband and bridesmaids!
Shortly after the birth of her third child, Gail was called in to help with a major incident: the Bradford fire. She worked in A&E dressing the burns of many patients and met Margaret Thatcher when she paid a visit to BRI the day after the fire.
Gail went on to become a ward sister on female trauma and when the ward closed in 2004 she joined the discharge team, becoming a matron in 2008 and going on to be involved in developing the MAIDT team.
In her retirement Gail hopes to spend more time with her family, knitting and sea swimming at Morecambe, a place she loves. Always a keen walker, regularly clocking up 50 miles a week back and forth to work, she has no plans to slow down and will always look back on her career with great fondness: "Now's the right time to go, I'll miss everything but I know I've made a difference. That's good."
Chief Nurse at Bradford Teaching Hospitals, Karen Dawber, said: "Gail embodies everything a nurse should be – she's a dedicated, caring and compassionate person. She was ahead of her time in helping to spearhead health and social care integration at our Trust, which put Bradford on the map and is now the direction of travel for the whole NHS. We'll really miss you, Gail, but your legacy lives on."
ENDS
For further media information, please contact communications@bthft.nhs.uk or call 01274 383901.
Note to Editors:
Bradford Teaching Hospitals NHS Foundation Trust:
Bradford Teaching Hospitals NHS Foundation Trust is responsible for providing hospital services for the people of Bradford and communities across Yorkshire. We serve a core population of around 500,000 and provide specialist services for 1.1 million people.
Our 5,500 staff work over several sites, including Bradford Royal Infirmary, which provides the majority of inpatient services, and St Luke's Hospital, which predominantly provides outpatient and rehabilitation services. We also manage local community hospitals at Westwood Park, Westbourne Green, and Eccleshill.
In early 2017, a new £28 million wing opened at Bradford Royal Infirmary, part of a £75m investment to improve patient care across our hospitals over a five-year period. It provides world-class facilities for elderly care, children's services, a state-of-the-art intensive care unit with increased single-room provision and a retail concourse.
The new wing is a continuation of our work to improve patient experience after our new £2 million neonatal unit officially opened in January 2015. Our maternity services were recently shortlisted for the Royal College of Midwives' (RCM) Midwifery Service of the Year Award, recognising excellence and innovation in the provision of maternity care.
In 2017, we also completed a £2m refurbishment of our Emergency Department (ED) as part of an ambitious vision to create a more efficient acute medicine service for the people of Bradford. It has been designed to provide a slicker and more efficient service, with faster senior clinical involvement at an early stage in the patient pathway.
As a teaching hospital, we are at the forefront of education and development in healthcare, and have an excellent reputation for research performance. We are one of the leading centres in conducting applied research in the country, particularly in quality and safety, elderly care and rehabilitation.
The Trust is home to the Bradford Institute for Health Research (BIHR) where researchers have led the development, validation and implementation of the award-winning Bradford Electronic Frailty Index (eFI) which helps calculate an elderly person's risk of disability, impairment, falls and complications of chronic diseases, as well as their diminishing independence and capability. This is now being used by 98% of all GPs across the country.
Our award-winning Ophthalmology department is home to numerous worldwide clinical trials taking the lead in eye care research and we are one of only three sites in the United Kingdom to be enlisted in the Perioperative Enhanced Recovery Hip Fracture Care of Patients with Dementia (PERFECTED) study, which will investigate how the NHS can introduce better standards of care to improve outcomes for people with dementia.
The Trust has its own Bradford Hospitals Charity: https://bradfordhospitalscharity.org/
Follow us on Twitter: @BTHFT
For more information please visit www.bradfordhospitals.nhs.uk