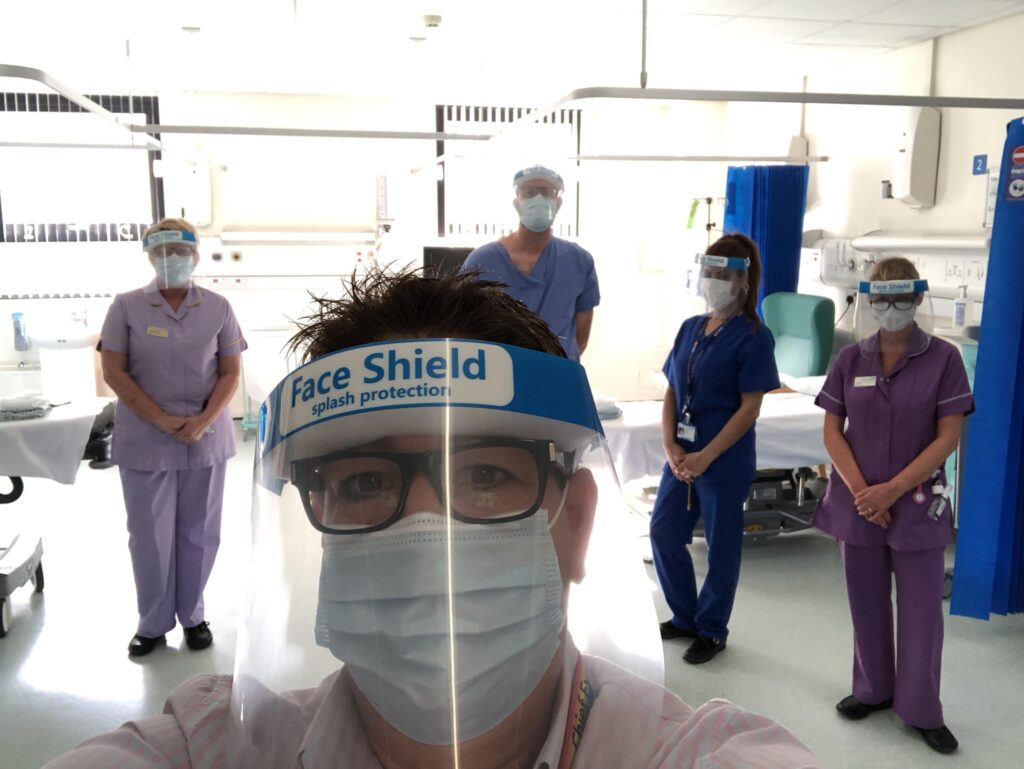 THE 72nd anniversary of the NHS this weekend, 4 and 5 July, gives the organisation a timely opportunity to reflect on the extraordinary challenge presented by coronavirus and give heartfelt thanks to everyone who, in countless ways, has helped the NHS care for its patients. Above all, the anniversary will be a moment to remember those people who, sadly, lost their lives in the pandemic.
Through fundraising, volunteering, caring and providing services to the NHS, individuals, groups and organisations in the North East and Yorkshire have played a crucial part in protecting the ability of the NHS to treat people and save lives.
Margaret Kitching, Regional Chief Nurse North for NHS England and NHS Improvement, said: "During the last few months, the NHS has been through the greatest test in its lifetime, and we will continue to deal with the many challenges brought about by the COVID-19 pandemic.
"As we remember all those we have lost, the way we mark our anniversary in 2020 will have a different feel to previous years. We would like to take this opportunity to say thank you to everyone who has helped the NHS respond to the pandemic, and we would like to reflect back the warmth and respect for the NHS and its people onto the country as a whole."
Over the past few months the NHS has had to adapt to pressures faced during the pandemic, and the North East and Yorkshire region has been no different. NHS staff adjusted skilfully and played their part to continue to look after patients and deliver high-quality care, but it could not have been done without the efforts of communities.
Stepping up to meet the challenge of the COVID-19 pandemic
A 'mini hospital' within a hospital was created at Bradford Teaching Hospitals NHS Foundation Trust to treat patients in need of urgent procedures including cancer surgery, urology and gynaecology in a specially protected environment. The 'ultra clean, ultra green' area has its own entrance and dedicated theatre. The ward also has its own pharmacy and physio support as well as a dedicated enhanced recovery nurse, intensive care unit support and two high dependency beds.
In response to visitor restrictions, the Trust set up a dedicated information phoneline to provide basic details to relatives concerned about loved-ones in hospital during the COVID-19 pandemic. The line is open seven-days-a-week, staffed by fully-qualified nurses or clinical staff, and has handled thousands of calls since its inception. A dedicated 'Thinking of You' inbox was created for relatives to send messages which were then read out by staff to inpatients.
Shugofta cared for by a team of professionals
Earlier this month teenager Shugofta Kosar, from Wakefield, celebrated her recovery from a rare condition which had required a nine-month stay in Wakefield's Pinderfields Hospital, during which time she was treated by a whole range of healthcare professionals, including during the COVID-19 pandemic – and celebrated a landmark birthday.
She was admitted to Pinderfields last October after becoming unwell. Following a spell in intensive care where her breathing was supported, Shugofta was diagnosed as suffering from lupus, an autoimmune disease in which the body's immune system attacks normal, healthy tissue.
Shugofta's road to recovery was long and she received a broad spectrum of care, starting with the medical teams who initially assessed her, the intensive care team, transfusion services, feeding teams, rheumatologists, gastroenterologists, surgeons, physiotherapists, nursing teams on three wards, and other professionals. On 10 June just a few days before her discharge from hospital, Shugofta celebrated her 18th birthday with staff at Pinderfields.
Shugofta said: "In my opinion I think that I have received the best treatment that I could ask for. Even though I didn't know what was happening at first and I shed some tears I still pulled through and got there in the end."
Supporting colleagues across the system
Barnsley community teams from South West Yorkshire Partnership NHS Foundation Trust have made a huge effort to support to care homes and the local acute hospital trust during the coronavirus pandemic.
Taking a snapshot of just one week during the pandemic, staff made nearly 5,000 essential home visits providing a variety of care and treatments to vulnerable patients. They also did around 10,500 telephone/video consultations, recorded some 2,500 patient interactions on stroke and neurological rehabilitation units and held more than 50 management meetings. All in just a seven-day period.
Nurse Natalie McCarthy said: "My role has been to support the whole process of us dealing with COVID-19. I've been doing swabs at our drive-thru testing facility, helping staff and care homes keep up-to-date with the latest advice and training staff who have been re-deployed. The trust's school-age immunisation team have also been re-deployed to support the neighbourhood nursing teams whilst schools remained closed."
Humber Centre plays important community role during pandemic
At Humber Teaching NHS Foundation Trust the Mental Health team worked with primary care colleagues to build an isolation ward for COVID-19-positive patients and those showing symptoms. Run by the trust, the Humber Centre is a medium/low secure service which provides care to patients in an in-patient setting. An 8-bed ward within the centre was commissioned to care for patients who presented as symptomatic of COVID-19. The ward admitted its first patient at the end of March and continued to care for patients until the end of May. All patients were successfully treated and returned to their own ward environment. The isolation ward provided an area away from others and was crucial to ensuring coronavirus did not spread to other patients or staff within the hospital.
Karen McDonnell, Service Manager at trust, said: "Staff were committed to ensuring that all patients received the best possible care – some even booked into hotels so they could continue to care for the patients without putting their families at risk. Others who lived alone totally isolated themselves from their external family network so they could continue to care for patients without putting their loved ones at risk. The primary care team and the mental health nurses provided valuable support to each other and we are so proud of them all."
One patient cared for on the ward said. "I would like to thank you for all the support and help you gave me when I was feeling scared and anxious during a high risk situation. The little things you did for me were big things, like sitting with me and trying to make me feel comfortable, you made me feel at ease and helped me use my coping skills."
Mortuary hearts in Leeds
Specialist Nurse Sam Oakes and the mortuary team at Leeds Teaching Hospitals NHS Trust have been providing pairs of knitted hearts to bring some comfort to bereaved families. One heart is given to the patient by the mortuary team and the funeral director gives the other heart to their family or loved one. The team have received positive feedback from relatives such as: "It is lovely. We couldn't dress her in her own clothes, but this is something that we will cherish and save," and "A very big thank you for the thoughtful note and hearts you sent me with my mother. It is very much appreciated." These comments show what a difference this is making to families at this difficult time when they cannot visit the trust's chapels of rest.
Hospitals introduce virtual visiting for vulnerable patients
The Special Care Baby Unit and the End of Life Care team areas at Doncaster and Bassetlaw Teaching Hospital now facilitate 'virtual visiting', so that vulnerable patients can keep in touch with loved ones during this stressful time.
At the End of Life Care Service, loved ones can keep in touch with patients by emailing a letter to dedicated volunteers who will print off these messages and hand them over to the recipient. If the person is unable to read their letter, a member of staff will read it aloud for them. And now virtual visits – video calls using Android devices – can connect patients to their families and friends.
Karen Lanaghan, Lead Nurse End of Life Care, said the global situation had unfortunately forced the service to curtail visits for the sake of wider patient safety. ''Being able to communicate with one another is of the utmost importance for our patients and their families, as no one should face their last days alone," she said. "By having access to this technology, we can at least provide a way through which people can speak to their loved ones, see their faces, and feel together.''
ENDS
Notes for Editors
Pictured: Mel Pickup, CEO of Bradford Teaching Hospitals, with staff from the 'ultra clean, ultra green' area at Bradford Teaching Hospitals
Sunday 5 July will be the 72nd anniversary of the social care system which was created at the same time in 1948 and an opportunity to celebrate the work of our partners in social care and those we have been working with throughout the pandemic.
The public are invited to use the social media tag #NHSbirthday to get involved and interact during the anniversary.
Photos attached are available for immediate use:
• Stepping up to meet the challenge of the COVID-19 pandemic. Photo attached: Ultra clean ward mini hospital within a hospital set up at Bradford Royal Infirmary. Chief Executive of Bradford Teaching Hospitals NHS Foundation Trust, Mel Pickup (foreground), with staff.
• Shugofta cared for by a team of professionals. Photo attached: Shugofta Kosar.
• Supporting colleagues across the system. Photo attached: Natalie McCarthy.
• Humber Centre plays important community role during pandemic. Attached photo: darley 2 shows the COVID ward team from The Humber Centre.
• Mortuary hearts in Leeds. Attached photo, reference QVNIMTE0Nzg2ODk2 shows a mortuary heart.
For media enquiries or if you wish to unsubscribe from these emails, please contact england.NEYmedia@nhs.net.