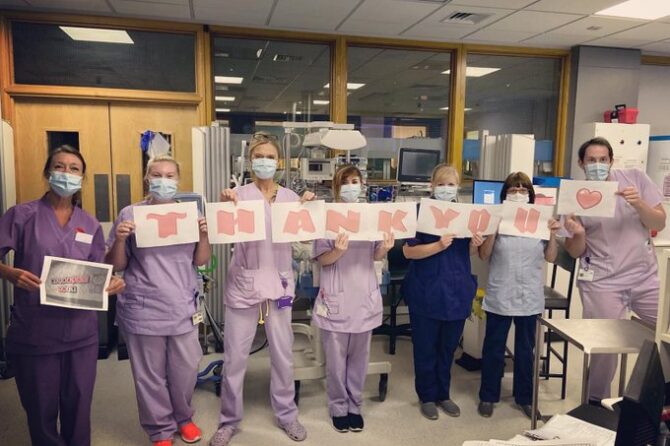 ON JULY 5, we will celebrate the 72nd birthday of the NHS.
Over the last few months the NHS has stepped up in ways never seen before to work out how to deliver services differently following lockdown, recruit tens of thousands more staff, returners and volunteers and even build hospitals to respond to the Covid-19 global pandemic.
The NHS could not have achieved this without the commitment and skills of its people, including staff throughout Bradford Teaching Hospitals.
Every week of the pandemic, we have seen our communities we are here to serve show their love and appreciation for the NHS and carers by turning out week after week to clap for us and by bringing much-appreciated donations of PPE, meals, snacks, drinks, comfort packs and pamper gifts to name just a few – as well as cash donations for our Bradford Hospitals' Health Heroes Charity appeal.
Support
And, of course, so many have done their bit during the difficult weeks of lockdown, including supporting us in our different ways of working.
The NHS 72nd anniversary is the ideal opportunity to say 'thank you' to everyone who has helped us over the past six months to help respond to this global pandemic; an opportunity to project back that warmth and renewed respect for the NHS to our communities.
The Together Coalition, headed-up by Brendan Cox, widower of MP Jo Cox, is working with the NHS for the anniversary to focus on and say thank you for this renewed sense of community spirit, and has organised a number of national activities over the anniversary weekend.
As we say thank you, it is important that the human toll of Covid-19 is not forgotten or lost. Therefore, the anniversary is also an opportunity to remember and reflect on their lives of those we have lost to this devastating virus; a chance for the nation to come together and pay our respects.
NHS anniversary national activities
Saturday, July 4, 8pm, the Together Coalition has asked people to remember all those we have lost by putting a light in their window or on their doorstep. This could be a candle, a lamp or a torch.
Also on Saturday evening, national landmarks will be 'lit up blue' to remember but also to recognise the NHS anniversary the next day.
Sunday, July 5, noon, will see the biggest, loudest and final 'clap for carers and key workers.'
Immediately after the clapping, people will be encouraged to stay outside to show their thanks/appreciation to their neighbours or get in touch with someone who is lonely, isolated or shielding, to let them know they are supported.
In the run up to the day the NHS will be encouraging everyone to create a lasting legacy to the NHS and maintain positive changes made during the pandemic.
The Together Coalition is inviting everybody to say a personal thank you to a loved-one; someone who has helped them, or who has made a difference in their area and they expect windows, streets, school buildings and businesses to be filled with thank yous.
We're lighting up too!
National landmarks and buildings are to be floodlit in NHS blue on the evening of Saturday, July 4 – and our buildings are no exception. Thanks to our estates teams, Bradford Royal Infirmary and our Maternity Unit will literally glow with pride.