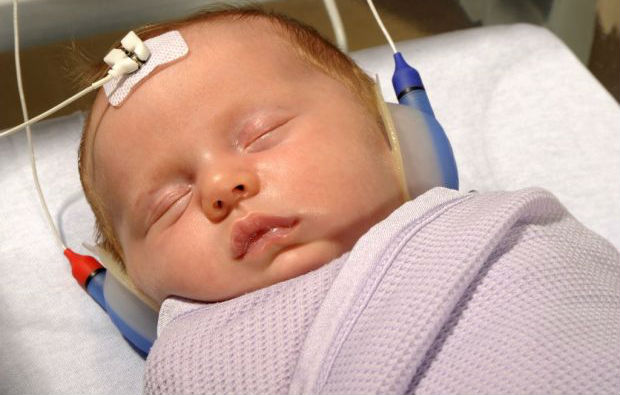 Bradford's newborn hearing screening programme has been recognised nationally for the high standard of care it delivers to babies with suspected hearing loss and their parents.
The service at Bradford Royal Infirmary, part of Bradford Teaching Hospitals NHS Foundation Trust, has been named by Public Health England as one of only a handful of sites nationally that have consistently met and exceeded the standard for time taken to see a hearing specialist from the audiology service after referral from the screen.
The newborn hearing screening test helps to identify babies who have permanent hearing loss as early as possible. This means parents can get the support and advice they need right from the start.
One to two babies in every 1,000 are born with permanent hearing loss in one or both ears.
This increases to about 1 in every 100 babies who have spent more than 48 hours in intensive care. Most of these babies are born into families with no history of permanent hearing loss.
Permanent hearing loss can significantly affect a baby's development. Finding out early can give these babies a better chance of developing language, speech, and communication skills. It will also help babies make the most of relationships with their family or carers from an early age.
Bradford's service, which sees both children and adults with hearing loss, is one of the largest in the country and is already in the top 18 of best performing sites. But now it has achieved the accolade of being one of just nine sites to keep hitting the four week target – and is being asked to share its top tips for maintaining this key standard.
Excellent care
Rob Gardner, Head of Audiology Services at the Trust, said he was very proud that the service had been recognised for consistently delivering excellent care: "This is a great boost for the whole team which is dedicated to getting the best possible outcomes for people with hearing loss – whether they be a few days old or adults.
"The importance of meeting this standard is that babies who have hearing loss are able to be identified quicker, reducing the amount of time parents have to wait, especially when they're probably worried about their baby failing the screening test and wondering what this means for the future.
"It's usually quite a considerable shock to parents to find out that their baby has a hearing problem, so we want to see them as soon as possible to support them, discuss options and make sure we give their baby the best care."
It's very important that parents attend the appointment at the hospital in case their baby does have permanent hearing loss, and the screening team also does really well at encouraging people to keep appointments.
Parents are given an agreed appointment when they have the screening test, so they're not waiting for a letter through the post; the audiology team runs up to five clinics each week just for newborn screening test babies, so there is plenty of capacity. The hearing screeners have access to these appointments and so are able to offer a convenient date and time to parents.
Parents are reminded of their appointments via a phone call and or text messaging the day before the appointment. Health visitors are also notified if necessary to encourage attendance and interpreters are used if needed.
Close collaboration
The excellent work of the newborn hearing screening team and the close collaboration with the Audiology department are the key to the team's success.
The hearing screen doesn't harm a baby in any way and is highly recommended, but parents don't have to accept it. If they decide not to have the screening test, they will be given checklists to help them check on their baby's hearing as they grow older. If parents have any concerns, they should speak to their health visitor or GP.
If the screening test results do not show a clear response from one or both of a baby's ears, an appointment will be made with a hearing specialist at an audiology clinic. Even if this happens, it doesn't necessarily mean a baby has a permanent hearing loss.
Types and levels of permanent hearing loss vary. Each baby's hearing loss will be different, but there is a wide range of support and information available.
Once hearing loss is confirmed, the service will see children every month up to the age of about 12, then less frequently depending on their needs. Many different hearing aids are now offered on the NHS and surgery for cochlear implants may be a long-term option for some children.
Bradford Hospitals Trust was one of the first Trusts in the country to start newborn screening tests in 2002, following the introduction of the national Newborn Hearing Screening Programme.
Prior to 2002, only 10% of newborn babies deemed to be at 'high risk' of hearing problems were offered the screening test. This meant that the average age for children to be identified as having hearing loss was two-and-a-half years old, which could mean them having delayed speech and language development.