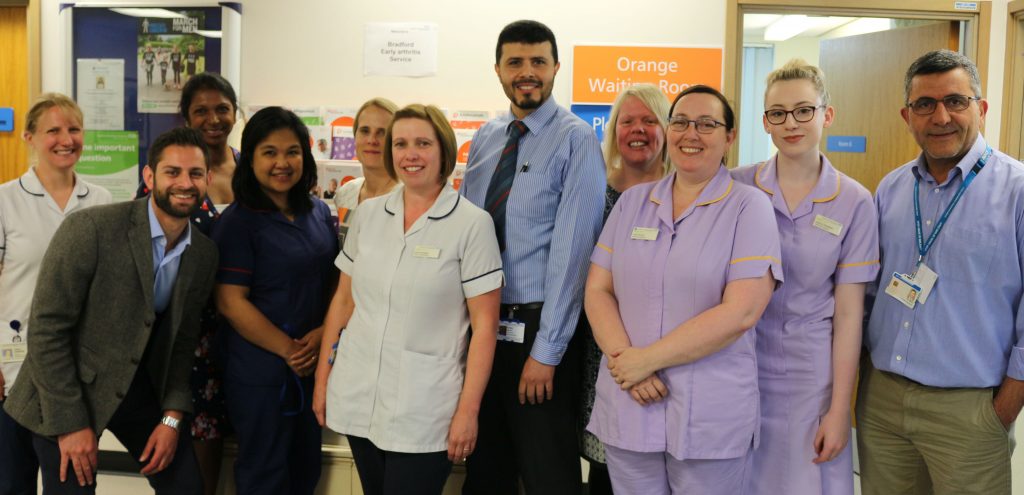 Patients with suspected inflammatory arthritis can now access rapid assessment and treatment thanks to a new 'one-stop shop' Early Arthritis Clinic at Bradford's St Luke's Hospital.
The service, provided by Bradford Teaching Hospitals NHS Foundation Trust, brings together a wide range of health professionals to offer a unique service which offers fantastic benefits to patients with symptoms of this painful and debilitating condition.
Now, only three weeks after referral by their GP, patients who may have inflammatory arthritis can attend the clinic for assessment by a consultant, followed by same-day access to ultrasound, physiotherapy and specialist nurse drug counselling and education.
This means that, if needed, patients can have all blood, ultrasound and x-ray tests done during one appointment, instead of separate appointments on different dates as occurred previously.
State-of-the-art service
Ahmed Zayat, consultant rheumatologist at the Trust, said: "I'm very excited that we can now offer patients such a state-of-the-art service. Seeing a patient in the Early Arthritis Service for the first time and getting all the necessary tests done means we can really speed up the diagnosis and get them started on treatment.
"With the painful symptoms of inflammatory arthritis people can often have to take time off work and suffer both psychologically and physically as they wait weeks for treatment – all things which have a huge impact on their quality of life and also their family.
"We wanted to do things better and give patients the best service possible, as well as making best use of the hospital team's expertise and resources. I think the new service does all that and more."
Ahmed said the patient and staff feedback after the first clinic was fantastic, with almost everyone feeling the positive effects of the new service.
The one-stop shop clinic, which meets NICE and British Society for Rheumatology (BSR) guidelines, runs once a week and aims to see around 40 new and follow-up patients at each clinic, with potential to expand in future.
Underlying cause
People should see their GP if they think they have symptoms of rheumatoid arthritis, so they can try to identify the underlying cause.
Diagnosing rheumatoid arthritis quickly is important because early treatment can help stop the condition getting worse and reduce the risk of further problems such as joint damage.
The main symptoms of rheumatoid arthritis are joint pain, swelling and stiffness. It may also cause more general symptoms, and inflammation in other parts of the body.
The symptoms of rheumatoid arthritis often develop gradually over several weeks, but some cases can progress quickly over a number of days.
The symptoms vary from person to person. They can come and go, and may change over time, with some people experiencing occasional flare-ups when the condition deteriorates and symptoms become more severe.