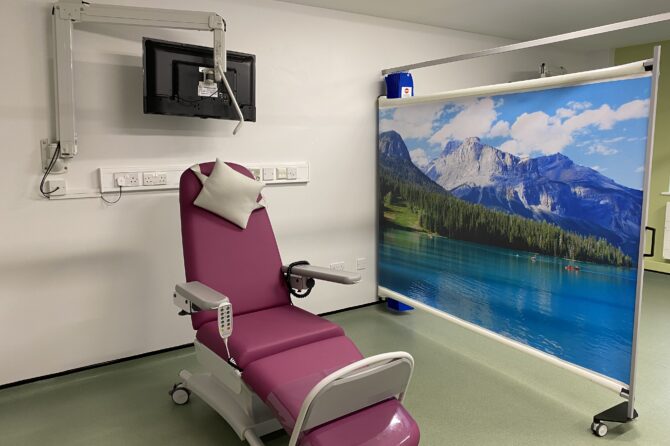 BRADFORD'S haematology and oncology services have moved into a new home, which was officially opened today (Friday, 7 May.)
The new unit – 'The Meadows Unit' – is based at Eccleshill Community Hospital, part of Bradford Teaching Hospitals NHS Foundation Trust and houses haematology and oncology outpatients' clinics and an oncology day unit in spacious, refurbished surroundings.
The unit was officially opened by the Trust's Chief Executive, Mel Pickup, together with one of the service's longest standing, patients.
Mel said: "A large, dedicated area has been totally transformed, fully re-decorated and renovated and specially designed with all the comforts of our patients in mind. This is really going to make a big difference for our patients coming to clinic and receiving these services."
The Trust's General Manager for Unplanned Care, Haematology and Oncology, Jo Hickey, said: "Prior to the move, these services had a temporary home in our vascular outpatients area at Bradford Royal Infirmary but we have been looking to find a more permanent home for these services for some time, and Eccleshill Community Hospital was chosen because it provides the perfect space.
"The new home ensures that not only can the outpatients' clinics and day unit facilities have dedicated separate spaces but that there is also plenty of room for all our teams who work collaboratively with these services, including our booking team, our clinical nurse specialists, genetic counsellors and so on.
"The new area will really make a big difference and we are confident patients will appreciate these spacious and comfortable new surroundings."
Renovation
Matron for Haematology and Oncology, Leah Callighan, added: "The whole area has undergone a full renovation with new toilet facilities and a new day room.  A lot of planning and care has been given to keeping the various areas separate from each other for the maximum comfort of patients; there are eight outpatient clinic rooms, and the chemotherapy day unit  has been designed so that patients can have their treatment in a bay with others or in a single side room with en-suite facilities.
"We also have a designated BMAT (bone marrow aspiration and trephine) biopsy delivery suite as well as a specific room for PICC line samples (a PICC line is used for long-term intravenous antibiotics, nutrition or medications, and for blood draws.)"
Project Lead, Estates and Facilities, Sam Hunter, said she was confident both patients and staff would appreciate the new modern and spacious areas.
"When a patient now walks in to this new area, they'll immediately see how fresh it looks. I think that in particular they'll will enjoy that fact that there are two separate entrances, receptions areas and waiting rooms – one for outpatients and one for the day unit.
"Having the new unit away from an acute hospital site has the added benefit of us being able to care for immunosuppressed patients in a safe environment, giving them a much better experience.
"We have taken great care to create a 'green area' for our patients receiving chemotherapy and overall ensure that patients are COVID secure so we have included screens at the reception desks. We have also installed microphones at reception because we know that when people are wearing masks and there are screens, there can be a language barrier as people sometimes find it difficult to hear," she said.
Calm and relaxed
"We also thought it important to create individual spaces for chemotherapy treatment and we now have screens that can be pulled out to divide up the areas; the screens have been printed with lovely mountain and lake scenes to help patients feel calm and relaxed.
"We have also incorporated a kitchen especially for our patients, accessible toilets and installed TVs in the waiting rooms; the decoration throughout has been chosen to be light and airy in soft, pastel shades.
"Eccleshill Community Hospital is well placed for a lot of our patients; there are good bus links but more importantly there is lot of free parking!"
Day Unit Manager and Lead Chemotherapy Nurse, Carolyn Butterfield said: "It's important for staff to have their own base to work in. Teams have been split for the past year (the services had to be moved to the Yorkshire Clinic for a time because of the COVID pandemic) and this has been challenging at times.
"We are excited about our new home so that we can all work together again as one team and all be under one roof."
A booklet explaining the move of services and mapping out the new facilities is currently being produced for patients. A representative from the Annette Fox Leukaemia Research Fund will also be based at Eccleshill in the new surroundings.
ENDS