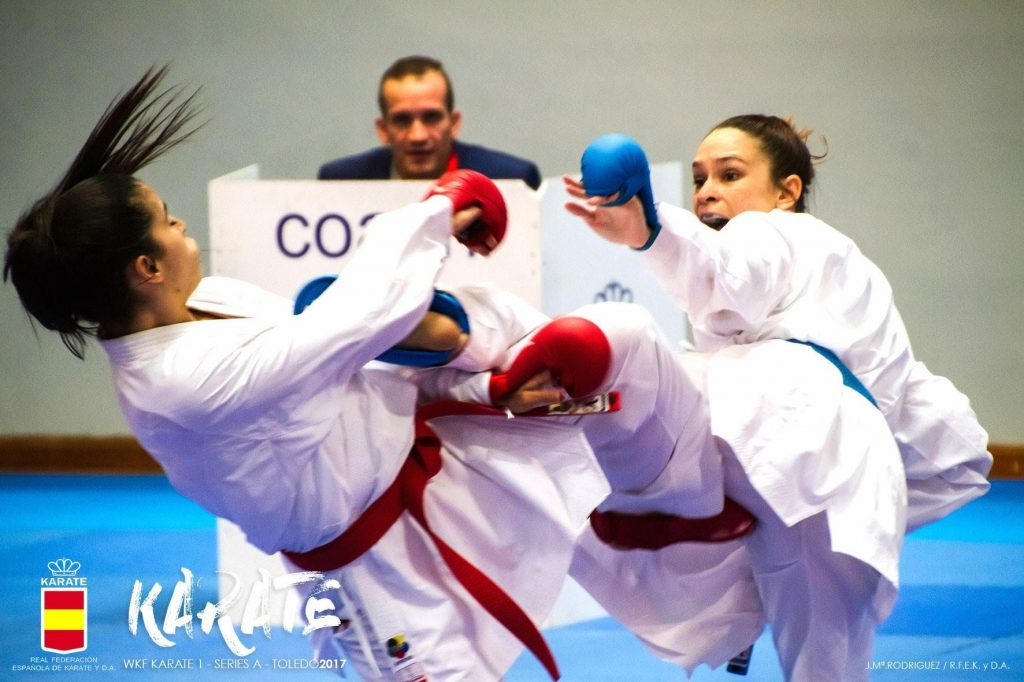 Bradford Teaching Hospitals Foundation Trust's new gym manager is going for gold!
Carla Burkitt has just started work at the fitness centre at Bradford Royal Infirmary, which features a gym, health studio and access to personal training services.
And the 27-year-old is certainly qualified to take on the role, as she's the current England women's karate team captain.
Originally from Luton, Carla recently made the move up to West Yorkshire to train six days a week with Silsden-based national team coach Paul Newby in a bid to qualify for the 2020 Olympics in Tokyo.
She said: "My former coach got a head coach job in Hong Kong and I needed a coach because karate is in the 2020 Olympics for the first time. So I decided to move up here to train with the recently-appointed England national karate coach, Paul Newby, in Silsden."
To stand a chance of achieving her Olympic dream Carla, a member of the elite Kaizen Central karate club, is working at the fitness centre part-time while training with Paul and his son, Jordan Thomas, the current world karate champion in the men's -67kg category.
Compete in Europe
"I now train six days a week, doing karate, strength and conditioning and competitions while working. I generally compete in Europe and travel abroad at least once every couple of months. I live in the coach's house in Silsden – we are like family. Without that, I wouldn't have been able to make the move."
"Life up here is very different. It very much feels like a slower pace of life. People talk to you when you don't know who they are, but because I've travelled quite a bit it hasn't come as such a shock! And I had been training with Paul before I made the move so I knew the area."
Alongside the quest for Olympic qualification, Carla also has ambitions for our fitness centre, and is keen to improve the numbers of staff who use it and the studio classes available.
"Everyone has been great and very helpful, particularly personal trainers Danny Lane and Paul Harland, who are available to work on a one-to-one basis with staff throughout the week." she added.
"But I'd like to help make the fitness centre feel more like a community. It would be great to engage more members, perhaps with things like monthly challenges with prizes including gym membership. I'd also like to increase the studio use and possibly put on some yoga and Pilates."
"I'll be going to Trust inductions too. A lot of staff know we are here, but I want to make the fitness centre somewhere you want to be."
Ranked 50th in the world
Carla, who was picked to fight for the England karate team for the first time in 2009, competes in the women's -55kg category, after recently moving down from -61kg. She's currently ranked 50th in the world after one tournament at her new weight, but expects that to significantly improve once she gets more competitions under her black belt.
She is now preparing to compete in karate Premier League meets across Europe in a bid to improve her ranking, with the German Open in Leipzig in September next up before the Austrian Open in Salzburg in October.
"It's about pushing for Tokyo and improving my ranking," she said. "I have to compete at as many international meets as I can afford to attend. If I get into the top 20 I will be up there at the right level and in with a good chance of qualifying for the Olympics."
"But a lot of the contestants we are up against are full-time funded athletes who have more opportunities to train and compete. Qualifying will be a massive challenge because we are doing it off our own backs and the number of competitions we can afford to attend is limited."
"It's also important for me to represent karate in the right way and bring awareness to it."
Carla was just 10 when she became a black belt, and has achieved several titles over the years, including English and British crowns, European honours and being ranked in the top 10 in the world for 2015. But qualification for the 2020 Olympics would top the lot.
"Karate has never been in the Olympics before so for everyone in the sport it represents a massive dream. To have the opportunity to work towards that is amazing."
Carla is an entirely self-funded athlete, and is currently looking for sponsorship to support her Olympic dream. If you can help or would like to find out more, please contact her at carla.burkitt@bthft.nhs.uk