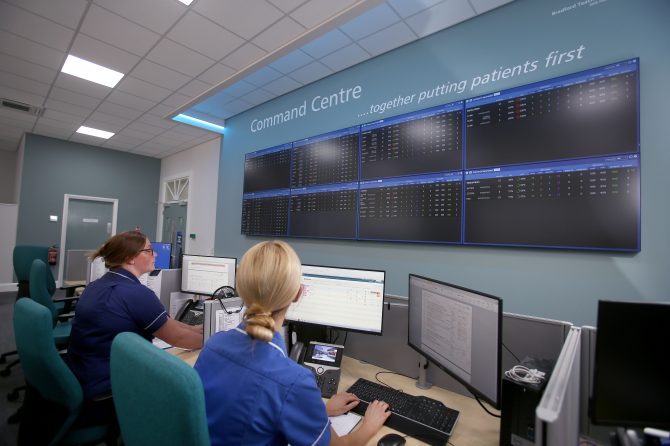 PEOPLE in Bradford District and Craven are being helped to stay happy, healthy and at home, thanks to local health and social care services working together to drive transformation through digital care.
A new interactive digital roadmap for the wider district – People First: Digital First – has just been launched: https://peoplefirst-digitalfirst.org/ showing how patient care has, and will continue to be, better and safer through innovative digital technology.
Health and social care services in the area have collaborated closely to get ahead of the game in laying the digital foundations to support improved care – to deliver services in a new and modern way; providing faster, safer and more convenient care.
People in the area can already seek health information and support online, and choose whether they speak to a doctor on the phone or in person. A wide range of NHS-approved digital tools, apps and infrastructure will help people get ongoing support to help them manage their health and wellbeing needs, backed up by face-to-face care when this is needed.
One example is the locally developed digital platform called Doc Abode, designed to meet the needs of the most vulnerable house-bound patients by supporting health professionals to deliver home care in a new way.
New technology
The area has invested in improving NHS and social care IT systems and in developing new technology. Staff have the technology they need to do their jobs, and different systems can talk to each other and share vital information to support the delivery of care.
All the local health and social partners are part of the digital roadmap: Bradford Teaching Hospitals NHS Foundation Trust; Airedale NHS Foundation Trust; Bradford District Care NHS Foundation Trust; NHS Bradford District and Craven Clinical Commissioning Group; Bradford Council; Bradford Institute for Health Research (BIHR); and the University of Bradford. IT partners Cerner and TPP are also an integral part of the journey.
Cindy Fedell, Chief Digital Information Officer for Bradford Teaching Hospitals NHS Foundation Trust, said both trusts and their partners had an ambition to create a robust and comprehensive IT and digital strategy, to enable them to provide seamless care to our patients.
"The current COVID-19 pandemic has shown that we have the digital creativity and capability to work differently to support patients, families and carers, and this will continue to be a priority going forward," said Cindy.
"The message is that here in Bradford district and Craven we are ready, willing and – above all – able to play a key role in the NHS and social care's digital transformation locally, in West Yorkshire and Harrogate, and nationally."
The area already boasts a number of digital trailblazing projects:
A joined-up shared care record joining up different patient records
The digitally-enabled ACE service which provides an alternative to hospital referral or admission for children with common acute illnesses like asthma and croup
Bradford Teaching Hospitals is one of the most-improved digital pioneers in the NHS
Bradford Teaching Hospitals' Command Centre – the first of its kind in Europe – is transforming care by reducing waiting times and making the experience of being in hospital smoother, faster and more efficient for patients
Bradford District Care NHS Foundation Trust's MyWellbeing College supports people experiencing low mood, stress or anxiety using a range of online interactive courses and one-to-one phone and video call appointments
Airedale NHS Foundation Trust's virtual follow-up for patients where admission can be avoided but the team would like extra assurance the patient has got home safely and that they remain well
Airedale's Digital Care Hub provides round-the-clock telemedicine support to 500 care homes nationwide, over 2,000 patients in their last year of life, more than 30 prisons, and thousands of patients with long-term conditions living in their own homes
GP Assist has been developed using the tools within the clinical records system SystmOne to ensure patients are referred for the right care, at the right time in the right place. It is transforming the way pathways of care are managed and recommends clinical management regimes for patients with commonly occurring presentations across a range of specialties
The CCG has introduced Dual Resilient Virtual Desktop for 2,700 users providing staff with the flexibility to access their full work desktop from anywhere in the world, supporting service and organisation transformations.
Cindy added: "Our district-wide digital strategy outlines our ambition to drive transformation through digital healthcare. This strategy speaks to our collective vision, mission and principles for future development – making Bradford and Craven a driving force in improving care through better technology, which is good news for everyone."
ENDS
For further media information, please contact communications@bthft.nhs.uk or call 01274 383901.
Note to Editors:
Bradford Teaching Hospitals NHS Foundation Trust:
Bradford Teaching Hospitals NHS Foundation Trust is responsible for providing hospital services for the people of Bradford and communities across Yorkshire. We serve a core population of around 500,000 and provide specialist services for 1.1 million people.
Our 5,500 staff work over several sites, including Bradford Royal Infirmary, which provides the majority of inpatient services, and St Luke's Hospital, which predominantly provides outpatient and rehabilitation services. We also manage local community hospitals at Westwood Park, Westbourne Green, and Eccleshill.
In early 2017, a new £28 million wing opened at Bradford Royal Infirmary, part of a £75m investment to improve patient care across our hospitals over a five-year period. It provides world-class facilities for elderly care, children's services, a state-of-the-art intensive care unit with increased single-room provision and a retail concourse.
The new wing is a continuation of our work to improve patient experience after our new £2 million neonatal unit officially opened in January 2015. Our maternity services were recently shortlisted for the Royal College of Midwives' (RCM) Midwifery Service of the Year Award, recognising excellence and innovation in the provision of maternity care.
In 2017, we also completed a £2m refurbishment of our Emergency Department (ED) as part of an ambitious vision to create a more efficient acute medicine service for the people of Bradford. It has been designed to provide a slicker and more efficient service, with faster senior clinical involvement at an early stage in the patient pathway.
As a teaching hospital, we are at the forefront of education and development in healthcare, and have an excellent reputation for research performance. We are one of the leading centres in conducting applied research in the country, particularly in quality and safety, elderly care and rehabilitation.
The Trust is home to the Bradford Institute for Health Research (BIHR) where researchers have led the development, validation and implementation of the award-winning Bradford Electronic Frailty Index (eFI) which helps calculate an elderly person's risk of disability, impairment, falls and complications of chronic diseases, as well as their diminishing independence and capability. This is now being used by 98% of all GPs across the country.
Our award-winning Ophthalmology department is home to numerous worldwide clinical trials taking the lead in eye care research and we are one of only three sites in the United Kingdom to be enlisted in the Perioperative Enhanced Recovery Hip Fracture Care of Patients with Dementia (PERFECTED) study, which will investigate how the NHS can introduce better standards of care to improve outcomes for people with dementia.
The Trust has its own Bradford Hospitals Charity: https://bradfordhospitalscharity.org/
Follow us on Twitter: @BTHFT