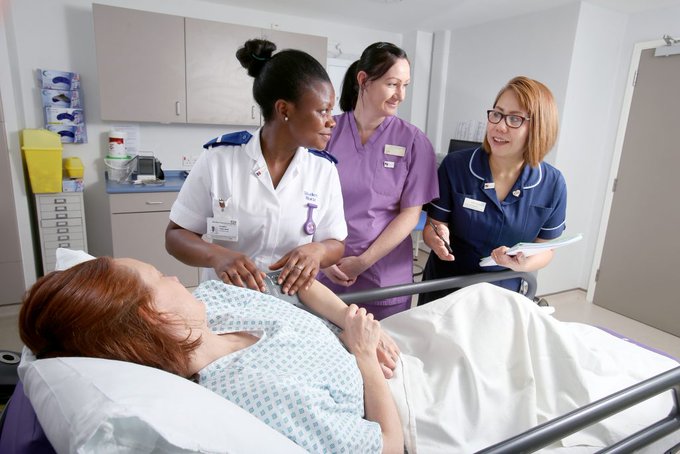 BRADFORD Teaching Hospitals NHS Foundation Trust and Airedale NHS Foundation Trust are part of an exciting collaboration which will train more home-grown nurses right on their doorstep.
The University of Bolton is offering the BSc (Hons) Nursing (Adult) degree and foundation degree (FdSc) for trainee nursing associates as part of an innovative partnership.
Taught at Bradford College by University of Bolton staff, the programmes have been designed to help prepare would-be nurses and nursing associates for a successful career within their local healthcare workforce.
This is a major step forward in both trusts' recruitment plans. For Bradford Teaching Hospitals it develops a second cohort of newly qualified nurses that, in future, can hopefully join the Trust in the spring – in addition to the nurses who join in the autumn from the University of Bradford.
It's a win-win as local students can attend Bradford College and carry out placements at their local hospital, where they may well end up choosing to spend their careers.
Students will spend 50 per cent of their time in practice learning experience at Bradford or Airedale and their three-year study with the university will complement and enhance their learning in the workplace.
Together with the university and Bradford College, we'll work to prepare students to become confident, professional and compassionate nurses, able to deliver and lead adult care within the NHS.
Karen Dawber, Chief Nurse at Bradford Teaching Hospitals, said: "This offer compliments are existing provision and also focuses on the people local to us. We want to harness the talent of our local people to help them develop into our nurses of the future – providing care that is truly representative of our population."
Bradford College is already training a new generation of nursing associates, with the first students enrolled this April. The Trust hopes this local course will also encourage some of its healthcare assistants to go on to become nursing associates.
Collaboration
Bradford Teaching Hospitals' Assistant Chief Nurse (Quality and Workforce), Jo Hilton, and Head of Education, Amanda Hudson, have been instrumental in making the collaboration happen. They said that the partnership was bringing the training to the students and helping to increase the number of newly qualified nurses available to join local trusts.
"We've wanted two cohorts of new nurses for some time, so it's more balanced during the year as they start on the wards and also provides more year-round resilience as we have more nursing staff to care for our patients," said Jo.
"The university and college have both made big investments in this satellite project and have been really supportive to us. We hope it will work extremely well as we've got the local placements that the students need, the college has the facilities and the university has the lecturers who are based here in Bradford."
Jill Asbury, Director of Nursing at Airedale NHS Foundation Trust, said: "I am delighted that the work of both trusts, Bradford College and the University of Bolton has resulted in such a positive outcome for local people wishing to pursue a career in nursing.
"Both hospitals offer a range of experiences, and support their staff in developing their nursing careers.  This is excellent partnership working and we look forward to working closely together."
Bradford Teaching Hospitals continue to have a strong partnership with the University of Bradford, but this new collaboration is an added boost to its recruitment drive for nurses.
For more information about the (Adult) Nursing BSc degree course, visit: https://courses.bolton.ac.uk/course/NRS017-F-UOB-SX/2019-20/
ENDS
For further media information, please contact communications@bthft.nhs.uk or call 01274 383901.
Note to Editors:
Bradford Teaching Hospitals NHS Foundation Trust:
Bradford Teaching Hospitals NHS Foundation Trust is responsible for providing hospital services for the people of Bradford and communities across Yorkshire. We serve a core population of around 500,000 and provide specialist services for 1.1 million people.
Our 5,500 staff work over several sites, including Bradford Royal Infirmary, which provides the majority of inpatient services, and St Luke's Hospital, which predominantly provides outpatient and rehabilitation services. We also manage local community hospitals at Westwood Park, Westbourne Green, and Eccleshill.
In early 2017, a new £28 million wing opened at Bradford Royal Infirmary, part of a £75m investment to improve patient care across our hospitals over a five-year period. It provides world-class facilities for elderly care, children's services, a state-of-the-art intensive care unit with increased single-room provision and a retail concourse.
The new wing is a continuation of our work to improve patient experience after our new £2 million neonatal unit officially opened in January 2015. Our maternity services were recently shortlisted for the Royal College of Midwives' (RCM) Midwifery Service of the Year Award, recognising excellence and innovation in the provision of maternity care.
In 2017, we also completed a £2m refurbishment of our Emergency Department (ED) as part of an ambitious vision to create a more efficient acute medicine service for the people of Bradford. It has been designed to provide a slicker and more efficient service, with faster senior clinical involvement at an early stage in the patient pathway.
As a teaching hospital, we are at the forefront of education and development in healthcare, and have an excellent reputation for research performance. We are one of the leading centres in conducting applied research in the country, particularly in quality and safety, elderly care and rehabilitation.
The Trust is home to the Bradford Institute for Health Research (BIHR) where researchers have led the development, validation and implementation of the award-winning Bradford Electronic Frailty Index (eFI) which helps calculate an elderly person's risk of disability, impairment, falls and complications of chronic diseases, as well as their diminishing independence and capability. This is now being used by 98 per cent of all GPs across the country.
Our award-winning Ophthalmology department is home to numerous worldwide clinical trials taking the lead in eye care research and we are one of only three sites in the United Kingdom to be enlisted in the Perioperative Enhanced Recovery Hip Fracture Care of Patients with Dementia (PERFECTED) study, which will investigate how the NHS can introduce better standards of care to improve outcomes for people with dementia.
Follow us on Twitter: @BTHFT
The Trust has its own Bradford Hospitals Charity: https://bradfordhospitalscharity.org/