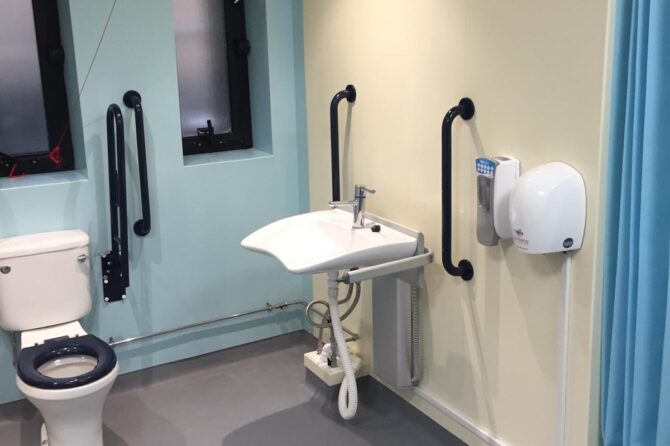 PEOPLE with disabilities in Bradford will benefit from an improved, state-of-the art toilet and wet-room facility when it opens at St Luke's Hospital in April.
Bradford Teaching Hospitals NHS Foundation Trust has part-funded the £36,000 provision to build the specially adapted 'Changing Place' space along with the Department of Health.
The facility will also contain additional equipment for people who are unable to use the toilet and shower independently, including adult-sized changing benches and hoists.
The new unit, which is positioned on the ground floor of the Horton Wing close to the ambulance entrance, builds on the positive feedback the Trust has received about the one which opened at the Bradford Royal Infirmary in 2018.
Project Lead for Estates and Facilities, Samantha Hunter, said: "These facilities are invaluable for many disabled people, who are unable to use standard accessible toilets as they need more space for mobility and assistance.
"The 'Changing Place' room is spacious, accessible and contains a large changing bench  with overhead shower so adults and older child can receive a full wash-down if they need it.
Inclusive
"It's our vision here at the Trust to make our hospitals and estate as inclusive as possible for everyone and this latest facility will greatly benefit visitors and staff alike."
The new facility will be a welcoming space for people with profound and multiple learning disabilities, as well people with other physical disabilities such as spinal injuries, muscular dystrophy and multiple sclerosis who often need extra equipment and space to allow them to use the toilets safely and comfortably.
Over a quarter of a million people need 'Changing Places' toilets to enable them to get out and about and enjoy the day-to-day activities many of us take for granted. As a result the 'Changing Places' Consortium was established in 2005, working to support the rights of people with disabilities.
Consortium members include Pamis (Promoting a More Inclusive society), Muscular Dystrophy UK, CAE (Centre for Accessible Environments and the Scottish Government.
It launched its 'Changing Places' campaign in 2006 on behalf of people with profound and multiple learning disabilities, motor neurone disease, multiple sclerosis, cerebral palsy, as well as older people with the aim of installing 'Changing Places' in all big public spaces so people can access their community.
Reference point
There are now around 1,300 Changing Places toilets available throughout the UK, and the latest facility at St Luke's Hospital will be been registered at www.changing-places.org as a reference point for patients, carers and visitors.
To access it, users will need a RADAR key. RADAR Keys are made available to people with disabilities from the local council. However because not all disabilities are visible, if a person does not have a RADAR key and is in need of the new 'Changing Places' toilet at St Luke's Hospital, a key will be available Monday to Friday, 8am to 5pm from the Main Reception desk.
Kez Hayat, the Trust's Head of Equality, Diversity and Inclusion, said: "Providing this facility at St Luke's Hospital is absolutely essential for our visitors, patients and staff.
"It highlights our commitment in ensuring key facilities across the Trust are accessible and inclusive for all of our wider hospital community.
"Every Changing Places toilet contains the right equipment, in enough space, in a clean and safe environment and I am delighted to see this new provision created at St Luke's."
It's hoped the St Luke's Hospital 'Changing Places' facility will be open 24 hours-a-day, 7 days-a-week from the start of April.
ENDS
For further media information, please contact communications@bthft.nhs.uk or call 01274 384700
Picture caption: BRI's Changing Place toilet