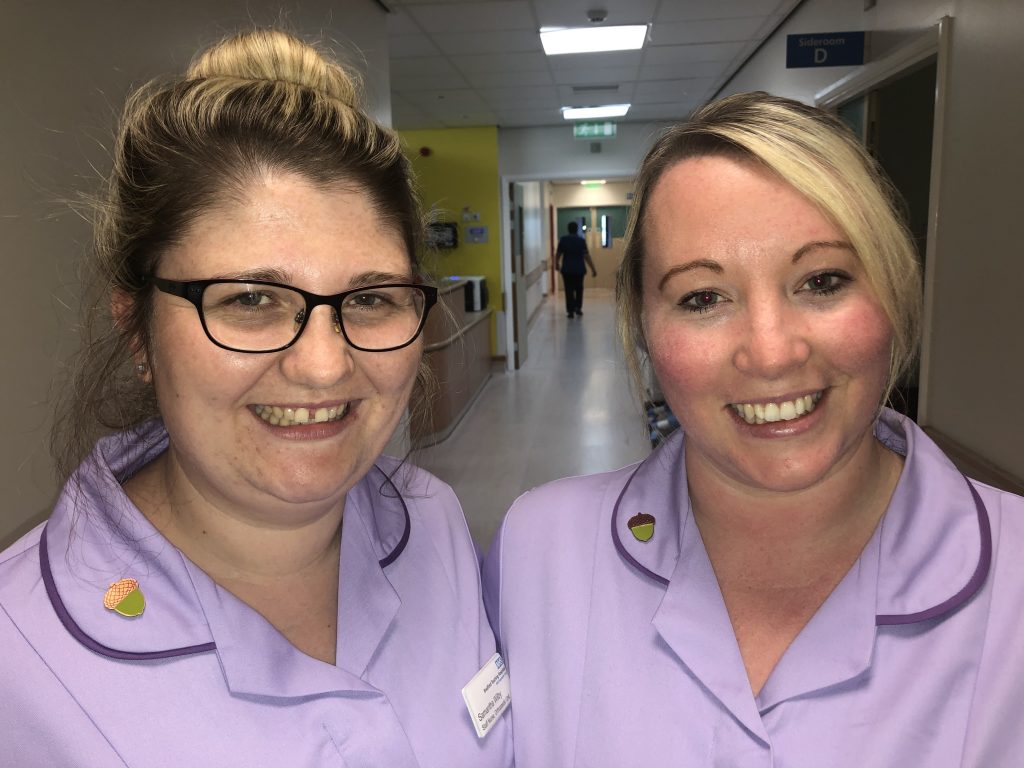 A NEW initiative to help clinical staff at Bradford Teaching Hospitals NHS Foundation Trust identify and nurture newly-qualified nurses (NQNs) is proving a big hit.
Matron Samantha Dawe and her team on our Orthopaedic Unit (Ward 27, Ward 28 and Outpatients Department) recently introduced acorn badges to identify NQNs who have joined us.
New staff nurses Samantha Wilby, 30, and Faye England, 31, who joined Ward 27 at Bradford Royal Infirmary and the Trust earlier this month, now wear them on the lapels of their uniforms to let other members of staff know they may need a little extra support.
Matron Dawe said: "This time last year we had a 50 per cent vacancy rate on the unit and now we are nearly fully recruited. We have worked really hard with recruitment and retention of staff is imperative.
"It is really important to get staff into our vacancies, but then to also look after them so that they stay with us or within the Trust long term. I had an idea about a badge for the NQNs, something subtle to tell the team that we need to be patient and kind to them.
"We first discussed a possible link to the orthopaedic tree, and then thought an acorn would be very fitting because 'from little acorns do mighty oaks grow'!
"The badges have worked really well and generated a lot of discussion. Everyone has been talking really positively about them.
"They let people know that the wearers are new members of staff and that we need to be patient with them. If a doctor comes to speak to them they will know they are newly-qualified too."
Proving popular
Since their launch, the acorn badges have proven popular, so much so that they are now set to be worn by all newly-qualified nurses, midwives and allied health professionals across the Trust.
"We launched the badges because we want to look after our nurses and help their development, but if they can also be used elsewhere, that's a good thing!" said Sam.
Senior Sister Jade Stephenson added: "If we don't look after our newly-qualified nurses, they won't stay with us. The badges help to make sure new staff aren't just thrown in at the deep end and are supported."
Staff Nurse Faye joined us after training to be a nurse at Leeds Beckett University.
She said: "We have felt really supported since we started and it's nice to have the extra support and safety net which the badge gives you. We mentioned it in induction and everyone wanted one!"
Staff Nurse Samantha studied at the University of Bradford before starting work on the Orthopaedic Unit.
"I chose to come to the Orthopaedic Unit at Bradford because I wanted to do surgical rather than medical and it sounded like an interesting place to start," she added. "People also said good things about the ward.
"The badge is a great idea and provides extra support when you most need it!"
The acorn is an appropriate symbol for our newly-qualified staff, as it represents strength, potential and patience.
#BePatient #BeKind #NQN #WeAreBradford
ENDS
PICTURE CAPTION: Staff Nurse Samantha Wilby (left) and Staff Nurse Faye England
For further media information, please contact communications@bthft.nhs.uk or call 01274 383901.
Note to Editors:
Bradford Teaching Hospitals NHS Foundation Trust:
Bradford Teaching Hospitals NHS Foundation Trust is responsible for providing hospital services for the people of Bradford and communities across Yorkshire. We serve a core population of around 500,000 and provide specialist services for 1.1 million people.
Our 5,500 staff work over several sites, including Bradford Royal Infirmary, which provides the majority of inpatient services, and St Luke's Hospital, which predominantly provides outpatient and rehabilitation services. We also manage local community hospitals at Westwood Park, Westbourne Green, and Eccleshill.
In early 2017, a new £28 million wing opened at Bradford Royal Infirmary, part of a £75m investment to improve patient care across our hospitals over a five-year period. It provides world-class facilities for elderly care, children's services, a state-of-the-art intensive care unit with increased single-room provision and a retail concourse.
The new wing is a continuation of our work to improve patient experience after our new £2 million neonatal unit officially opened in January 2015. Our maternity services were recently shortlisted for the Royal College of Midwives' (RCM) Midwifery Service of the Year Award, recognising excellence and innovation in the provision of maternity care.
In 2017, we also completed a £2m refurbishment of our Emergency Department (ED) as part of an ambitious vision to create a more efficient acute medicine service for the people of Bradford. It has been designed to provide a slicker and more efficient service, with faster senior clinical involvement at an early stage in the patient pathway.
As a teaching hospital, we are at the forefront of education and development in healthcare, and have an excellent reputation for research performance. We are one of the leading centres in conducting applied research in the country, particularly in quality and safety, elderly care and rehabilitation.
The Trust is home to the Bradford Institute for Health Research (BIHR) where researchers have led the development, validation and implementation of the award-winning Bradford Electronic Frailty Index (eFI) which helps calculate an elderly person's risk of disability, impairment, falls and complications of chronic diseases, as well as their diminishing independence and capability. This is now being used by 98% of all GPs across the country.
Our award-winning Ophthalmology department is home to numerous worldwide clinical trials taking the lead in eye care research and we are one of only three sites in the United Kingdom to be enlisted in the Perioperative Enhanced Recovery Hip Fracture Care of Patients with Dementia (PERFECTED) study, which will investigate how the NHS can introduce better standards of care to improve outcomes for people with dementia.
The Trust has its own Bradford Hospitals Charity: www.bradfordhospitals.nhs.uk/charity
Follow us on Twitter @BTHFT or visit www.bradfordhospitals.nhs.uk