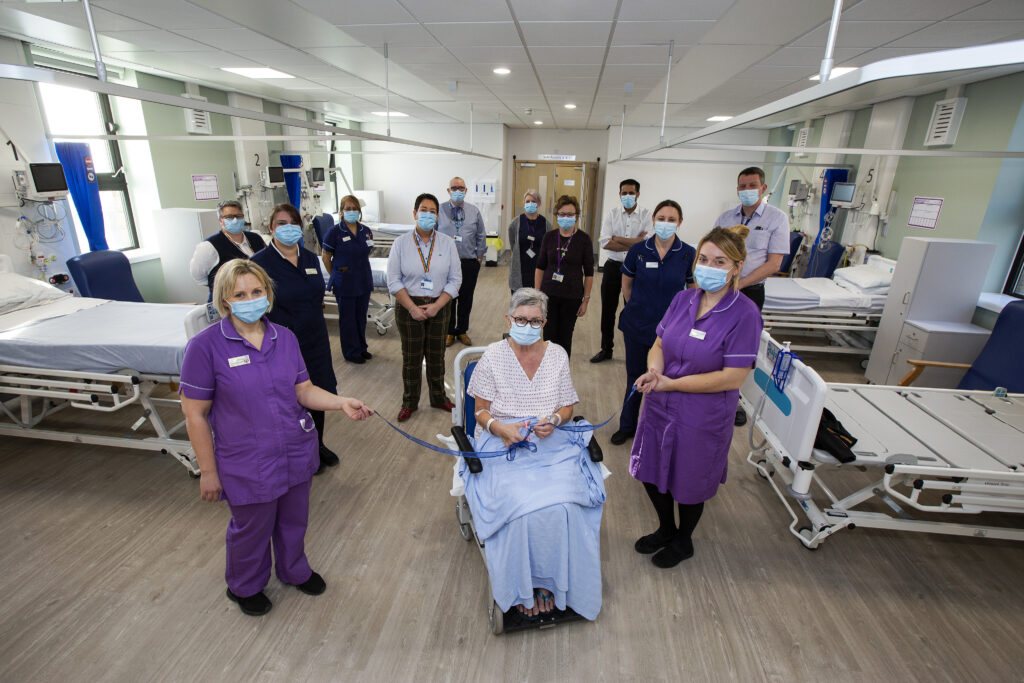 A new £7m facility which will improve the environment and experience of surgical patients in Bradford has opened its doors.
The acute surgical unit on wards 2 and 5 of Bradford Royal Infirmary (BRI), part of Bradford Teaching Hospitals NHS Foundation Trust,  was recently opened by patient Hazel Risdon.
The unit houses a new surgical assessment unit with 15 cubicles, 26 acute surgical inpatient beds, a procedure room and a new surgical ambulatory area for up to 10 patients. It also has a new 'hot' clinic where recently discharged patients are reviewed within days of their hospital departure by consultant surgeons.
The project's Clinical Lead, Consultant Gastro-Intestinal Surgeon and Deputy Operations Medical Director, James Halstead, said:
This exciting new development will help drive our transformation of acute surgical care for people in Bradford.

Patients will benefit from these innovative facilities, enhanced assessments, integrated team working and shorter stays.

The facility will also provide an enhanced healing environment, alongside quicker access to surgeons for patients coming into hospital from the Trust's A&E department by ensuring increased rapid assessment and treatment.
This new multi-specialty, same day emergency care facility will mean surgical A&E admissions can be directly transferred from the hospital's A&E department into the newly-expanded acute surgical unit.
Surgeons from general surgery will join colleagues from urology and vascular to work on the unit for the benefit of patients.
Clinical Director for General Surgery, John May, said:
Wards 20 and 21 have been acting as the main entrances for surgery at the Trust since 1991, so we were in desperate need of an overhaul as gradually, with the growth in patient numbers, our old facility had become outdated and inadequate in terms of size and space.

The new acute surgical unit has been long in people's minds, but COVID-19 actually provided us with the golden opportunity – due to our hospital's reorganisation and the reduction in the number of services – as it gave us the opportunity to redevelop and the time to renovate our wards, so that we can provide the people of Bradford with a larger, more modern facility.

This new surgical provision will be a key factor for helping the Trust move from providing 'good' to 'outstanding' care in our CQC ratings.
The build redesign took place from February 2021 to January 2022 and included a full revamp of the previous nightingale-style ward layout. Wards 2 and 5, along with the link corridor, saw a full redecoration, new electrical rewiring and floor coverings, a lighting overhaul, the addition of suspended ceilings, innovative ventilation, a contemporary fire alarm system, medical gasses and other infrastructure work to complete the modern unit and bring it up-to-date with today's healthcare settings.
Deputy Associate Director of Nursing (Unplanned Care) Jo Stedman, said:
We are really proud to open the unit and have patient, Hazel Risdon, cut the ribbon. The new environment is so important as it will improve the patient experience within our acute surgical service even further.

The new wards are state-of-the-art and the increased number of side rooms we now have will help prevent infection.

We hope that the new acute surgical unit will be a feather in our cap when it comes to recruiting new staff, as well as helping us retain existing colleagues, as the modern, airy surroundings will increase staff wellbeing.
Chief Executive, Professor Mel Pickup, said that the new unit was a key development in the aspirations of the Trust, which also runs St Luke's Hospital and the district's community hospitals, to make all wards outstanding in their facilities.
Professor Pickup added:
Here at the Trust I am really proud of the quality of the clinical care we give to our patients, but I am equally aware that with our current environment we are operating out of a hospital that is almost 100 years old and doesn't always provide the best experiences for our patients.

This new unit now gives us the highest quality environment in which we can deliver the highest quality clinical care.

It's amazing and a big thank you to everyone – especially our Estates colleagues – for making this renovation happen – it really feels and is innovative!