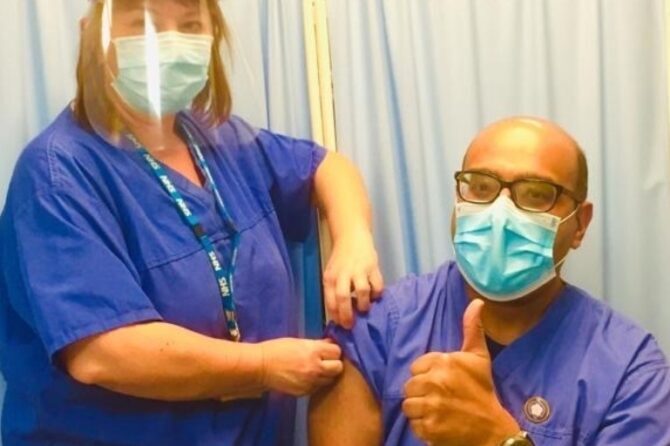 CUSTOMERS at MyLahore's flagship restaurant will have the opportunity to take away credible and trusted information at a live question-and-answer session.
In a unique link up involving Bradford-based restaurant group MyLahore and the NHS Covid vaccination programme for Bradford District and Craven, people will be able to ask any questions they have about the vaccines to allay any concerns they may have. In particular, the NHS is hoping to reach out to younger customers so that they are aware how easy it is to get vaccinated at one of the district's walk-in clinics without the need for an appointment.
The Q&A session will take place this coming Tuesday (24 August) from 1-3pm, and will feature local NHS clinical experts.
On hand to answer questions will be Bradford Teaching Hospitals' Rukeya Miah, Deputy Associate Director of Nursing / Senior Midwife, and Dr Mansoor Ali, Consultant Nephrologist (pictured).
Counter misinformation
Joining them will be Adiba Rashid, COVID Vaccination Project Coordinator with the Race Equality Network, which has been running nationally recognised community engagement sessions to counter misinformation.
This is the second joint venture for the NHS and MyLahore. The first, as part of a programme with local employers, saw members of the restaurant group's staff have their vaccinations in early July.
Ishfaq Farooq, a Director at MyLahore, said: "We're looking forward to the event in a relaxed setting. We hope our customers will feel comfortable asking questions and talking to experts about any concerns they may have. It is important that everybody, whatever community they live and work in, knows enough about the vaccines so they can make an informed decision about whether or not to have it.
"We are happy to play a part in helping with that and supporting the fight against COVID-19, by providing an opportunity for people to get information they can trust."
Unique opportunity
Rukeya Miah, Deputy Associate Director of Nursing / Senior Midwife at Bradford Teaching Hospitals NHS Trust, added: "It's great to be working with MyLahore again and I thank the company for giving us this unique opportunity to hold this event at the restaurant.
"We've been running a number of online question-and-answer sessions but to do this in a restaurant setting will be a new experience for us all. We hope as many people as possible will come along to ask us questions so that we can provide them with the right information and answer any questions they may have about the vaccines."
The session will take place at MyLahore's flagship site – 52 Great Horton Road, Bradford, BD7 1AL.
Find out more about the Covid vaccine walk-in clinics across the district here.