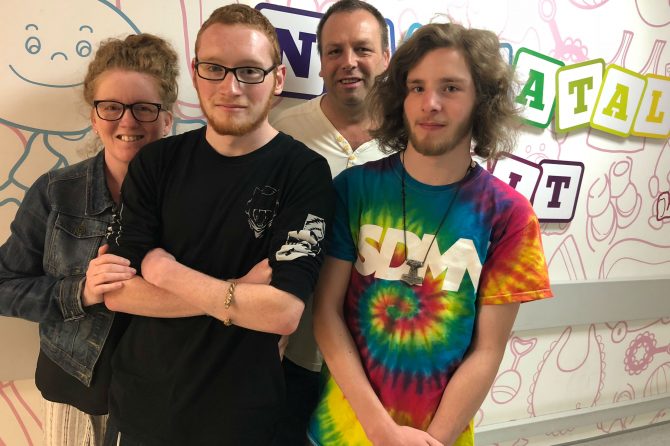 When Sharron Batey gave birth to her first baby 21 years ago, he weighed just 3lb 1oz. Although she was given just a five per cent chance of having another premature birth, she developed pre-eclampsia again when pregnant with her second son, who weighed just 2lb 14.
Eighteen years later and Sharron, of East Bowling, is set to take part in the Bradford Hospitals' Charity abseil on 22 September to raise money for the Bradford Neonatal Unit which saved her sons' lives and pay tribute to the "brilliant doctors and nurses and the brilliant NHS!"
"My first son, Lewis, was very poorly when he was born," said Sharron, 47. "He needed a lot of medical intervention. Even though it's 21 years ago, it has never ever left me.
"It sounds crazy, but I felt like Lewis was the property of Bradford Royal Infirmary. Right up until I took him home, I felt like I had to ask for permission to pick him up. It was a very difficult time."
Lewis was on oxygen until a week before his discharge, and finally went home on 15 June – Father's Day.
Three years after Sharron and her husband, Shaun, took Lewis home, Curtis was born. Although just 2lb 14oz, he had fewer medical problems, and was allowed home after putting on weight, after just eight weeks.
"If it hadn't been for the Neonatal Unit, we would not have Lewis with us," said Sharron, who works for Project Search, based in BRI's Field House.
Both Lewis and Curtis are doing well now, having just celebrated their 21st and 18th birthdays.
Owe everything
"We owe everything to the Neonatal Unit and can't thank them enough," said Sharron.
Kelly Young, Matron of the Neonatal Unit, said: "We are so grateful to Sharron for choosing to raise funds for the neonatal service.
"Even though her children are now older and a number of years have passed since her own experience of neonatal care, the fact that she is still keen to support other families is heart-warming."
Hayley Collis, Head of Fundraising for Bradford Hospitals' Charity, said: "I applaud Sharron for taking part in this event. Our neonatal doctors and nurses work day in, night out, to treat and care for poorly and premature babies and we're grateful that Sharron has chosen to highlight the amazing care her sons received by taking part in our superhero abseil."
If you are interested in joining Sharron on 22 September to pay tribute to the superhero doctors and nurses who have helped you or a loved one, please visit https://bradfordhospitalscharity.org/event/abseil-bradford-teaching-hospitals/
To make a donation to Bradford Hospitals' Charity, text BHCF22 and the amount you wish to donate to 70070. Alternatively, visit www.justgiving.com/bradfordteachinghospital.
To find out more about Bradford Hospitals' Charity and how you can support your local hospitals, visit www.bradfordhospitalscharity.org. Alternatively, contact Hayley Collis or Elaine Drake on 01274 274809 or email charity@bthft.nhs.uk