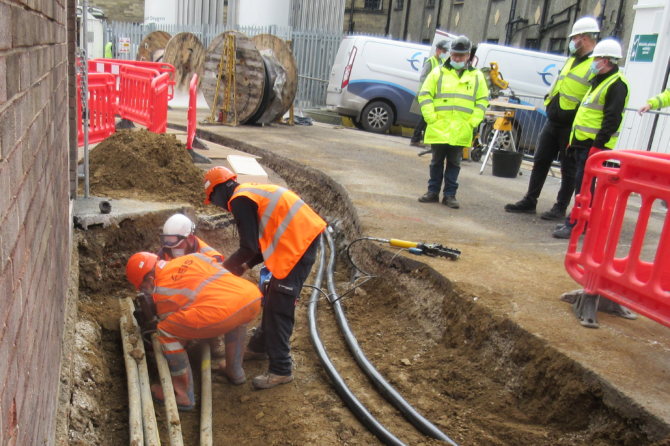 A MULTI-MILLION-POUND building project to improve the obstetric theatres and labour ward facilities at Bradford Teaching Hospitals is now underway.
The work is taking place at Bradford Royal Infirmary's (BRI) Women's and Newborn Unit based, one of the busiest maternity units in England.
The £3.7 million investment will see the replacement of the Trust's existing operating theatres which will be housed in a new, two-storey extension built at the unit's rear.
It will also see the addition of a roof-top plant room, refurbishment to the interior of the building and minor external landscaping work.
Work to reroute cabling is currently taking place and will be followed by the laying of building foundations.
Amanda Hardaker, Matron for Midwifery and Gynaecology, said: "This exciting new expansion project will create state-of-the-art obstetric theatres and facilities which will improve patient experience and enhance patient care.
Transform
"The work will help improve how the maternity teams organise and deliver care for women requiring enhanced levels of treatment in pregnancy, birth and the immediate postnatal period. It will also transform patient flow and extend the care we currently provide.
"These renovations are part of our drive to transform Maternity Services into a truly outstanding provision for the women and families of Bradford and to make our services fit for purpose by creating the very best in facilities."
The new extension covers 326 square metres and alongside the two replacement obstetrics theatres, will include an updated, larger recovery area and an additional area for women who require enhanced maternity care.
A space will also be left empty in anticipation of future expansion needs.
Chief Nurse, Karen Dawber, said: "Around 5,500 women give birth in the Women's and Newborn Unit every year and by providing new and improved theatres and facilities we are aiming to improve the patient safety and experience even further.
Facilities
"We want to transform our facilities and the care we provide into an outstanding provision so our maternity unit is equipped with the very best modern-day facilities which today's healthcare has to offer. This is no more than the people of Bradford deserve and will enable the Trust to better meet the needs of our highest risk women.
"I'd like to say huge thanks to our Estates and Facilities team, the Maternity Staff and the service users who are behind the build and who have worked tirelessly to make this expansion the success that we know it is going to be."
The work will be carried out in phases and will be prioritised to minimise disruption to the unit.
It's hoped the work will be complete by summer 2021.
The project is part of an £9.15m investment at the BRI site by Bradford Teaching Hospitals and NHS Improvement.
Contractors are Interserve Construction alongside Day Architects.
ENDS
For further media information, please contact communications@bthft.nhs.uk
Note to Editors:
Bradford Teaching Hospitals NHS Foundation Trust:
Bradford Teaching Hospitals NHS Foundation Trust is responsible for providing hospital services for the people of Bradford and communities across Yorkshire. We serve a core population of around 500,000 and provide specialist services for 1.1 million people.
Our 5,500 staff work over several sites, including Bradford Royal Infirmary, which provides the majority of inpatient services, and St Luke's Hospital, which predominantly provides outpatient and rehabilitation services. We also manage local community hospitals at Westwood Park, Westbourne Green, and Eccleshill.
In early 2017, a new £28 million wing opened at Bradford Royal Infirmary, part of a £75m investment to improve patient care across our hospitals over a five-year period. It provides world-class facilities for elderly care, children's services, a state-of-the-art intensive care unit with increased single-room provision and a retail concourse.
The new wing is a continuation of our work to improve patient experience after our new £2 million neonatal unit officially opened in January 2015. Our maternity services were recently shortlisted for the Royal College of Midwives' (RCM) Midwifery Service of the Year Award, recognising excellence and innovation in the provision of maternity care.
In 2017, we also completed a £2m refurbishment of our Emergency Department (ED) as part of an ambitious vision to create a more efficient acute medicine service for the people of Bradford. It has been designed to provide a slicker and more efficient service, with faster senior clinical involvement at an early stage in the patient pathway.
As a teaching hospital, we are at the forefront of education and development in healthcare, and have an excellent reputation for research performance. We are one of the leading centres in conducting applied research in the country, particularly in quality and safety, elderly care and rehabilitation.
The Trust is home to the Bradford Institute for Health Research (BIHR) where researchers have led the development, validation and implementation of the award-winning Bradford Electronic Frailty Index (eFI) which helps calculate an elderly person's risk of disability, impairment, falls and complications of chronic diseases, as well as their diminishing independence and capability. This is now being used by 98% of all GPs across the country.
Our award-winning Ophthalmology department is home to numerous worldwide clinical trials taking the lead in eye care research and we are one of only three sites in the United Kingdom to be enlisted in the Perioperative Enhanced Recovery Hip Fracture Care of Patients with Dementia (PERFECTED) study, which will investigate how the NHS can introduce better standards of care to improve outcomes for people with dementia.
The Trust has its own Bradford Hospitals Charity: https://bradfordhospitalscharity.org/
Follow us on Twitter: @BTHFT