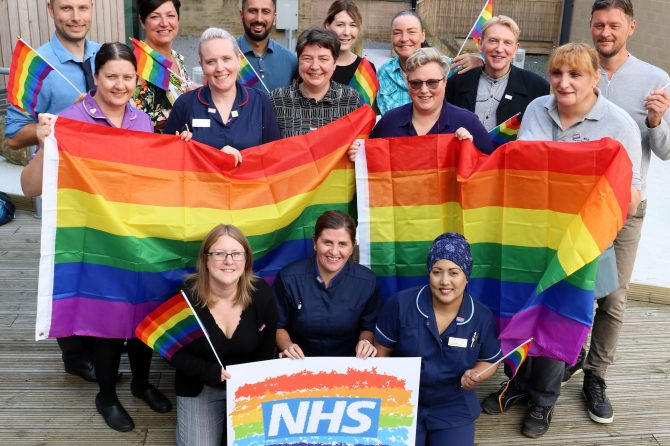 MORE THAN 1,500 NHS staff in Bradford will be wearing their rainbow badge with pride today to mark NHS Virtual Pride Day.
The NHS Rainbow Badge raises awareness among NHS staff of the health inequalities facing the LGBTQ+ community and ensures they feel safe and included when accessing healthcare.
Since launching on October 4, 2019, over 1,500 staff working across Bradford district and Craven have attended specialist training and now wear an NHS Rainbow Badge.
NHS organisations in the district that have rolled out the scheme include Bradford Teaching Hospitals NHS Foundation Trust, Airedale NHS Foundation Trust, and Bradford District Care NHS Foundation Trust, and Bradford District and Craven Clinical Commissioning Group.
During the coronavirus pandemic, health, care and local LGBTQ+ support services are still here to help. Many appointments and support groups are taking place online but help is still available if you need it.
Karen Dawber, Bradford Teaching Hospitals NHS Foundation Trust's Chief Nurse, said: "Our Trust is committed to promoting equality, diversity and inclusivity, and we are proud to support Virtual Pride in this particularly challenging year for the NHS.
Pledge of support
"Last year we proudly launched the NHS Rainbow Badge, working with our partner organisations, and since then over 900 staff have attended the training and signed a pledge of support. We hope to be able re-start the training soon so that many more people can get involved."
Today, the NHS will also be marking the progress made towards LGBTQ+ equality, and the work yet to do by taking part in NHS Virtual Pride, the day before Global Pride 2020 which takes place this Saturday. There will be conversations taking place throughout the day on Twitter using #NHSVirtualPride, followed by an evening show which starts at 6pm.
Holly Tetley, Head of the HR Business Partner Service at Airedale NHS Foundation Trust, said: "A number of our staff have had rainbow badge training, giving them awareness of the health inequalities faced by our LGBTQ+ community, and so they can wear the badge to act as a visible sign and clear message that we are an inclusive organisation and that those staff can help patients get the right care, whilst understanding their needs.
"We have discussed across Bradford, Airedale and Craven how we want to celebrate the one-year anniversary of the rainbow badge as a system, and we will also be discussing how Airedale would like to mark the anniversary locally with our LGBTQ+ colleagues.
"To support our people we also have an active LGBTQ+ staff network group to ensure that we continue to be inclusive and celebrate diversity by leading the way as an NHS employer. This network will meet again in the next month to consider our approach and support to COVID and what are the priorities for the group over the next 12 months."