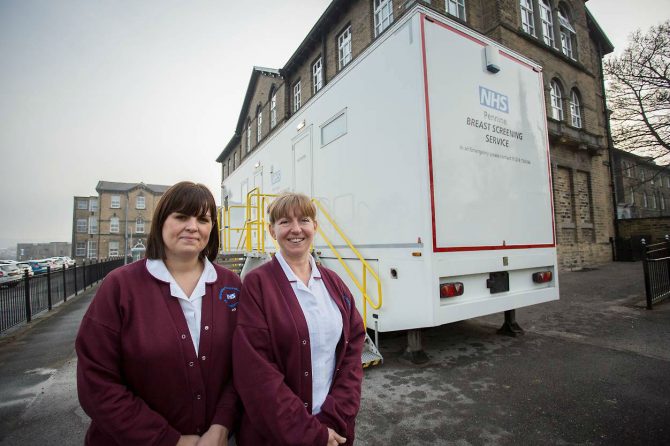 More than 8,000 women from across Dewsbury and Birstall are being invited to take up their breast screening appointments.
The Pennine Breast Screening Service mobile unit is now parked at Dewsbury District Hospital's Healds Road entrance where it will remain until next July.
During that time it's hoped as many women as possible will take the opportunity to attend their appointments.
Principal superintendent radiographer, Leah Richardson, said: "The mobile screening unit plays an important role in the early diagnosis and treatment of breast cancer and it is important that the service is as accessible as possible for the women we screen.
"I am very grateful to Dewsbury District Hospitals for their support in offering the unit a home so we can provide a local service to the women of Dewsbury and Birstall and I hope they will take advantage of their breast screening invitations."
Breast screening
The national programme provides breast screening to all women aged between 47-and-73-years-old who are registered with a GP.
Women are invited for breast screening every three years. Breast screening involves taking an image or mammogram of the breast to detect any early signs of breast cancer. Mammography can pick up cancers that are too small for a woman to see or feel in the breast. This early detection means treatment of the cancer will be more effective.
Appointments usually take around 30 minutes and sessions will run from
9.20am-12.20pm and 1.30-4.20pm, Monday to Friday. Screening may also be available on the occasional Saturday.
The Pennine Breast Screening service provides breast screening to all eligible women across Bradford, Airedale, Calderdale, Huddersfield and Dewsbury and is run by Bradford Teaching Hospitals NHS Foundation Trust.
Latest news
The team have also joined Facebook recently, so if you would like to keep up-to-date with the latest news or what areas the team's mobile screening units are visiting, then please like 'Bradford and Pennine Breast Screening'.
Missed your appointment? Changed your mind? No problem, give the Pennine Screening Unit a call on 01274 365521 so your appointment can be rearranged at another venue.
Nearly 70% of women screened receive the all-clear, while others receive further tests, some of whom may require further treatment.
Health Promotion Specialist, Julie Hodgins, added: "The evidence suggests that if breast screening picks up the disease early, usually while it is too small to be felt, treatment can be more successful leading to a better outcome for our patients."
You can also view our blog about what to expect at a breast screening.