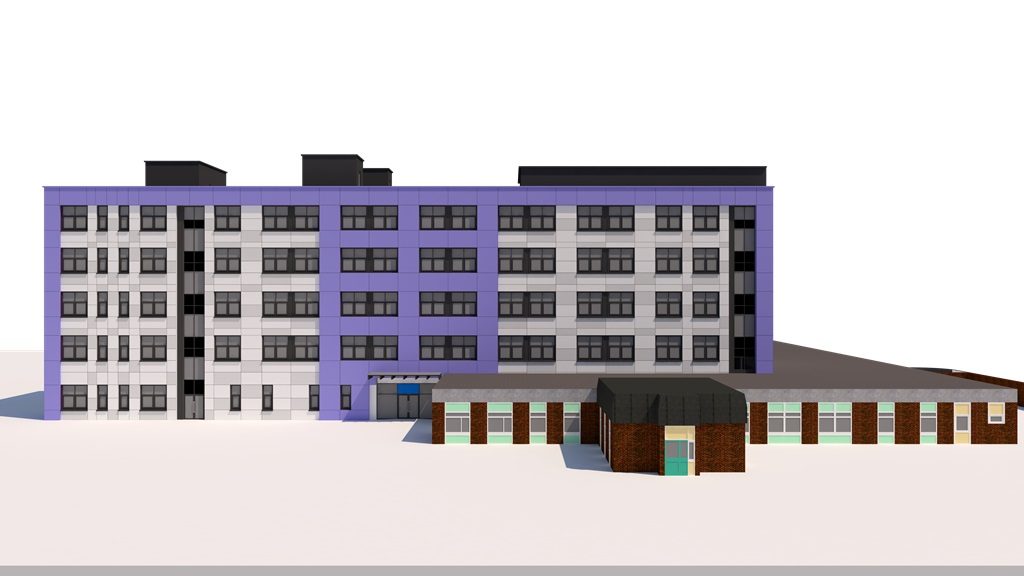 One of Bradford's most well-known hospital buildings – the Women's and Newborn Unit at Bradford Royal Infirmary, is getting a much-needed £1.8 million makeover.
The five-storey building on Smith Lane is being transformed to improve facilities for patients, thanks to the investment by Bradford Teaching Hospitals NHS Foundation Trust.
The unit, where over 200,000 babies have been born since it was built more than half a century ago, is in need of a revamp to improve patient comfort, make it more energy efficient and give it an attractive new look.
As well as making the building fit for purpose, the makeover will also protect it from bad weather and fix issues with heat loss, draughts, noise and leaks, allowing the Foundation Trust to conserve energy and cut costs.
Energy efficiency
It will provide the Women's and Newborn Unit with a brand new image and bring some considerable improvements in terms of energy efficiency.
The refit will include new better insulated windows, refurbishment of the roof and weatherproof insulated cladding panels will be fixed to the outside of the building.
The cladding – Rockpanel FS-Xtra – is made from the latest ultimate fireproof materials and goes beyond British regulatory standards and checks for fire safety. It also meets European fire safety standards.
No disruption
Work started recently and is expected to last 40 weeks. During this time the unit will continue to operate as normal; at times there may be some reduced capacity but this will be planned carefully so there is no disruption to mums and their babies.
Janet Wright, Clinical Director for Women's and Children at the Trust, said: "The refurbishment will bring a host of benefits to our patients and staff, particularly as the weather gets colder during the winter months. We want to make the unit – which welcomes mums, babies and their families, as comfortable and welcoming as possible.
"The original maternity block was built in the 1960s and is definitely looking its age. Despite this, the building and the services run from within hold a special place in the affections of local people. This investment is intended to bring it into the 21st century."
The investment is part of the Trust's £75m capital build programme to improve patient care across our hospitals over a five-year period, which includes the new £28m wing at Bradford Royal Infirmary (BRI).