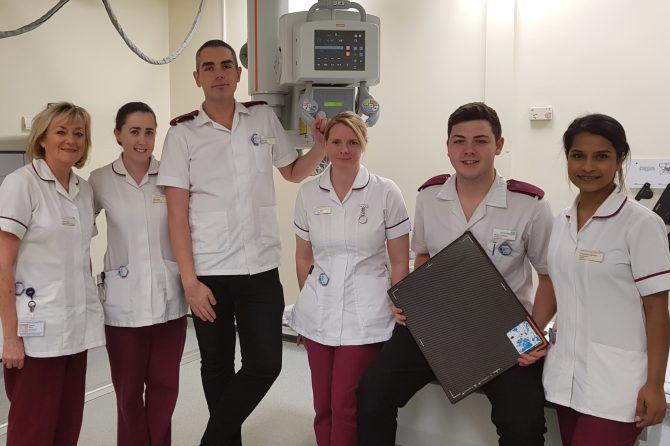 Looking for your first job in Radiology? Set to graduate from university this summer? Don't miss our Radiology Open Morning on February 9 from 9am to noon!
Come along and find out more about our award-winning Radiology department and the opportunities which exist for students in search of their first post-qualification position.
Due to internal promotion, the unit expects to have five full-time positions available for newly-qualified diagnostic radiographers from the summer.
The open morning will offer you the chance to meet our talented staff – including representatives from the x-ray, CT, MRI and US teams – tour the department and gain key interview and application tips during workshops which will make your job application stand out from the crowd.
Joanna Oxley, Principal Superintendent Radiographer at Bradford Teaching Hospitals, said the vacancies were suitable for students in their final year of a degree in Diagnostic Radiography.
She said: "We are looking to meet diagnostic radiography students in search of their first job.
"The aim of the open morning is to introduce ourselves to students, offer support in applying for their first role, and give an insight into the interview process.
Showcase the department
"It is also an opportunity to showcase the Radiology Department and the wider hospital so graduates can see what we have to offer at Bradford."
Advanced Radiography Practitioner Will Joel added: "We want to help the students with interview skills, introduce them to the department and support their application.
"There are lots of opportunities here within a young, dynamic team. We have a large variety of cases and the work is very fast-paced. It's a great place for a newly-qualified diagnostic radiographer to work and a great first step."
Joanna added that Bradford also offered great opportunities for career development.
"The reason there are vacancies available is because staff at the start of their careers are starting to specialise as we are also keen to help them develop their careers with us.
"We are keen to hear from enthusiastic undergraduates who are set to qualify this year and are interested in discussing opportunities within the department!"
To book your place at the open morning, simply email Joanna at joanna.oxley@bthft.nhs.uk.
The Radiography Department at Bradford Teaching Hospitals is based at Bradford Royal Infirmary and is home to some 40 plain film radiographers, 24 radiologists, 25 sonographers, and 20 MR/CT radiographers.