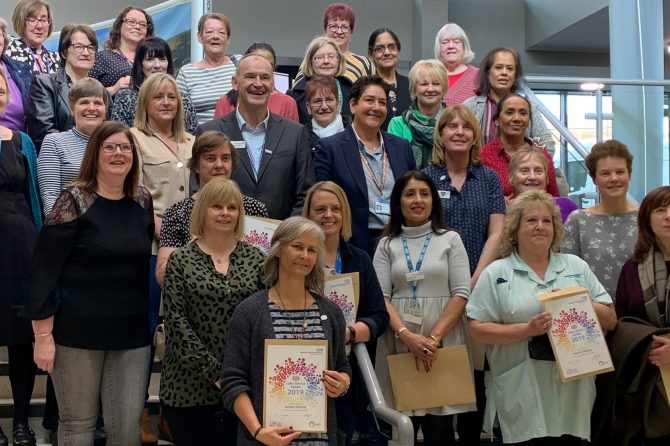 LONG-SERVING Bradford Teaching Hospitals' staff have been rewarded for their loyalty – after clocking up an amazing 1,890 years' service between them!
A special awards event was held to thank staff at Bradford Teaching Hospitals NHS Foundation Trust who have completed 30 years' service in the NHS.
A total of 63 members of staff, including nurses, doctors, support and administrative staff were recognised for dedicating their careers to supporting and caring for patients across the district.
The staff work across the Trust's family of hospitals, which include Bradford Royal Infirmary, St Luke's Hospital, Westwood Park and Westbourne Green, and were presented with certificates, a special NHS badge and vouchers by the Trust's chairman, Max Mclean.
The Trust's Chief Executive, Mel Pickup said: "I would like to congratulate all the long service recipients for their dedication, unstinting loyalty and efforts to the NHS here in Bradford.
Humbling
"It really is quite humbling to hear about the journeys they have all been on throughout their careers.
"Thirty years is a fantastic achievement and on behalf of the Board, and the patients and families who use our services, I would like to say how grateful we are for the commitment you have given to the NHS."
The award recipients were: Margaret Fletcher; Peter Bobak; Catherine Callan; Susanne Walsh; Angela Brownjohn; Caroline Speed; Kathryn Kitchen; Kashmir Kaur; Janet McGuigan; Sharon Widdop; Karen Boden; Carol Dyson; Joanne Kennedy; Gillian Peel; Kathleen Nolan; Tracy Titre; Jasbir Kaur; Lindsey McCorry; Louise Clarkson; Lisa Lawrie; Carol Jagger; Sharon Bell; Patricia Allan; Catherine Sargent; Karen Bentley; and Janet Hattersley.
Kathryn Artist; Ruth Shepherd; Christine Jones; Doreen Szutka; Yvonne Renton; Pamela Singh; Saky Gill; Rosemary Jeeps; Karen Louise Goss; Julie Firth; Jennifer Baker; Alison Cooke; Wendy Davis; Jayne Holmes; Carolyn Ingham; Andrew McHale; Susan Procter; Amtul Ijaz; Balbiro Dhillon; Lynn Harrison; Tracy Wain; Alison Wolfenden; Sheila-Ann Vaughan; Lisa Gunn; Conrad Beckett; Andrew Buckroyd; Divya Keshani; John Rhodes; Sarah Crowther; Su Coultas; Judith Lowther; Paul Reynolds; Janeen Orford; Sue Morgan; Janet Frith; Tracy Lamb and Patricia Smyth also received the award.
ENDS
For further media information, please contact communications@bthft.nhs.uk or call 01274 382265
Note to Editors:
Bradford Teaching Hospitals NHS Foundation Trust:
Bradford Teaching Hospitals NHS Foundation Trust is responsible for providing hospital services for the people of Bradford and communities across Yorkshire. We serve a core population of around 500,000 and provide specialist services for 1.1 million people.
Our 5,500 staff work over several sites, including Bradford Royal Infirmary, which provides the majority of inpatient services, and St Luke's Hospital, which predominantly provides outpatient and rehabilitation services. We also manage local community hospitals at Westwood Park, Westbourne Green, and Eccleshill.
In early 2017, a new £28 million wing opened at Bradford Royal Infirmary, part of a £75m investment to improve patient care across our hospitals over a five-year period. It provides world-class facilities for elderly care, children's services, a state-of-the-art intensive care unit with increased single-room provision and a retail concourse.
The new wing is a continuation of our work to improve patient experience after our new £2 million neonatal unit officially opened in January 2015. Our maternity services were recently shortlisted for the Royal College of Midwives' (RCM) Midwifery Service of the Year Award, recognising excellence and innovation in the provision of maternity care.
In 2017, we also completed a £2m refurbishment of our Emergency Department (ED) as part of an ambitious vision to create a more efficient acute medicine service for the people of Bradford. It has been designed to provide a slicker and more efficient service, with faster senior clinical involvement at an early stage in the patient pathway.
As a teaching hospital, we are at the forefront of education and development in healthcare, and have an excellent reputation for research performance. We are one of the leading centres in conducting applied research in the country, particularly in quality and safety, elderly care and rehabilitation.
The Trust is home to the Bradford Institute for Health Research (BIHR) where researchers have led the development, validation and implementation of the award-winning Bradford Electronic Frailty Index (eFI) which helps calculate an elderly person's risk of disability, impairment, falls and complications of chronic diseases, as well as their diminishing independence and capability. This is now being used by 98 per cent of all GPs across the country.
Our award-winning Ophthalmology department is home to numerous worldwide clinical trials taking the lead in eye care research and we are one of only three sites in the United Kingdom to be enlisted in the Perioperative Enhanced Recovery Hip Fracture Care of Patients with Dementia (PERFECTED) study, which will investigate how the NHS can introduce better standards of care to improve outcomes for people with dementia.
Follow us on Twitter: @BTHFT
The Trust has its own Bradford Hospitals Charity: www.bradfordhospitals.nhs.uk/charity