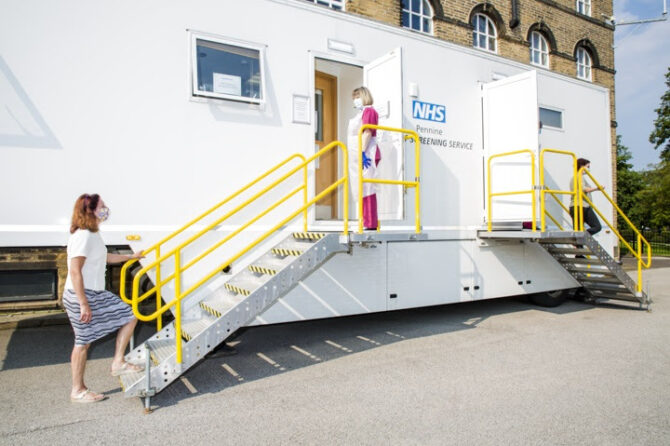 THOUSANDS of women receive vital cancer checks thanks to the Pennine Breast Screening service, which is launching a new site for a mobile unit this summer.
Next Thursday, July 29, the Mayoress of Kirklees, Mrs Judith Patrick will visit the new unit, based at the Tesco superstore, Northgate, Cleckheaton.
The unit is one of four mobile units that travel around the region, operated by Pennine Breast Screening (PBS), which is based at St Luke's Hospital, part of Bradford Teaching Hospitals NHS Foundation Trust.
PBS covers one of the largest breast screening regions in England and invites over 202,000 women over a three yearly period for their mammogram.
Delighted
Breast Screening Health Promotion Specialist, Sadie Greenwood, said: "We are delighted that the Mayoress has accepted our invitation to attend the new site for the breast screening trailer at Tesco, Cleckheaton.
"The visit will help us highlight the new position of the unit to the local population, playing a vital role in helping us raise awareness of the importance of breast screening and encouraging women to attend their checks when invited."
Routine breast screening for women across Airedale, Bradford, Calderdale and Kirklees was paused for five months due to the COVID-19 pandemic but was able to start up again in August last year.
Since then, appointments have been running at The Pennine Suite, based at St Luke's Hospital, or at one of the four mobile units that travel around the region.
As well as at the Tesco, Cleckheaton site, mobile units are now currently in operation at:
Ravensthorpe Shopping Park, Dewsbury
Nuffield Health Shipley Fitness & Wellbeing Gym, Baildon
Skelmanthorpe Health Centre, Huddersfield
Sadie added: "Screening is a vital health check for women aged 50-70 and all women are urged to take up their three-yearly invitations. When you receive your invitation, please call to book your appointment.
"Our mobile units have been updated to ensure the safety of women and staff, and women attending appointments will be asked to follow certain infection prevention and control measures which will be set out in their appointment letters.
"Appointment times have also been extended to allow thorough cleaning of the unit between appointments, and in some areas staff will be working shifts to provide a similar number of appointments per day over a longer period, including Saturdays, to create a more flexible service with slots available throughout the day and evening."
Breast Screening Health Promotion Specialist, Julie Hodgins said: "Breast cancer affects one in seven women, and a mammogram can potentially find disease in the breast up to two years before you can feel or see it yourself, making treatment options simpler and easier.
Detection test
"If you are younger or older than the 50-70 age range, please be breast aware and contact your GP as soon as possible if you notice a change. A mammogram is a really important early detection test that saves lives. The mammographers are a professional female team who provide an excellent service and put women at ease.
"A mammogram lasts around five minutes, although it is advised that you allow 30 minutes for the whole appointment. It can feel a little weird the first time you have a mammogram, and most women say it's 'a bit of a tight squeeze but no big deal' and are grateful for the peace of mind that it brings."
If you get an invite letter and want to change the appointment date, please contact the Pennine team on: 01274 365521 or email: pennine.screening@bthft.nhs.uk Follow the team on FB/Twitter/Insta @PennineBSU
To see inside one of the mobile units and hear why breast screening is such an important test, watch this short video: https://youtu.be/T6j71XyGGPc
ENDS