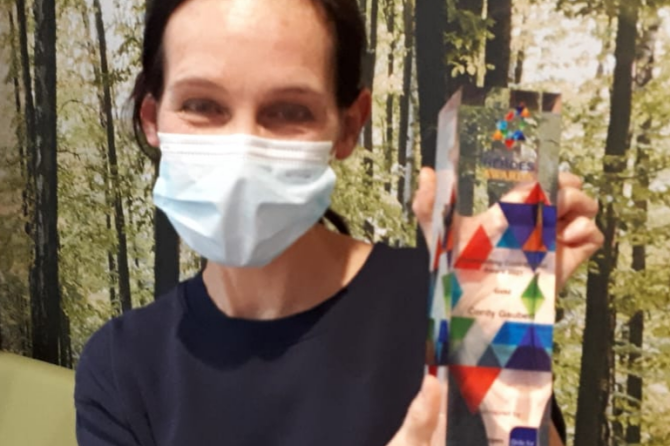 An 'inspirational' Bradford physiotherapist has won a top award for her 'outstanding' work in the fight against Covid-19.
Cordy Gaubert, a Clinical Specialist Physiotherapist at Bradford Teaching Hospitals, lifted the Outstanding Contribution Award in the Our Health Heroes Awards at a virtual awards ceremony attended by more than 300 NHS and Social Care staff last night.
In front of sector and government leaders, Cordy was presented with the top prize by Michelle Wayt, Assistant Director at NHS Employers.
Healthcare professionals submitted more than 600 nominations across nine award categories, including the closely contested Outstanding Contribution title.
On announcing the national winner, Michelle said: "Chosen from hundreds of nominees, Cordy stands out as a true role model and a credit to the NHS. Her remarkable efforts, commitment, and passion for her work is what makes her so deserving of this award. This is an incredible achievement to celebrate and relish in, you should be so, so proud."
Cordy was also described as an "inspirational physiotherapist who goes over and above in the care and support of her patients and her team" who had made an "outstanding contribution in the ongoing fight against this disease".
Humbled
Cordy said: "I'm amazed, overwhelmed and humbled that I've won. This year has been the most challenging of my career, both physically and emotionally, but has also demonstrated to me the incredible human resilience in my physiotherapy, nursing and medical colleagues, and also in our patients.
 "While this award means a huge amount to me personally, it is also a clear reflection of many people's hard work and the collaboration between multi-professional teams and I feel incredibly lucky to be part of a brilliant team here in Bradford.
"I couldn't do my job without the incredible support of my physiotherapy and intensive care unit (ICU) colleagues who are such brilliant, supportive, and innovative people to work alongside."
Throughout the pandemic, Cordy has worked tirelessly alongside her medical colleagues, to implement changes in service to accommodate the huge numbers of COVID-19 hospital patients.
As lead ICU physiotherapist, she has worked above and beyond her contracted hours, ensuring appropriate equipment is available to meet the needs of patients.
She has also spent endless hours checking novel uses of CPAP machines, to allow patients to be treated, and to make certain the hospital would not run out of oxygen.
Proud
 Nicola Sheehan, Head of Therapies at Bradford Teaching Hospitals said: "We are extremely proud and delighted that Cordy has won this award.
"She is an inspirational physiotherapist who goes over and above in the care and support of her patients and her team.
"COVID-19 has brought many challenges for health services, patients, and staff, and Cordy truly has made an outstanding contribution in the ongoing fight against this disease."
The Our Health Heroes Awards recognise, celebrate, and honour the hard work and dedication of healthcare workers across the UK.
The Awards organisers are Skills for Health and partners NHS Employers, UNISON and Bevan Brittan.
Full press release here on last night's award ceremony and the full Outstanding Contribution Award press release is here.
ENDS
For further media information, please contact communications@bthft.nhs.uk or call 01274 383901 to interview Cordy about her award and work.
Note to Editors:
Bradford Teaching Hospitals NHS Foundation Trust:
Bradford Teaching Hospitals NHS Foundation Trust is responsible for providing hospital services for the people of Bradford and communities across Yorkshire. We serve a core population of around 500,000 and provide specialist services for 1.1 million people.
Our 5,500 staff work over several sites, including Bradford Royal Infirmary, which provides the majority of inpatient services, and St Luke's Hospital, which predominantly provides outpatient and rehabilitation services. We also manage local community hospitals at Westwood Park, Westbourne Green, and Eccleshill.
In early 2017, a new £28 million wing opened at Bradford Royal Infirmary, part of a £75m investment to improve patient care across our hospitals over a five-year period. It provides world-class facilities for elderly care, children's services, a state-of-the-art intensive care unit with increased single-room provision and a retail concourse.
The new wing is a continuation of our work to improve patient experience after our new £2 million neonatal unit officially opened in January 2015. Our maternity services were recently shortlisted for the Royal College of Midwives' (RCM) Midwifery Service of the Year Award, recognising excellence and innovation in the provision of maternity care.
In 2017, we also completed a £2m refurbishment of our Emergency Department (ED) as part of an ambitious vision to create a more efficient acute medicine service for the people of Bradford. It has been designed to provide a slicker and more efficient service, with faster senior clinical involvement at an early stage in the patient pathway.
As a teaching hospital, we are at the forefront of education and development in healthcare, and have an excellent reputation for research performance. We are one of the leading centres in conducting applied research in the country, particularly in quality and safety, elderly care and rehabilitation.
The Trust is home to the Bradford Institute for Health Research (BIHR) where researchers have led the development, validation and implementation of the award-winning Bradford Electronic Frailty Index (eFI) which helps calculate an elderly person's risk of disability, impairment, falls and complications of chronic diseases, as well as their diminishing independence and capability. This is now being used by 98% of all GPs across the country.
Our award-winning Ophthalmology department is home to numerous worldwide clinical trials taking the lead in eye care research and we are one of only three sites in the United Kingdom to be enlisted in the Perioperative Enhanced Recovery Hip Fracture Care of Patients with Dementia (PERFECTED) study, which will investigate how the NHS can introduce better standards of care to improve outcomes for people with dementia.
The Trust has its own Bradford Hospitals Charity: https://bradfordhospitalscharity.org/
Follow us on Twitter: @BTHFT
For more information please visit www.bradfordhospitals.nhs.uk